Comics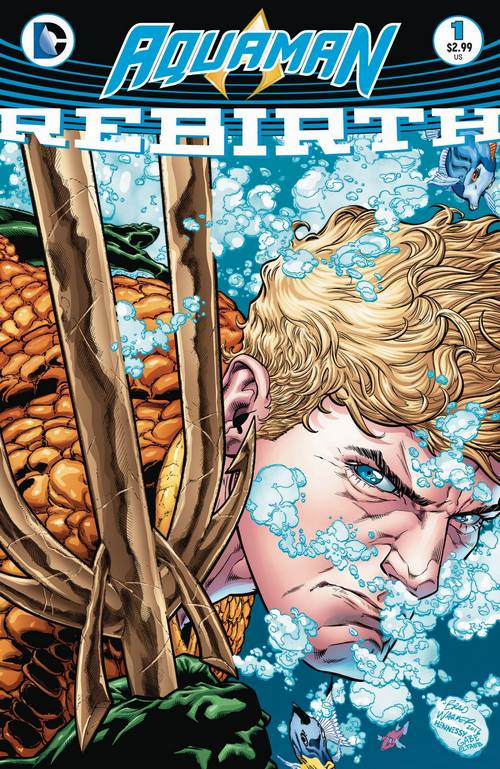 Aquaman Rebirth #1 Review: Learning to Swim
Aquaman Rebirth Sets Up the Next Chapter for the Underwater Hero
By Nolan P. Smith
Aquaman is, and has been, one of the big 7 in the Justice League for some time. Arthur Curry, the heroic leader of Atlantis, took a bit of time before he started to get the same respect as his household name teammates. Geoff Johns relaunched the hero a few years back, making fans around the world respect the orange shirt. Now, with Rebirth, what changes await Aquaman?
By the looks of this Rebirth issue, it seems to be a lot of the same. The issue serves as more of a recap than an actual Rebirth, much like how Superman's Rebirth issue was as well. Written by Dan Abnett and art by Scot Eaton and Oscar Jimenez, the issue introduces fans to Aquaman and his story, his wife Mera, and his underwater kingdom of Atlantis- much like the Geoff Johns relaunch did. Don't get me wrong, the book reads smoothly and looks outstanding- but if you already know the Aquaman mythos, then this isn't going to break any new ground. The use of two different artists is also a bit unsettling at times: not because either is bad, but rather their styles are different and can lose a reader from page to page.
I was really excited for this issue, but after checking it out and seeing a very familiar villain at the end of the book, I am on the fence about jumping in head first to the new Aquaman title. If you haven't check out an Aquaman book before, then this is a great jumping on point, but if you are looking for something new, then I think you will be waiting for the new #1 for the series to hit.
Rating: 7.25 out of 10.
This review was created in conjunction with QBC Toys and More, a local comic book and collectible shop located in Victorville, CA. Featuring new comic books every week, collectibles, action figures, original artwork, and more, QBC has something for the pop culture lover in us all. You can find them on Facebook at https://www.facebook.com/QBCToysandMore/.