Art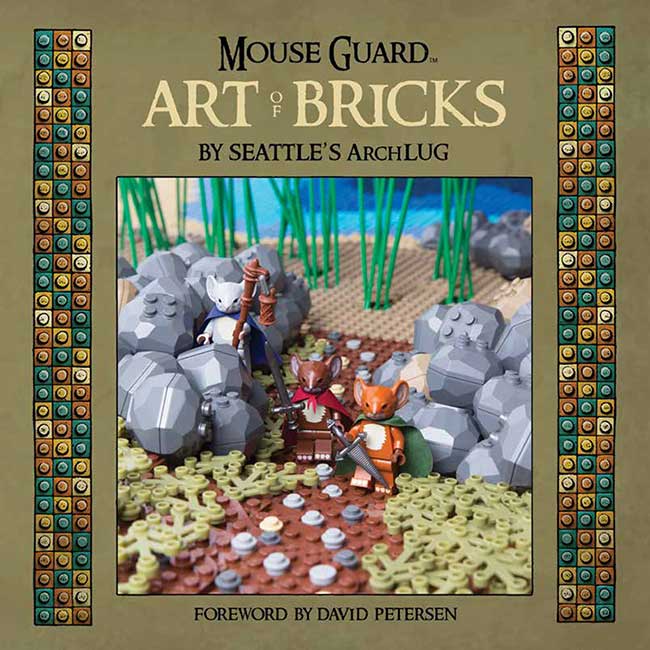 Mouse Guard: Art & Bricks Review: Bricktastic
Mouse Guard springs to life in brick form with new art book
Review by Nolan P. Smith
Who loves Mouse Guard? The critically acclaimed series by David Petersen from Boom! Studios/Archaia has been a favorite of mine since it first hit the scene. But what could make Mouse Guard even better? How about brick versions of the rodent heroes, villains and the lands they call home?
Then get ready, because one of the coolest art books I have seen is now out in stores with Mouse Guard: Art & Bricks. A 248 book, this combination of comic lore and brick aesthetics is created by Alice Finch and the ArchLung Architecture Group, with all photos by Alice Finch. Now, mind you, this is not a "How to" book- no, this is an art book that shows the grand detail that went into these works of art. From massive, brick formed versions of our heroes, to lands constructed to looking like they leapt off the panels, to amazing mini figures reminiscent of Lego, this book is a sight to behold.
You really have to see this book first hand to appreciate all the hard work, dedication and talent that goes into every piece. To take such a fantastical land and make it into the all too familiar brick format that we have all loved for decades, it is no small feat. But this team does, and they do it so well, I am sure many of us will be hounding Lego to mass produce sets similar to what we see here.
This is a great addition to any Mouse Guard fans library, as well as for any brick aficionados. Boom! Studios and Archaia have a book here that will stand the test of time, and stand out as something different, unique, and most importantly, fun. Just wish I could build such designs.
Rating: 9 out of 10.
This review was created in conjunction with QBC Toys and More, a local comic book and collectible shop located in Victorville, CA. Featuring new comic books every week, collectibles, action figures, original artwork, and more, QBC has something for the pop culture lover in us all. You can find them on Facebook at https://www.facebook.com/QBCToysandMore/.