Comics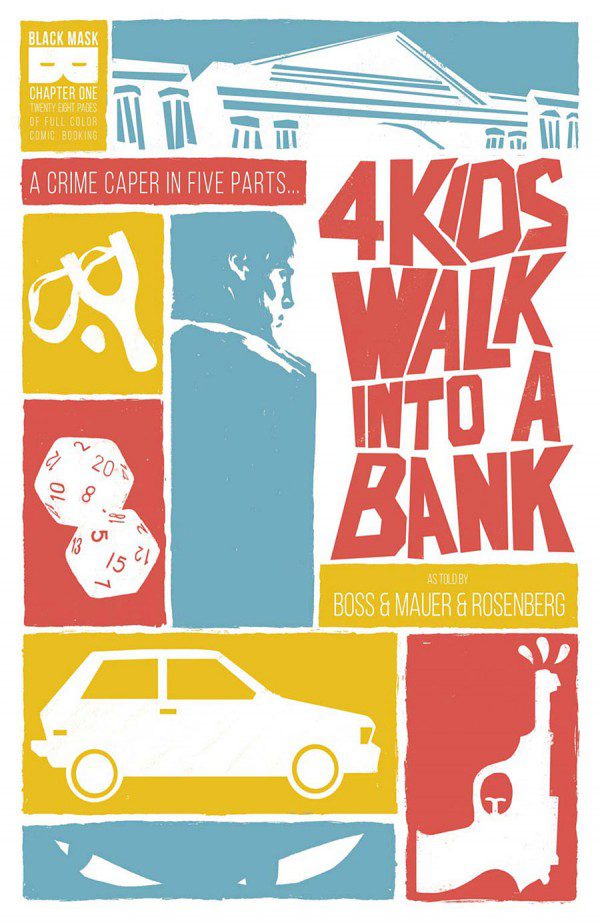 4 Kids Walk Into a Bank #1 Review
Black Mask's Class of 2016 Kicks off with 4 Kids Walk into a Bank
By Nolan P. Smith
One of last year's best comic mini series is easily Black Mask Studio's We Can Never Go Home. Well, writer of that series, Matthew Rosenberg, is back and this time brings us a tale of 4 junior high kids and a bank heist with 4 Kids Walk Into a Bank #1.
With art by Tyler Boss (Lazurus), 4 Kids Walk into a Bank focuses on, well, four kids. 11-year-old Paige and her geeky group of misfit friends go from the a game of role-playing to coming face to face with four grown, unsavory characters, somehow connected to Paige's dad. But the key to this issue is the kids, and how natural and likeable these characters come across, panel by panel. Whether by the dialogue or the quirky captions that help shed more light on each character, it feels like these are characters you could run into down the street. Paige is the brains of the group, clearly the leader, Berger- the hothead and annoying one, Stretch- the tall awkward kid, and Walter- the smart, shy kid who's dialogue and size of font illustrate the character so well, its unheard of.
The issue is heavy on the dialogue, as we get plenty of talking head panels, but when the dialogue feels this natural; this isn't a bad thing at all. We don't see how exactly a bank ties into the story, but by connecting the dots, its easy to see the four grown "bad guys" and Paige's dad will bring about this bank heist for the adolescents. Boss's artwork works really well for this caper, and uses the art of storytelling in comic books perfectly. The use of similar panels, same panels, and so forth really works well with this issue, and helps set the book apart from the previous titles in Black Mask's library.
This is a good start to what is sure to be another hit series from Black Mask. With titles like We Can Never Go Home and Space Riders, this series has huge shoes to fill. That's the thing, I don't think it will fill those shoes- I think this unique series will stomp through its own path and leave it's own hallmark of foot prints for books to live up to in the future.
Rating: 9.0 out of 10.
This review was created in conjunction with QBC Toys and More, a local comic book and collectible shop located in Victorville, CA. Featuring new comic books every week, collectibles, action figures, original artwork, and more, QBC has something for the pop culture lover in us all. You can find them on Facebook at https://www.facebook.com/QBCToysandMore/.