Action Figures
Action Figure Review: Barnyard Commandos Sergeant Wooly Pull Over
By Jason T. Smith
Creative Editor
I recently had the pleasure of reviewing some of the new Barnyard Commandos figures courtesy of the wonderful folks at Premium DNA. The experience brought me right back to my childhood days, and I have since taken a closer look at one of my all-time favorite Commandos, Sergeant Wooly Pull Over.
Sergeant Wooly Pull Over is a R.A.M.S. faction member based on Sylvester Stallone's iconic character Rambo. While the original Pullover figure was also bipedal, it only came with a backpack-mounted Gatling gun. However, this new version comes with a massive iteration of that weapon, as well as a sleek compound bow with three different arrow options and an impressive milk barrel quiver, all of which are reminiscent of Rambo. The figure also comes with a pair of alternate hoof hands with peg holes to hold the bow. Completing the package is a cool bandolier that holds removable egg grenades (or "grenEGGS" as I like to call them).
Sergeant Wooly Pull Over is an incredible figure, and what's more, he is available in a stealth version with a black paint job, just like all the other Barnyard Commandos from Premium DNA. Although the stealth version is quite impressive, I still have a soft spot for the original colors of good old Lambo. There's just something about that fuzzy freedom fighter with his green legs that takes me back. Overall, another home run for Premium DNA indeed!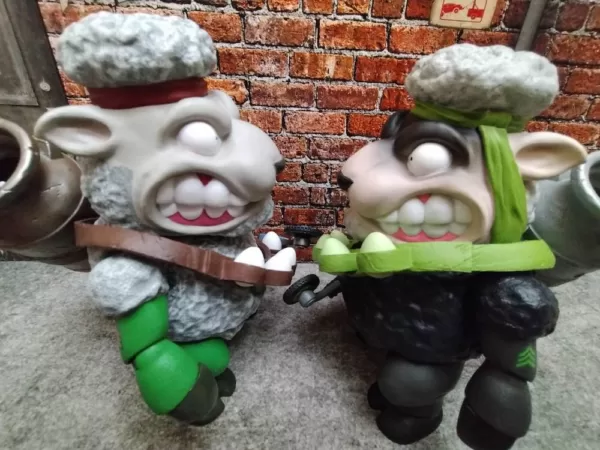 Review: FIVE Pastrami Nations out of FIVE.