Action Figures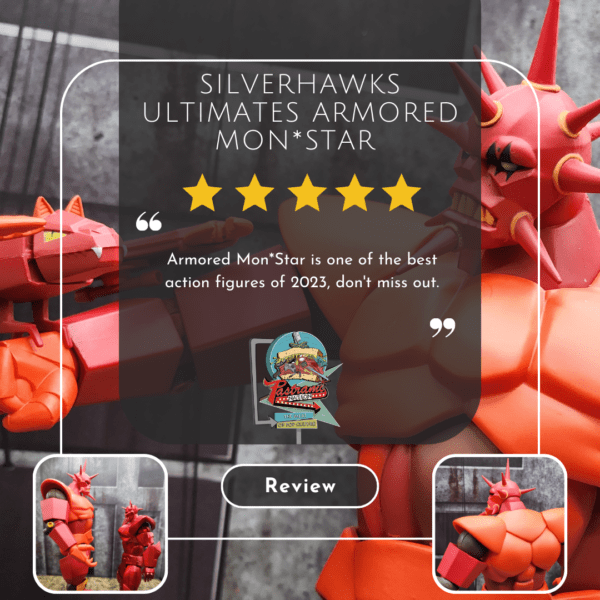 Action Figure Review: Silverhawks Ultimates Armored Mon*Star
A Tale of Two Mon*stars
By Nolan P Smith
Editor
Super7 has been the kings of nostalgia for some time now with their Ultimates line. From Thundercats and Teenage Mutant Ninja Turtles to G.I. Joe and Voltron, we have some of our most excellent 80s and 90s memories. When they announced their Silverhawks lineup, I was thrilled. I always wanted the old Silverhawks figures, and wave one looked fantastic, which includes the Armored Mon*Star, the big bad of the Silverhawks cartoon.
But production schedule changes made it where we got wave 2 first, and wave one has just now started hitting stores. This Mon*Star is an impressive, massive figure with the excellent collector-friendly packaging Super7 has perfected. He comes with an alternate head, four extra sets of hands, a laser eye effect, two elbow lasers, two elbow thrusters, a laser star, and his weapon bird, Sky Shadow.
But wait. Before any Super7 Silverhawks were released, they partnered with upstart toy company Ramen Toy to bring two special metallic paint figures to the market: Armored Mon*Star was one of them. But we got two very different but impressive versions of the mob boss. Super7's massive version feels very animated and striking- I love the bulkiness of the figure and the unique articulation worked into a very angular body. The Ramen Toy one is far smaller and sleeker, with an excellent metallic red finish and a menacing face sculpt.
But I have to give the edge to the new Super7 version out of the two versions. It's one of my favorite figures of 2023 so far. The massive girth of this figure with well-thought-out articulation that fits Mon*Star perfectly is an impressive feat to pull off. The Ramen Toy one is also awe-inspiring and still has a place in my collection, but it feels like it belongs in a different line, as it doesn't match the animated aesthetics of the Super7 line.
MonStar should be an easy buy for fans of the Silverhawks or just 80's figures in general. I would love to see Super7 get the Centurions license and go to town with an Ultimates lineup. Armored Mon*Star is one of the best action figures of 2023, don't miss out.. He is now available and in stock at Entertainment Earth- use code PASTRAMI to get 10% off and free shipping!
Rating:
Super7 Armored Mon*Star: 5 out of 5


Ramen Toy/Super7 Armored Mon*Star: 4 out of 5.