Action Figures
Action Figure Review- Silverhawks Ultimates Buzz-Saw
By Nolan P. Smith
Editor
I have been on a Silverhawks kick as of late. The nostalgic toy line that Super7 brought back to life with their Ultimates line has been a home run since they hit shelves. I reviewed the fantastic Armored Mon*Star figure and am excited to review the massive villain Buzz-Saw.
First up, the packaging. If you aren't familiar with Super7 and their amazing Ultimates line, their packaging is the best in the action figure business, in my opinion. The foil box with slipcase is the perfect way to showcase this figure. One downside- you won't want to throw the box once it's opened.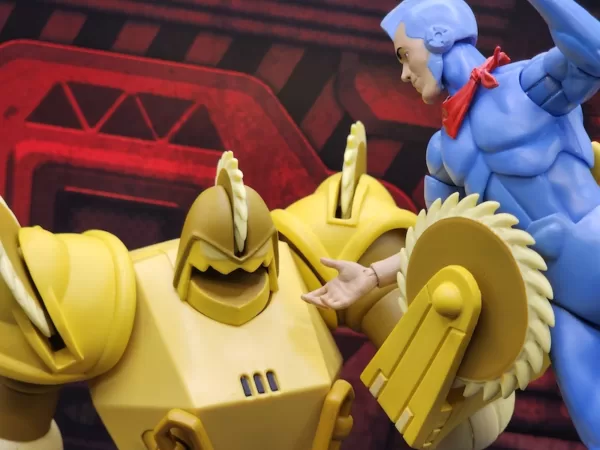 Buzz-Saw is huge, not quite as big as MonStar, but still impressive in stature. He comes with multiple heads, multiple hands, his bird Shredator, a blaster, an arm cannon, and two pull handles. Like MonStar, this figure has a brand new sculpt with articulation meticulously worked into the sculpt masterfully. I love how this figure moves; it all works so naturally to the sculpt. He is a beefy figure that towers over other 7-inch scale figures. He has a great range of movement and spinning blades on his head and body. The facial expressions are also top-notch and capture the essence of the character.
Buzz-Saw is right up there as an early contender for being in the top 10 action figures of the year. Super7 has captured lightning in a bottle with their Silverhawks line, and Buzz-Saw is a shining example of that. Be sure to pick up this figure; you won't be disappointed. You can pick it up today at our Entertainment Earth affiliate link: https://ee.toys/8R0ZNR. Use code PASTRAMI for an additional 10% off and free shipping!
Rating: FIVE Pastrami Nations out of FIVE