Art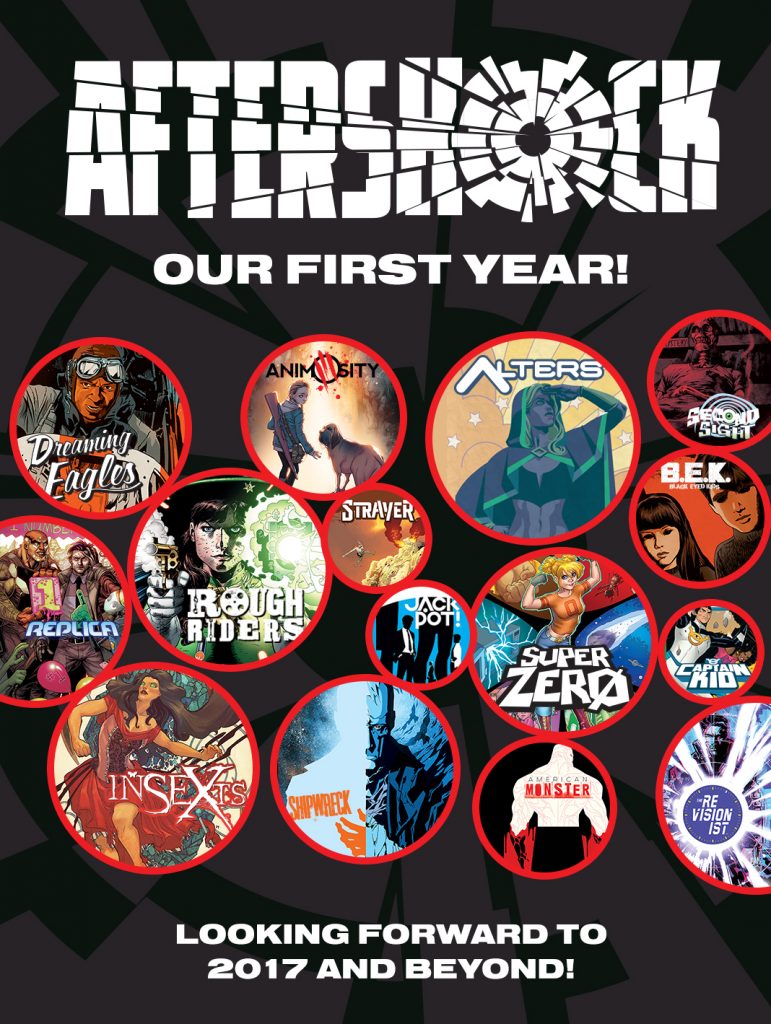 AfterShock Comics Set to Expand Titles After Successful 2016; New Series in the Works with Garth Ennis
With a new Garth Ennis Book on the way, AfterShock looks to shake up 2017
By Staff Reports
Since its official debut in April 2015, AfterShock Comics has launched 16 titles from some of the world's most celebrated creators. With hits including Animosity from Marguerite Bennett, Alters from Paul Jenkins, Rough Riders from Adam Glass and Shipwreck from Warren Ellis, AfterShock will debut its second series from award-winning creator Garth Ennis, called Jimmy's Bastards, later this year.
More details including art, release date and order info to be announced soon!
AfterShock closed out 2016 with several award nominations and an incredible year of noteworthy projects from industry heavyweights including Brian Azzarello, Jimmy Palmiotti & Amanda Conner, Mark Waid, and several others, including the above-referenced best sellers.
"During our first year as a publisher, AfterShock worked with over 100 talented creators to help bring to life incredible stories from some of the best in the business," said AfterShock's Editor-in-Chief, Mike Marts. "Thanks to overwhelmingly positive support from fans and retailers, AfterShock will continue to expand its content in 2017 through partnerships with both industry favorites and up and comers."
Jimmy's Bastards, the second AfterShock title from Ennis following last year's release, Dreaming Eagles, will debut early summer. The official solicit text follows:
Jimmy Regent is Britain's number one super spy, a devastatingly handsome secret agent with a license to kill and style to match. Sailing effortlessly through mission after mission with wit and panache, defying danger again and again, Jimmy always triumphs and always gets the girl- gets rather a lot of girls, actually. But now a new and particularly dangerous secret organization has arisen, their sights fixed firmly on Jimmy's head. Two hundred young men and women in ultimate physical condition, trained in all the arts of deception and death, each bearing a curious facial resemblance to… Jimmy? Every one united with one terrible aim: Get Daddy.

"AfterShock made working on Dreaming Eagles a great experience," said Garth Ennis. "I can't think of a better home for Jimmy's Bastards. I'm sure Jimmy would agree – as indeed would his bastards."
With several new series debuting in 2017, comic enthusiasts can expect new releases from leading creators that include John Layman with Sam Keith, Frank Tieri, Jeff Loveness and more. There will also be new titles announced from AfterShock's current family of creators including Adam Glass and Justin Jordan.
Launched in April 2015, AfterShock Comics is a comic book company that combines the creative edge of an independent comic book publisher with the strengths and experience of a traditional powerhouse. In addition to Editor-in-Chief Mike Marts, AfterShock's executive team includes: Chief Creative Officer/Publisher Joe Pruett; President Lee Kramer, a film/TV production and development executive; CEO Jon Kramer, an entertainment entrepreneur with extensive worldwide production and distribution experience, Senior VP Digital-Creative, Mike Zagari, oversees the AfterShock innovative and immersive story-driven digital experiences, and Senior VP of Investor Relations Jawad Qureshi an experienced Silicon Valley entrepreneur and investor.