Comics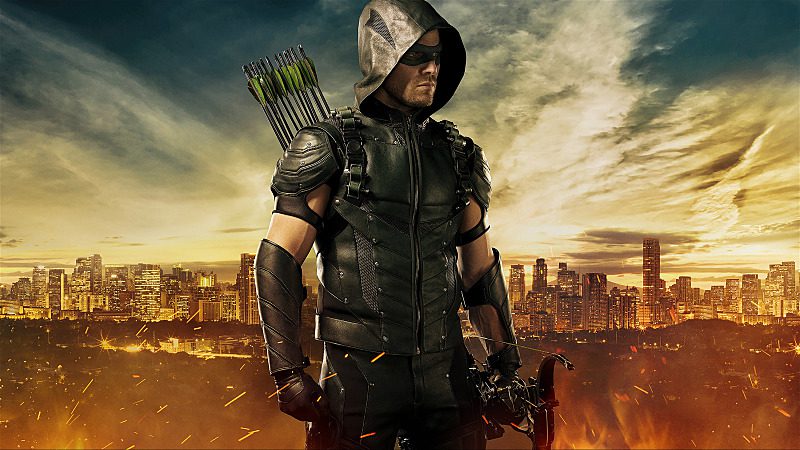 Arrow Season 4: What We Know and What We Don't
By Daniel Schwartz
Contributing Guest Writer
(Victor Valley)– Oliver Queen, Starling City, and Team Arrow are all in for some big changes when Arrow returns to The CW in October.
Season 3 ended on a high as Oliver defeated Ra's and drove off into the sunset with his lady love, seemingly leaving his vigilante persona behind him. As most comic fans know, these happy endings never last long. With Damien Darhk emerging as the primary antagonist for the new season, Oliver will be forced to come out of retirement and face this new and powerful villain.
WHAT WE KNOW
Oliver Queen will be called the Green Arrow. After spending 3 seasons as "The Vigilante", "The Hood", and "The Arrow", Oliver is changing his costume and possibly taking up the moniker of Green Arrow (Episode 1 being titled "Green Arrow" appears to confirm this). With a brand new name and a lavish new HQ, Oliver and company will be upgrading in every way possible.
Starling City is also in for a name change. In the comics, Oliver patrols Star City as the Green Arrow. Showrunners thought the name Star City would be too corny when the series began and gave the city a more serious sounding name. It appears that those concerns have been overcome. In a promotional picture that was released showing Detective Lance, the police badge that Paul Blackthorn holds up to the camera refers to his department as the Star City Police Department.
John Constantine will be visiting Star City at some point during the season. Not just any John Constantine, but Matt Ryan himself from NBC's cancelled series. Rumor is that he will be somehow linked to Sarah's resurrection and that he will be meeting up with Oliver in regards to her return to the living.
WHAT WE DON"T KNOW
We Don't Know:
Sarah's second resurrection (her first being when everyone thought she was dead after The Queen's Gambit crash) will be an interesting plot point this season. While she is slated to be a regular team member on Legends of Tomorrow, it is believed that her return to the living will take place on Arrow. How will Laurel and her family react to the news that she is back from the dead again? Will Sarah even let them know that she is alive? Expect more Lance family drama as the season progresses.
Prediction:
Sarah will not reveal herself to her family until after the mid-season hiatus and the airing of Legends of Tomorrow. Unfortunately, I do not believe that her resurrection will fix the relationship between her sister and her father which looked damaged beyond repair last season.
We Don't Know:
Damien Darhk has been revealed as the big bad for the fourth season. He will be played by Neal McDonough (who portrayed a psychopathic villain on Justified). What is his plan for Oliver Queen and Star City? Will his personal war with Ra's al Guhl spill over into Green Arrow's territory? Will Oliver have to work with Malcolm again in order to take down another powerful villain?
Prediction:
Darhk-ness will fall on Star City. Damien and his H.I.V.E. of followers will give Team Arrow a hard time as the season progresses. Damien's underlings in costumed personas should give Oliver some interesting villains to contest week after week. Jealous that Oliver was Ra's chosen successor, Damien will attempt to prove that he is more suited to be the Demon's Head and may even challenge the new Ra's for the title.
We Don't Know:
What is going on with Diggle? It was revealed last month that he will have a costume with a helmet while he fought crime this season. Will he have a familiar codename? Has he forgiven Oliver for kidnapping his wife? Will he still be a part of Team Arrow?
Prediction:
Diggle will be in charge of Team Arrow until Oliver returns from his brief retirement. When Oliver comes back to join the team, he may have to challenge an angry Dig to regain control of his troops. In the end, Diggle will be there for Oliver and for the team because he believes in the cause, and he will use his new costume and persona to help keep Star City in line under Oliver's leadership.
With rumors of a live action Vixen making an appearance and another crossover with The Flash, and many yet to be announced appearances and plotlines, Oliver Queen and his band of heroes are in for their most exciting season yet.
The fourth season of Arrow begins Wednesday, October 7 on the CW.