Art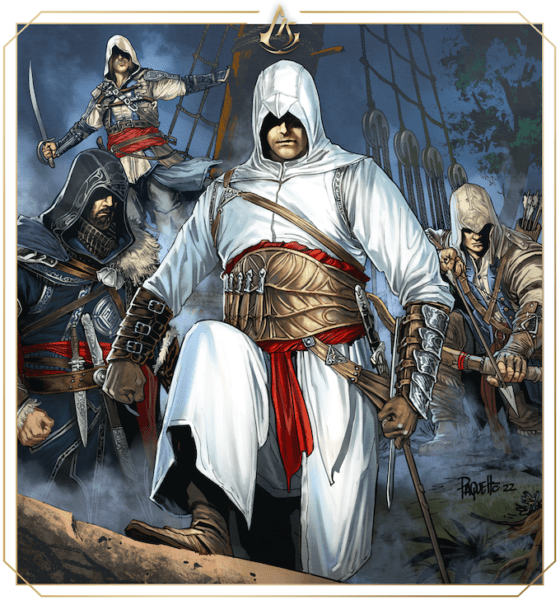 Assassin's Creed: Visionaries – A Graphic Novel Anthology Launches on Kickstarter
By Staff Reports
A 144-page, oversized hardcover graphic novel anthology produced by some of today's greatest talents in the field of comics, video games, illustrations and concept art. Discover new stories and artworks inspired by the Assassin's Creed® universe and beyond: from Ancient Egypt to the American Civil War, all the way to a dystopian, cyberpunk future and more! Assassin's Creed®: Visionaries anthology will be available in 3 versions:

•THE DELUXE EDITION: a 144-page hardcover graphic novel featuring original stories inspired by the Assassin's Creed® universe and created by over 20 celebrated artists.
•THE COLLECTOR'S EDITION: a 144-page hardcover graphic novel with dust jacket, featuring original stories inspired by the Assassin's Creed® universe, along with a portfolio and a sketchbook inside a Limited-Edition 15th Anniversary slipcase. KICKSTARTER EXCLUSIVE
•THE MASTER ASSASSIN EDITION: a 224-page GIANT SIZED hardcover featuring the same original stories, in glorious uncoloured black and white, in the original art size with sketches and designs. Comes with an extra copy of the Deluxe Edition.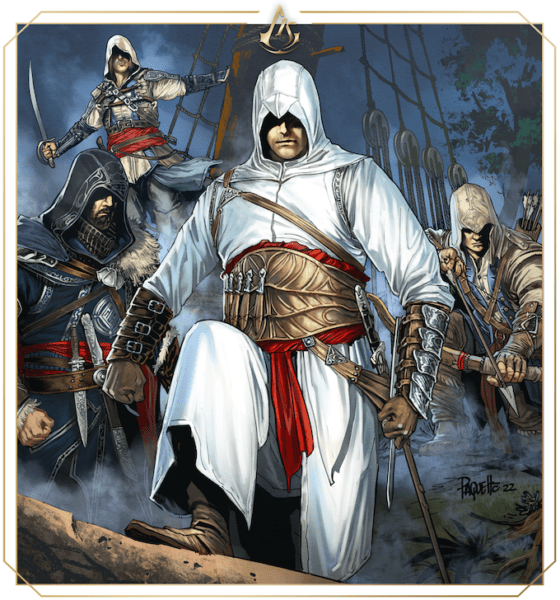 KICKSTARTER EXCLUSIVE
A roster of celebrated artists working in various styles and genres are given CREATIVE FREEDOM to craft unique graphic stories and illustrations inspired by the world of Assassin's Creed®.
• ENRICO MARINI (Gispy, Rapaces, Batman: The Dark Prince Charming, The Scorpion)
• MAHMUD ASRAR (King Conan, Batman vs Robin, X-Men, All New Avengers)
• OLIVIER VATINE (Aquablue, Star Wars: Heir to the Empire, Angela, Hellboy and the B.P.R.D.)
• RAFAËL ALBUQUERQUE (American Vampire, Blue Beetle, Detective Comics, Prodigy)
• YANICK PAQUETTE (Swamp Thing, Terra Obscura, Wonder Woman, X-Men)
• MARGUERITE SAUVAGE (Wonder Woman 1984, Mighty Thor, The Life of Captain Marvel)
• NIKO HENRICHON (Pride of Bagdad, Doctor Strange, Meta-Barons, New Mutants)
• JONBOY MEYERS (Teen Titans, Spawn, Superman, Danger Girl)
• KARL KERSCHL (Assassin's Creed®: The Fall, Teen Titans: Year One, Gotham Academy, Isola)
• PATRICK OLLIFFE (Untold Tales of Spider-Man, Edgeworld, Catwoman)
• RÉGIS LOISEL (Peter Pan, Quest for the Time Bird, Mickey Mouse)
• PATRICK BOUTIN-GAGNÉ (Samurai Origines, Tom Clancy's Rainbow 6: Siege®)
• STÉPHANE LOUIS (Tessa Agent Intergalactique, Carmen McCallum, Aquablue)
• RYAN BENJAMIN (WildC.A.T.S, Captain America, X-Men, Star Wars)
• CHRIS JOHNSON (Teenage Mutant Ninja Turtles, XO Manowar, Adventure Time)
• NICOLAS SINER (Assassin's Creed®: Brahman, Horacio D'Alba, Lord Gravestone)
• AND MANY MORE!
Check out the Kickstarter HERE!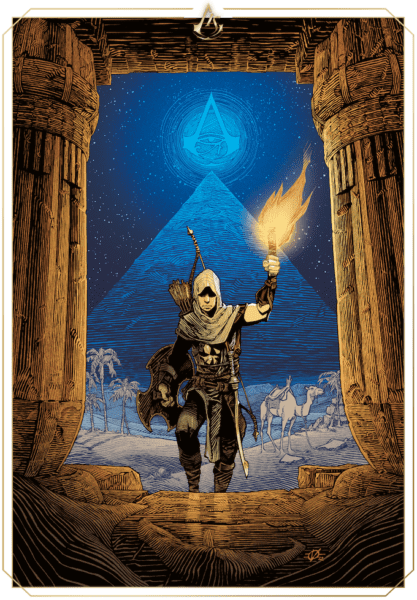 © 2023 Ubisoft Entertainment. All Rights Reserved. Ubisoft and the Ubisoft logo are registered trademarks in the US and/or other countries.
About Assassin's Creed®: Since it first launched in 2007, the Assassin's Creed® series
has sold more than 155 million games worldwide. The franchise is now established as
one of the best-selling series in video game history. Recognized for having some of
the richest, most engrossing storytelling in the industry, Assassin's Creed transcends
video games, branching out into numerous other entertainment media.
About Lounak: Since its creation in 2009, Studio Lounak has been a very close
collaborator of Ubisoft, even assisting in the creation of Ubi Workshop and
collaborating with them on various exclusive transmedia projects, including the
creation of all new Assassins Nikolaï Orelov (Assassin's Creed®: The Fall and The
Chain, later collected as Assassin's Creed®; Subject 4), and Arbaaz Mir (Assassin's
Creed®; Brahman).
Lounak has also collaborated on many of Ubisoft's various creative licenses. They've
created motion comics (Tom Clancy's Rainbow 6 Siege®, Far Cry® 3: Blood Dragon,
Far Cry® 5: DLCs, etc), graphic novels/sequential pages (Tom Clancy's Splinter Cell®:
Echoes, Tom Clancy's Rainbow 6 Siege®, etc), as well as marketing images and
promotional items for major industry events. Lounak is also the producer of
exclusive, high-end, and eco-friendly transmedia items made in Canada, such as t-
shirts, hoodies, belts, belt-buckles, prints, posters, and so much more. To learn more,
please visit: www.studiolounak.com.
About Ubisoft: Ubisoft is a creator of worlds, committed to enriching players' lives
with original and memorable entertainment experiences. Ubisoft's global teams
create and develop a deep and diverse portfolio of games, featuring brands such as
Assassin's Creed®, Brawlhalla®, For Honor®, Far Cry®, Tom Clancy's Ghost Recon®,
Just Dance®, Rabbids®, Tom Clancy's Rainbow Six®, The Crew®, Tom Clancy's The
Division®, and Watch Dogs®. Through Ubisoft Connect, players can enjoy an
ecosystem of services to enhance their gaming experience, get rewards and connect
with friends across platforms. With Ubisoft+, the subscription service, they can
access a growing catalog of more than 100 Ubisoft games and DLC. For the 2021–22
fiscal year, Ubisoft generated net bookings of €2,129 million. To learn more, please
visit: www.ubisoftgroup.com.
About Massive Publishing: Massive Publishing has had one of the most successful
periodical comic publishers launches in recent history, becoming a household name
for comic retailers and fans almost overnight. In partnership with the live selling
platform Whatnot, they launched Whatnot Publishing summer of 2022. This is their
first collaboration with Studio Lounak. For more information:
www.massivepublishing.shop