Action Figures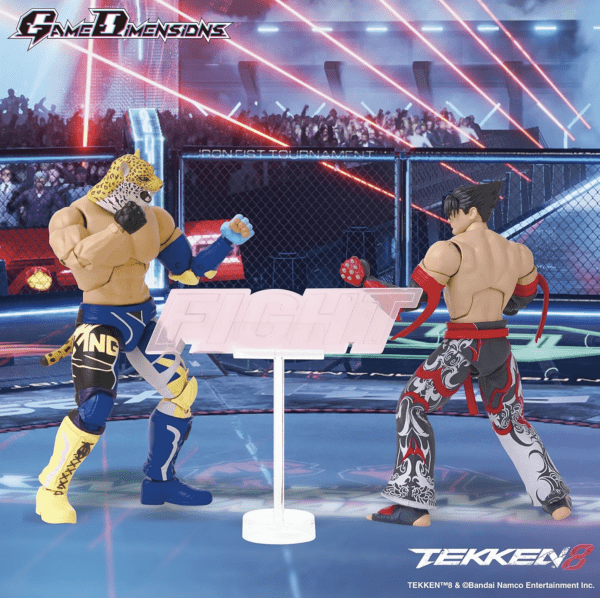 Bandai Namco Toys & Collectibles America Inc. is Launching Wave 2 of GameDimensions with All New TEKKEN Figures
By Staff Reports
Earlier this year, Bandai Namco Toys & Collectibles America (BNTCA) expanded their connection to gaming fans! An all new figures line, GameDimensions, launched with TEKKEN taking center stage. As one of the best-selling fighting game franchises in history, fans of the iconic game have been able to continue their adoration for the universe by adding the fighters to their shelves.
Wave 2 is set to launch in late 2023/early 2024 and bring in an additional two characters from the TEKKEN universe – JIN KAZAMA and KING in their TEKKEN 8 outfit. Additionally, fans can look forward to a supplemental KING receiving the action figure treatment soon after. Each figure allows for endless posing and display possibilities with game-based super articulations and effect parts. Each figure also comes with unique accessories so fans can recreate iconic scenes from the game franchise.
The introduction of new GameDimensions figures comes hot off the heels of the announcement of the upcoming TEKKEN 8 video game release. To celebrate the pending release, BNTCA has teamed up with GameStop for a special opportunity to purchase an exclusive GameDimensions TEKKEN – KING [Special ver.] with enhanced décor and exclusive accessories.
"The TEKKEN franchise has established a longstanding fandom that deserves high quality collectibles," says Daisuke Zama, Senior Vice President, Brand Toy Department. "We are also excited to partner with GameStop to enhance every fan's gaming experience with the addition of these figures."
New waves are now available for pre-order on below links for $26.99.
Amazon.com: Game Dimensions
Tekken 8 with King Action Figure Bundle – PlayStation 5 | PlayStation 5 | GameStop
Bandai Tekken 8 King Game Dimensions 6.5-in Action Figure GameStop Exclusive | GameStop
TEKKEN™8 & ©Bandai Namco Entertainment Inc.
GameDimensions TEKKEN features:
TEKKEN figures are highly detailed to look exactly like your favorite characters from the game
Each figure is 6.5 inches tall with 20+ points of articulation allowing endless poses.
TEKKEN figures come with extra accessories, including: 2 sets of interchangeable hands, 1 attack effects part and 1 background sheet
Each figure also comes with an icon plate stand for display
For more information, visit www.bandai.com