Life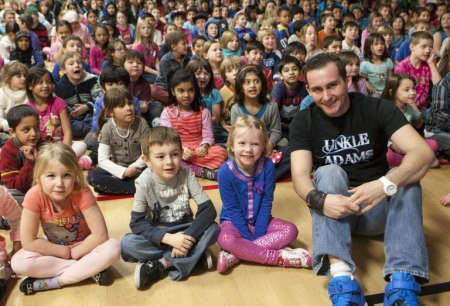 Battle Rap: Award Winning Rapper Takes on Bullying, Self Harm Around the Globe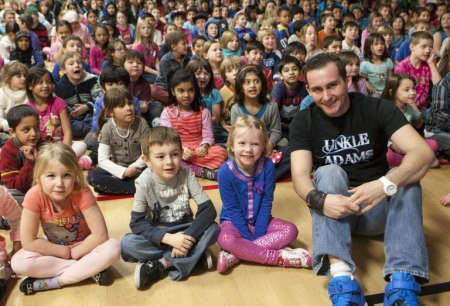 By Staff Reports
Have you ever heard of a rapper being endorsed by Politicians, Police Departments, Paramedics, School Principals, Guidance Counselors, Teachers, Parents, Grandparents, Students, Mental Health Organizations, High Ranking Public Officials, Environmental Activists, and more? Well, Curtis Adams AKA "Unkle Adams" is definitely not your "average" Rapper.
The Canada-born MC not only performs uplifting and inspirational music, but travels to schools to speak with students and give them hope on a range of topics from bullying to health, through his music and presentations he is giving "hope to the hopeless" and a "voice to the voiceless". Bullying, Climate Change, Impaired Driving, Fitness, Healthy Eating, Self-Harm and Domestic Abuse are just some of the subjects Unkle Adams has touched on in his music. His hit anti-bullying song/music video "Unkle Adams – I Am Stronger" has amassed more than 10,000,000 views between Facebook and YouTube, and throughout his flourishing career he's helped a wide range of students and parents alike confront their struggles and change their lives for the better. His work has saved countless lives by preventing suicides. His songs and videos are used as educational tools in schools all over the world. Simply put, Unkle Adams is on a mission the change the world with his music.
Now, as he heads into the new year, he'll be giving an addictions and law of attraction presentation called "The Freedom Presentation" with friend JC Wylde on Tuesday, February 2nd at Cumberland House Cree Nation in Saskatchewan and presenting his "I Am Stronger than Bullying Presentation" at a Hugh Sutherland School in Carstairs, Alberta on Wednesday, February 24th.
Curtis Adams AKA "Unkle Adams" was born and raised in Regina, Saskatchewan, Canada. At the age of 13 he fell in love with Hip Hop music and soon discovered his natural knack for rhyming syllables. Starting out as a freestyle emcee, he quickly progressed from performing at parties, to performing in front of large audiences at local clubs and bars. Today, with 14+ years of experience under his belt, Unkle Adams has established himself as a powerhouse emcee on an international level. Listen to just one of his songs and you will soon understand why. Choosing to write songs containing material that is inspirational, motivational and educational rather than some rappers who are negative, stereotypical and materialistic- the former heavy equipment operator by trade has funded all of his music, recording, advertising, merchandise, equipment and video production independently.
Curtis has been an Uncle since the very second he was born. In fact, he has a nephew who is only ten days older that doubles as his best friend, so naturally, growing up all of his friends called him "Uncle". Trying to change and evolve hip hop music into its next chapter, Unkle Adams elicits his fans support in this process so that they may have a hand in changing the negative stereotyping that is often associated with hip hop music.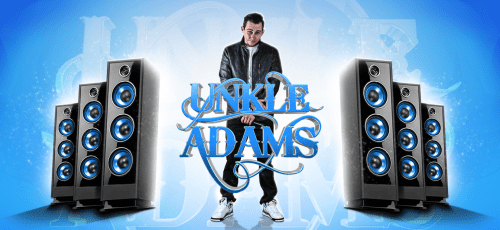 From Media Outlets to Students, Parents, and Law Enforcement Officials; Adams has received tons of positive feedback on both his music and presentations:
"It is one of the best anti-bullying resources I have ever used and I am very picky" – Susan McLean (27 year police officer and Australia's leading Cyber Safety Expert)
"Empowering kids to handle bullies is a mission for Unkle Adams" – QC Magazine
"He saved my daughter's life" – Thankful Parent
With such powerful messages encompassing the wide range of big issues young people face on a constant basis – Unkle Adams seems to be changing the game in regards to not only hip-hop and music in general, but how his lyrical content and persona can help those in need of guidance.
Unkle Adams has released two albums "Humble Beginnings" and "Pulse" as well as six singles. His current music catalog consists of twenty-nine songs and every one of them delivers a message.
For More Info on Unkle Adams, VISIT: www.unkleadams.com
OR
Facebook: www.facebook.com/unkleadams
YouTube: www.youtube.com/unkleadams
Twitter: www.twitter.com/unkleadams
Instagram: www.instagram.com/unkleadams