Art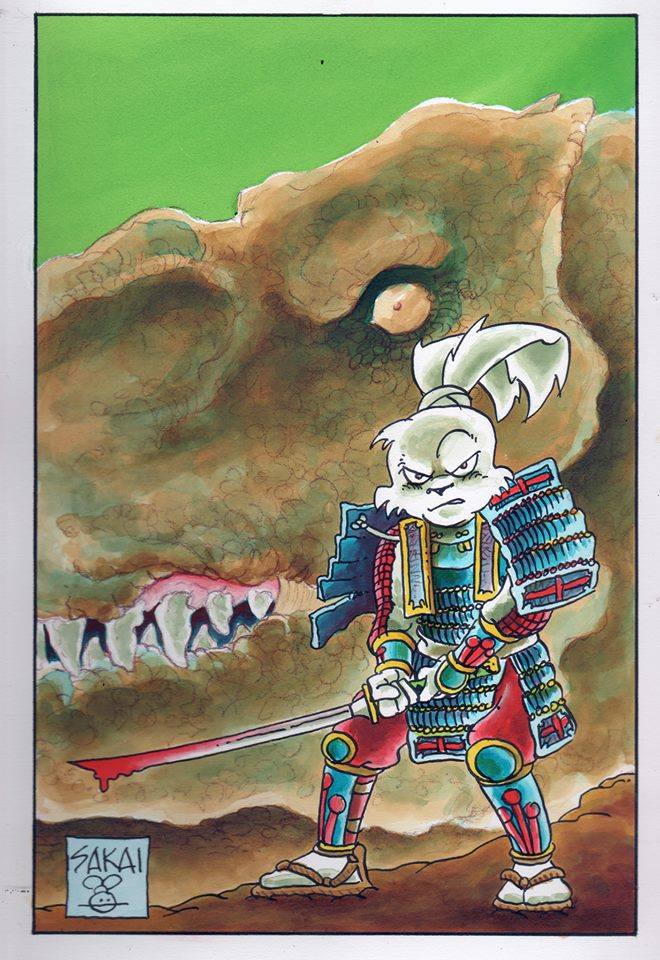 Dark Horse Announces The Sakai Project
By Staff Reports
(MILWAUKIE, OR)– The most amazing artists in the world have come together to celebrate thirty years of Stan Sakai's marvelous samurai rabbit saga, Usagi Yojimbo, in a new oversized hardcover benefit book: The Sakai Project: Artists Celebrate Thirty Years of "Usagi Yojimbo".
"It has been an absolute pleasure publishing Stan's work over the years, and recently collaborating with him directly on 47 Ronin," said Dark Horse's president and founder, Mike Richardson. "With the thirtieth anniversary of his most beloved creation, Usagi, and in a time of need for Stan and his family, we are honored to publish this tribute to Stan and his work. We are donating all of the proceeds to Stan and his wife, Sharon. We hope you will join us in honoring one of the comics industry's shining lights."
The participating artists bring their own interpretations and their own styles to the subject, making this book a one-of-a-kind treasure.
The Sakai Project is produced in association with the Comic Art Professional Society (CAPS). All proceeds from this book will go to Stan and Sharon Sakai.
ADAM HUGHES | ALAIN MAURICET | ALEX MALEEV | ALLISON SOHN | ANDY GRENEN | ARTHUR ADAMS | BATTON LASH | BILL MORRISON | BRIAN CHING & MICHAEL ATIYEH | BRIAN MICHAEL BENDIS | CARLOS D'ANDA & GABE ELTAEB | CHRIS SCALF | DAN PANOSIAN | DAVE GIBBONS | DAVID MACK | DOUG WHEATLEY | EDGAR DELGADO | ERIC POWELL | GABRIEL HARDMAN | GEOF DARROW | HOWARD CHAYKIN | JAN DUURSEMA | JEFF SMITH | JOYCE CHIN | MARK CRILLEY | MATT GROENING | MATT WAGNER | MICHAEL ALLRED | MICHAEL AVON OEMING | MICHAEL GOLDEN | MIKE KUNKEL | MIKE MIGNOLA | OSCAR MARTIN | PAUL GULACY | PAUL RENAUD | PHIL YEH | RICHARD CORBEN | SCOTT SHAW | SERGIO ARAGONÉS | STEPHANIE GLADDEN | TIM SALE | TOM MANDRAKE | TOM RICHMOND | WALTER SIMONSON | WILLIAM STOUT | & MORE!
Industry professionals, Dark Horse encourages your participation! The deadline for art submissions is February 20, 2014. For technical specifications and other information, e-mail Dark Horse at sakaiproject@darkhorse.com.
The Sakai Project will be released on July 23. Pre-order with your local comics retailer.
About Dark Horse
Founded in 1986 by Mike Richardson, Dark Horse Comics has proven to be a solid example of how integrity and innovation can help broaden a unique storytelling medium and establish a small, homegrown company as an industry giant. The company is known for the progressive and creator-friendly atmosphere it provides for writers and artists. In addition to publishing comics from top talent, such as Frank Miller, Mike Mignola, Neil Gaiman, Brian Wood, Gerard Way, Felicia Day, and Guillermo del Toro, and comics legends, such as Will Eisner, Neal Adams, and Jim Steranko, Dark Horse has developed its own successful properties, such as The Mask, Ghost, Timecop, and SpyBoy. Its successful line of comics and products based on popular properties includes Star Wars, Mass Effect, Buffy the Vampire Slayer, Aliens, Conan, EVE Online, Halo, Serenity, Game of Thrones, and Domo. Today Dark Horse Comics is the largest independent comic book publisher in the US and is recognized as one of the world's leading publishers of both creator-owned content and licensed comics material.