Collectibles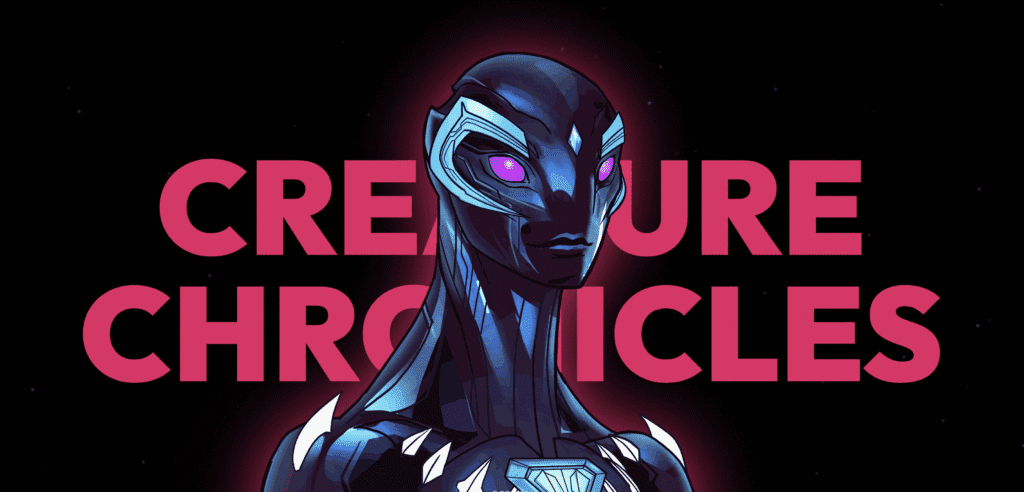 DOLPHIN ENTERTAINMENT'S FLAGSHIP NFT COLLECTION, CREATURE CHRONICLES, SELLS OUT IN 90 MINUTES
By Staff Reports
Dolphin Entertainment (NASDAQ: DLPN) is pleased to report its flagship NFT (non-fungible token) collection, Creature Chronicles – an intergalactic, immersive storytelling experience from former Marvel Studios' artist Anthony Francisco – sold out in just 90 minutes on the afternoon of Sunday October 2, 2022. The first Creature Chronicles collection, developed and marketed by Dolphin's Web3 division We Come In Peace and BlockStop, a Washington D.C. based Web3 agency, was minted on the Solana blockchain and features 7,777 custom-crafted avatars designed by Francisco. 
Creature Chronicles NFTs are now currently trading in the top five of all projects on the leading Solana NFT marketplace, Magic Eden. Trading in the secondary market has already surpassed 13,500 SOL in less than 24 hours.
Additional character NFT collections from the Creature Chronicles multiverse will go on sale in the coming months and will be brought to life both inside and outside Web3 through Dolphin's in-house production arms and its best in class marketing and PR firms. Dolphin's team of project managers, marketers and writers, alongside Anthony Francisco, are developing major plot lines, character designs and concepts that will expand the Creature Chronicles saga for multiple future collections.
In addition, Dolphin is already working to build out the Creature Chronicles story in the form of physical and digital comic books, animated series, merchandise, and more in order to bring new value to our community of holders, who will also enjoy a continuous series of perks and benefits from Dolphin's access into music, film, tv, culinary, arts, theater and more.
"We started developing this project over a year ago and as a result of the stunning visuals from Anthony, the commitment of our team and the dedication of our community, we now believe that the success of yesterday's mint signals the launch of a hit franchise property for our NFT business," said Bill O'Dowd, CEO of Dolphin Entertainment. "Creature Chronicles is just the beginning, with a slate of original IP already in development, all towards a goal of building an NFT studio with multiple collections in the market, each with multiple drops annually."
Follow Creature Chronicles on Twitter @creature_chron
About Creature Chronicles
Creature Chronicles follows an advanced race of humanoid dragons known as the Atrivians that have reigned supreme over an interdimensional nexus of space and time. For almost as long, a barbaric race of humanoid aquatics known as the Ostrogs have sought to oust them from power. Roughly a decade ago, the Ostrogs launched a siege that nearly annihilated their age-old enemy and drove the last of the Atrivians from their home. On Earth in the not too distant future, a 25-year old Zarah has returned home after the death of her father to help her brothers run the family space tourism business. After a black hole transports their shuttle to another dimension, Zarah is separated from her brothers before being rescued by the Atrivians. Zarah wil find herself at the center of an intergalactic space war and come to realize that her presence there is anything but accidental.
Creature Chronicles is from the mind of Marvel Studios' visionary Anthony Francisco. He served for nine years as a Senior Visual Development Artist at Marvel Studios, where he designed some of the world's most beloved characters and elements for the Marvel Cinematic Universe, from Baby Groot to Loki to the Dora Milaje (female warriors of Black Panther). His work has been featured in Guardians of the Galaxy Volumes 1, 2 and 3, Captain Marvel, Avengers: Infinity War, Avengers: Endgame, Antman, Antman and the Wasp, Black Panther and Doctor Strange.
About Dolphin Entertainment
Dolphin Entertainment is a leading independent entertainment marketing and production company. Through our subsidiaries 42West, The Door, Shore Fire Media and BHI (a division of 42West), we provide expert strategic marketing and publicity services to many of the top brands, both individual and corporate, in the film, television, music, gaming and hospitality industries. All three PR firms were ranked among the most recent Observer's "Power 50" PR Firms in the United States, an unprecedented achievement. Viewpoint Creative and Be Social complement their efforts with full-service creative branding and production capabilities as well as social media and influencer marketing services. Dolphin's legacy content production business, founded by Emmy-nominated CEO Bill O'Dowd, has produced multiple feature films and award-winning digital series. In early 2022, Dolphin launched WCIP (pronounced We Come In Peace), its new marketing, consulting and communications agency focused solely on developing and marketing blockchain, metaverse and Web3 projects and initiatives, for both current and future clients, as well as wholly-owned project investments. To learn more, visit: https://www.dolphinentertainment.com.