Art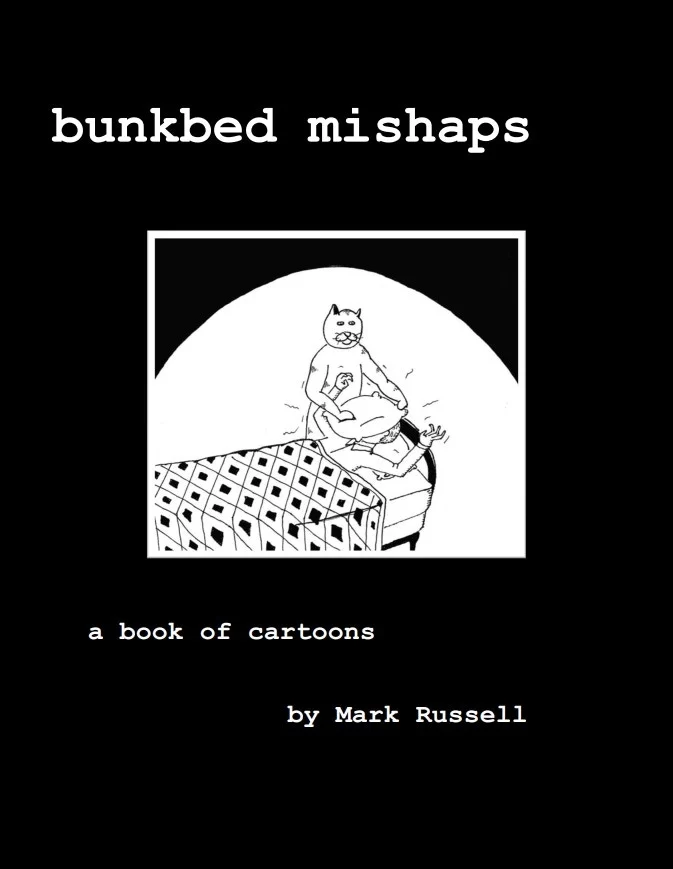 Eisner Award-Winning Writer and Playwright Mark Russell Crowdfunds His First Ever Book of Cartoons
By Staff Reports
Eisner, GLAAD, and Ringo award-winning comic book writer Mark Russell has made a name for himself with his sharply satirical writing in comic books such as Prez, The Flintstones, Exit Stage Left: The Snagglepuss Chronicles, Not All Robots, Superman: Space Age, Second Coming, Billionaire Island, My Bad, and more. Now the writer is turning to a new medium for the first time with BUNKBED MISHAPS, his first ever collection of cartoons. The project is now live on Kickstarter.
"Bunkbed Mishaps collects nearly a hundred cartoons, drawn over the course of three decades, as well as several mini-essays in which I open up about my life and what was going on with me while I was drawing them," said Mark Russell. "It's as close to a memoir as I've ever written, though most of what it captures is the danker recesses of my mind, which gave birth to these cartoons. I'd be lying if I said that I understood them or why I drew them. But it meant a lot for me to do so and even more now to share them with the world."
"These cartoons span decades in the making and, while difficult to describe thematically as anything other than 'weird,' I think they (God help us all) will give fans and readers of my work an even deeper look into my psyche than my writing," added Russell. "Along with this one-of-a-kind collection, I will be offering books, original artwork, and deep-cuts from my career as rewards for those willing to help me make this dream project come true."
In 2015, Russell made his debut in comics with his critically acclaimed reboot of the 1973-74 comic Prez (Issues 1-6, DC Comics), drawn by Ben Caldwell, in which a teenager is elected and serves as President of the United States. Following Prez, Russell was hired to write The Flintstones comic book series for DC Comics, drawn by Steve Pugh, which was nominated for two Eisner Awards, including Best Limited Series and Best Humor Publication, as well as being nominated for a Harvey Award for Book of the Year. In 2018, DC Comics published Russell's comic Exit, Stage Left!: The Snagglepuss Chronicles, which reinvented the titular Hanna Barbera character as a gay southern gothic playwright living in 1950s New York. Exit Stage Left!: The Snagglepuss Chronicles won the 2019 GLAAD Award for Outstanding Comic and was also nominated for the Eisner Award for Best Limited Series, while Russell was nominated for the Eisner Award for Best Writer. 2019 saw the publication of Russell's The Wonder Twins with artist Stephen Byrne as part of DC's new Wonder Comics line, curated by Brian Michael Bendis, as well as the publication of Russell's comic Second Coming by AHOY Comics. Originally slated to be published by DC/Vertigo, the comic was dropped by the label due to the religious and controversial subject matter, only to be later picked up and published by AHOY.
BUNKBED MISHAPS is now funding on Kickstarter. To support the project, head to Kickstarter. For updates, follow Mark Russell on Twitter.