Rap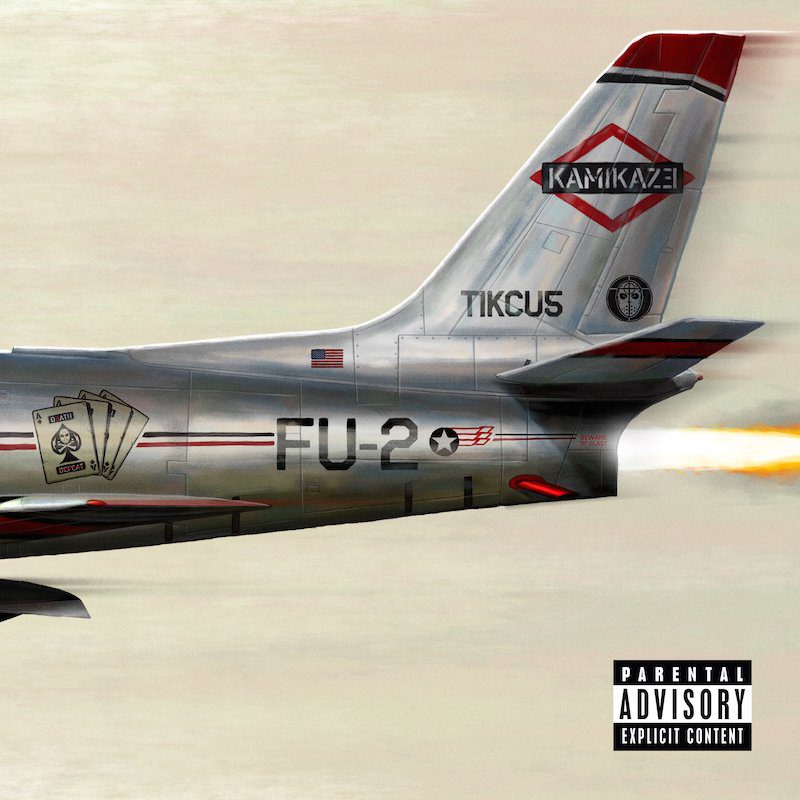 Eminem- Kamikaze Review: Return to Form
Last year, the controversial motor-mouthed rapper Eminem made his return with Revival, an album that didn't make the impact his previous releases have in the past. Personally, I thought it was really good, just a departure from the fiery, battle rap emcee I have followed since The Slim Shady LP. Well, this past week, Eminem shocked the world with a surprise album release, Kamikaze.
This is one of the best Eminem albums ever released, and easily the best rap album I have heard in 2018. The world kept saying the formerly blonde headed menace "fell off", and in a world full of horrible mumble rappers and Soundcloud superstars, the rap landscape asked for this album, and what an album they got. 13 songs deep, clocking in at 45 minutes, the album is focused, concise and centered on one theme: search and destroy. Personally, being a fan of rap since I purchased my first cassette single (2Pac, So Many Tears), I have been longing for the world of rap to go back to its roots. To intricate lines that leave you in shock as you dissect the verbiage. That is what we get with Kamikaze.
Marshall Mathers takes aim at many of today's biggest "stars", and pulls absolutely no punches. Any "Gucci Gang" followers are going to have the ink knocked clean off their doodle bear-like faces with lines aimed to destroy on contact. Eminem opens the album with "The Ringer", the perfect song to set up the album, as he takes shots at Lil Pump, MGK, today's "style" of rap and even President Trump. ("Do you have any idea how much I hate this choppy flow//Everyone copies though? Probably no")
With "Greatest", he cuts deep into controversy with lines referencing the Mandalay Bay shooting from last year and the infamous shooting in Aurora, CO during viewing of The Dark Knight Rises, ("Common sense, I'm a dollar short and a day late// James Holmes at the Saturday Batman matinee//Must have missed my cat-scan that day"). But the two most shocking songs for me have to be Stepping Stone and Not Alike. Stepping Stone is a heartfelt break-up song to his group, D-12. Since one of their powerhouse members, Proof, was shot and killed, the group never seemed to regroup. Eminem goes through the motions of what made him decide that it was time for D-12 to be over, (But the longer we spend livin' this lie that we live// The less is left for closure, so let's let this go//It's not goodbye to our friendship, but D12 is over.) With Not Alike, Eminem teams with his Bad Meets Evil counterpart Royce Da 5'9" and takes rapid-fire shots at the rap game. From the nonsensical words uses in what is considered rap in 2018, to the simple cadence of the verses, Eminem and Royce show how real lyricists survive and thrive inside of a beat. Eminem destroys MGK throughout the song, leaving little room for a response, ("He wants to keep up his tough demeanor//So he does a feature, decides to team up with Nina// But next time you don't gotta use Tech N9ne//If you wanna come at me with a sub, Machine Gun.").
For me, the two weakest tracks, and the only two I don't feel live up to the rest of this quality album are Good Guy and my least favorite track, Nice Guy. I really like the beat of Good Guy, but I can't seem to get Nice Guy to the status of playing it loud in my car stereo. Still, that makes 12 songs out of 13 that, to me, is great, 11 of them are literal fire starters.
Eminem has come back to hopefully save the dismal landscape of today's rap game. I don't mean independents, as the independent game has always been strong and innovative. I'm talking about the mumble rappers, the R&B crooners trying to rap. The rap industry is once again a war zone, I wonder who will strike back first if anyone even does. This is Eminem's return to form, return to the crown as he shows the art, the effort and the time it takes to be an elite emcee has always been with him, it's just up to him when he wants to attack. My pick for album of the year.
Rating: 9.5 out of 10.