Anime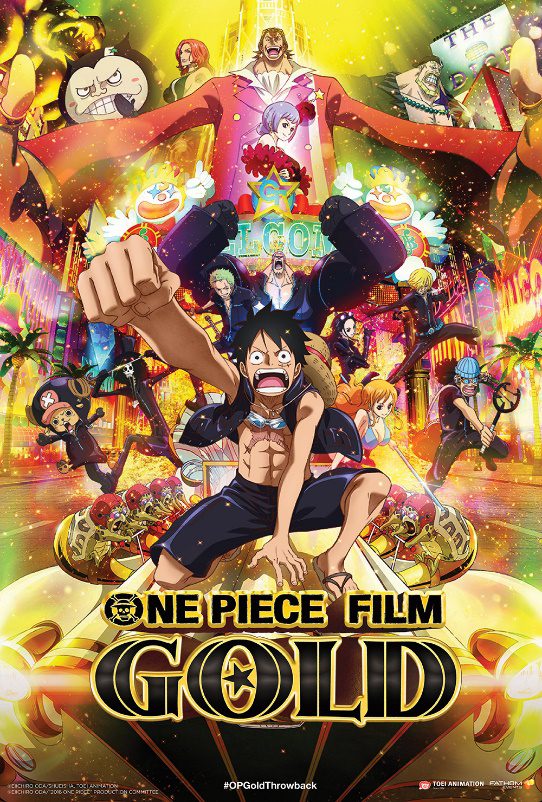 Fathom Events and Toei Animation Celebrate the 5th Anniversary of "One Piece Film: Gold"
By Staff Reports
Anime's cherished Straw Hat Pirates are bringing gold to U.S. theaters this summer. Fathom Events and Toei Animation Inc. are bringing "One Piece Film: Gold" back to the big screen this July to celebrate both the film's fifth anniversary and the upcoming release of "One Piece Film Red" this fall. "One Piece Film: Gold" will screen as two-night limited engagement in both dub and sub on July 24 and July 26, respectively.
Plus, as a special pre-show experience only available in theaters, moviegoers will be treated to an exclusive interview with Goro Taniguchi, director of the new movie "One Piece Film Red" coming to theaters fall 2022.  No fan will want to miss this special – interview! 
Originally released in the U.S. in 2017, "One Piece Film: Gold" is the 13th One Piece film from creator Eiichiro Oda. The movie was a worldwide hit for the franchise and is one of the top 3 highest grossing One Piece films of all time.
Produced by Toei Animation and based on the top-selling manga title of all time by creator Eiichiro Oda, One Piece features an epic quest to find "One Piece," the legendary treasure of the former King of the Pirates, Gol D. Roger. "One Piece Film Red" will be the 15th film from the franchise when it hits U.S. theaters this fall.
The glittering Gran Tesoro, a city of entertainment beyond the laws of the government, is a sanctuary for the world's most infamous pirates, Marines, and filthy rich millionaires. Drawn by dreams of hitting the jackpot, Captain Luffy and his crew sail straight for the gold. But behind the gilded curtains lies a powerful king whose deep pockets and deeper ambitions spell disaster for the Straw Hats and the New World alike.
Tickets for both events can be purchased at www.fathomevents.com or participating theater box offices. For a complete list of theater locations visit the Fathom Events website (theaters participants are subject to change). Please contact your local theater for individual safety precautions.