Movies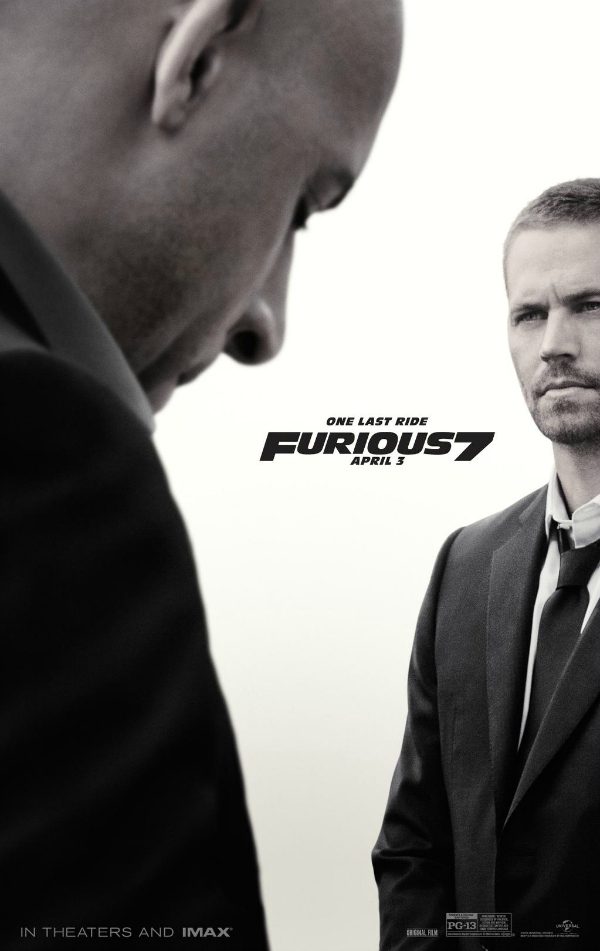 Furious 7 Review- One Last Ride
By Nolan P. Smith
(Victor Valley)—The Fast and Furious franchise has reached it's seventh film already, and for many, this is the one fans have been waiting for. After the tragic death of Paul Walker, this film has been circled around in emotions, knowing that this is the last time we will see Walker racing down the streets with Vin Diesel and the crew. Does Furious 7 speed across the finish line? Or is it just another pit stop?
Directed by James Wan, the film picks up directly after the 6th film ended. We see villain Owen Shaw (Luke Evans) in the hospital as his big brother Deckard (Jason Statham) plots revenge on those that out him there: namely Dominic Toretto (Vin Diesel) and his racing family. Tragedy strikes (or if you waited until the end of Fast 6, you already knew that) as Deckard goes on the hunt for the group, including Special Agent Hobbs (Dwayne Johnson). This leads to one of many spectacular fight scenes throughout the film, as this film's physical fight scenes have been the best in the whole series so far.
The whole crew is back, with Brian O'Conner (Paul Walker), Letty (Michelle Rodriguez), Roman (Tyrese Gibson), and Tej (Ludacris). New faces include a secretive higher up the goes by the name of Mr. Nobody (Kurt Russell), who offers his help in tracking down Deckard if the crew tracks down a hacker for him. This leads to, and you knew it was coming, vehicular warfare, and stunts that once again defy the sense of reality with their over the top antics. Like jumping out of a plane while driving a car, and speeding through three separate buildings in mid-air. Yes, the racing aspect of the franchise has taken a back seat, but we still get plenty of fast paced moments involving some amazing cars.
These films have always been popcorn films, plain and simple. You go in to enjoy the film and not overthink everything. If you do that, then this is one amazing ride. I thoroughly enjoyed Furious 7; the action is ramped up this time around, the stunts are more extreme and make you do a double take. One downside is Dwayne Johnson's character seemed to have a smaller amount of screen time from previous films, but let's face it, when you say "one last ride", the focus is on Paul Walker. The ending serves as an amazingly fitting tribute to the young actor, and you can see the emotion in Diesel's character as the movie comes to a close. If you want an action packed, entertaining film, then you need to check out Furious 7. Rest in Peace, Paul Walker.