Art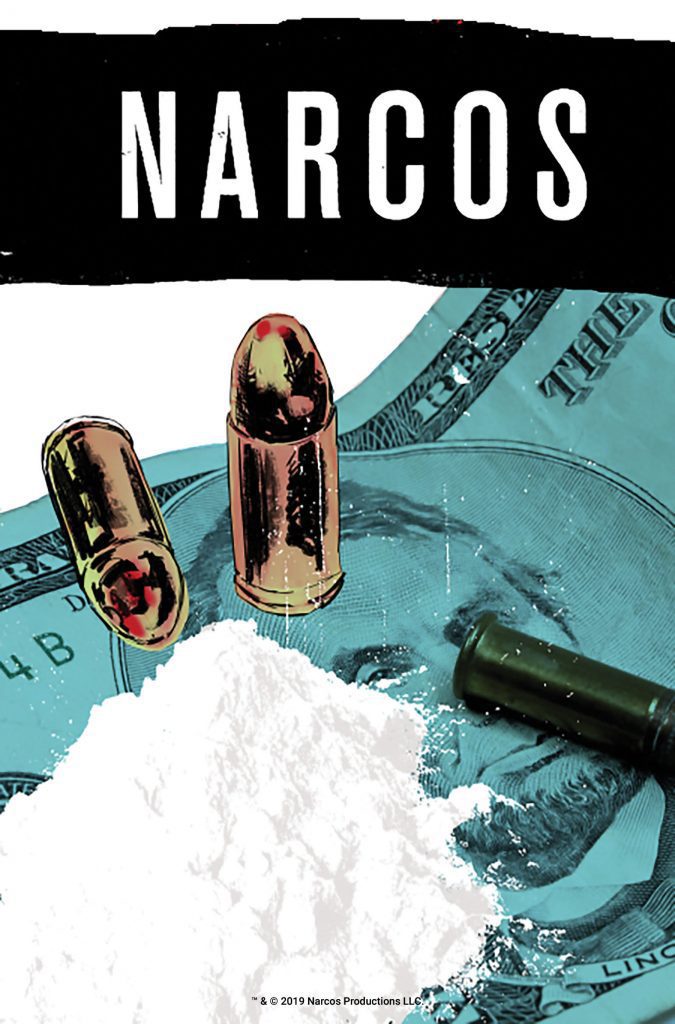 Gaumont's Narcos Explodes as Upcoming IDW Comic Book
By Staff Reports
Beginning in April, IDW Publishing will launch an all-new front in the War on Drugs with the official Narcos comic book series, an original story set within the continuity of the first season of the drama series, a Netflix Original produced by Gaumont.
Written by Ryan Ferrier (G.I. Joe: Silent Option) with art by Vic Malhotra (The X-Files), the four-issue Narcos miniseries introduces new dangers for DEA agents Steve Murphy and Javier Peña to face, while at the same time, El Patrón must contend with a dangerous threat to his drug empire.
"I'm thrilled to take fans new and old into a deeper, unseen story from the volatile, teeth-gritting world of Narcos," says Ryan Ferrier. "I'm even more excited to bring this to life alongside Vic Malhotra, whose immense talent and style will show us a new side of Narcos — one with dangerously high stakes and a new, chaotic presence that will affect the DEA, the Cartels, Don Pablo himself, and all of Colombia."
Vic Malhotra says, "I'm stoked that IDW and Gaumont selected me as the artist for this book. Narcos feels very authentic, its brooding characters and gritty world. It's very important to bring that feel to the comic page, to inject it into the way things are drawn, the colors, the compositions. It's been fun and challenging so far, and I hope readers dig it!"
Editor Bobby Curnow says, "The team behind the Narcos series did such a fantastic job of bringing the audience into this fascinating world of power and deceit. Ryan and Vic have seamlessly integrated into this world and are bringing us a story that fits right into the larger picture. This feels like it could be an episode of the show while still retaining that unique comic book magic!"
"IDW Publishing is one of the most prolific graphic novel publishers in the U.S. and the talented and accomplished team they have assembled to create this Narcos comic book series are heralded in the industry," says Tim Stephen, Head of Legal and Business Affairs. "Fans of Narcos will be captivated as they discover new ways to experience the real-life rise to global power and wealth story of the world's most infamous drug lords through this dynamic and engaging new format!"
For information on how to secure copies of the Narcos comic book series, please contact your local comic shop or visit www.comicshoplocator.com to find a store near you.
About Gaumont
Formed in France in 1895, Gaumont is the oldest film company in the world, with offices in Paris, Los Angeles, London, Cologne and Buenos Aires. The company's film library encompasses over 1100 titles from prestigious directors such as Luc Besson, Matthieu Kassovitz, Francis Veber, and Jean-Luc Godard, and more recently, Toledano and Nakache for The Intouchables, the highest-grossing French language movie ever with over $450 million in revenue to date. Gaumont produces and distributes high-quality TV programming worldwide such as the award-winning series Narcos for Netflix; the critically acclaimed Hannibal; "Best Series" winner at Festival of Fiction TV, The Frozen Dead; and The Art of Crime.
The company's animated catalog comprises over 800 half-hours, broadcast in over 130 countries.  Current productions include Noddy (season two) co-produced with Dreamworks, Trulli Tales, Belle & Sebastian, Furiki Wheels, and F is For Family (season four) for Netflix. Most recently, Gaumont announced that Amazon Studios has greenlit for production a new Amazon Original, the animated lyrical series for preschoolers, Do, Re & Mi (52×11'), featuring original tracks performed by executive producers and creators Kristen Bell (Disney's Frozen), Jackie Tohn (Glow, American Idol) and other surprise guests; and Bionic Max has been greenlit by France's Gulli.  Projects in development for theatrical release include the animated feature High in the Clouds, (based on the book authored by Sir Paul McCartney and Philip Ardagh and illustrated by Geoff Dunbar) and Plunder, a family treasure hunting adventure from award-winning writers, Leo Chu and Eric Garcia.