Comics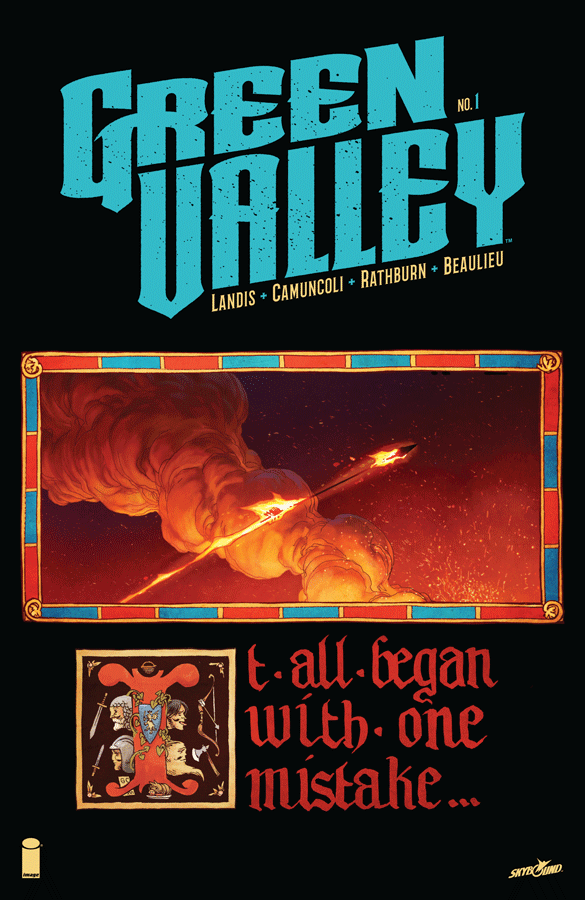 Green Valley #1 Review- Prepare to be Knighted
Landis and Camuncoli craft Green Valley debut worthy of knighthood
By Nolan P. Smith
When I heard that Max Landis was doing a book for Image Comics/Skybound, naturally that intrigued me. Being a huge fan of his superhero tragedy film Chronicle, I definitely wanted to see what he had cooked up. Add Giuseppe Camuncoli as the artist and make it a story set in the days of chivalry and knighthood? I'm in already. Well, now that I read the first issue to Green Valley from Image Comics and Skybound, I have to say, this book blew me away.
The first issue introduces us to the legendary Knights of Kelodia, who right off the bat we see set against mind-boggling odds. Swords swing and limbs fly, and it all looks so glorious. But besides the awesome action, we get some dead on dialogue that really makes the knights seem more than characters inside a comic book panel. Landis, no stranger to the world of comics (he was nominated for an Eisner, one of the most prestigious awards in the comic industry), knows the importance of characterization, and we see that perfectly with the small band of knights, and what makes each one tick. We get characterization, we get to see bonds and relationships, we get some very natural humor thrown in, but we also get life altering changes. Gloom and doom. This book ends with lots of questions, and with a message from the writer that we have no idea what comes next, which makes sense, as I had no idea how this first issue would go and was floored by the end of it. Camuncoli's artwork is perfect for this medieval romp: his character designs, from the knights to the threats they face, look outstanding, and the landscapes the characters inhabit look top notch.
I love comic books, especially comics that step out of the norm of what most people think a comic "should" be. Like Green Valley, which is a comic book set to knights chopping enemies down and defending their kingdom- sounds more like a movie. But that's it: the comic book medium can be used to tell any genre of story, something Landis and Camuncoli both show masterfully here. I can't wait for issue #2, and it looks like I'm not the only one as Image has always stated that the first issue has sold out. Go seek Green Valley #1, and get ready for a hell of a ride.
Rating: 9.5 out of 10.
This comic book review was created in conjunction with QBC Toys and More, a local comic book and collectible shop located in Victorville, CA. Featuring new comic books every week, collectibles, action figures, original artwork, and more, QBC has something for the pop culture lover in us all. You can find them on Facebook at https://www.facebook.com/QBCToysandMore/.