Anime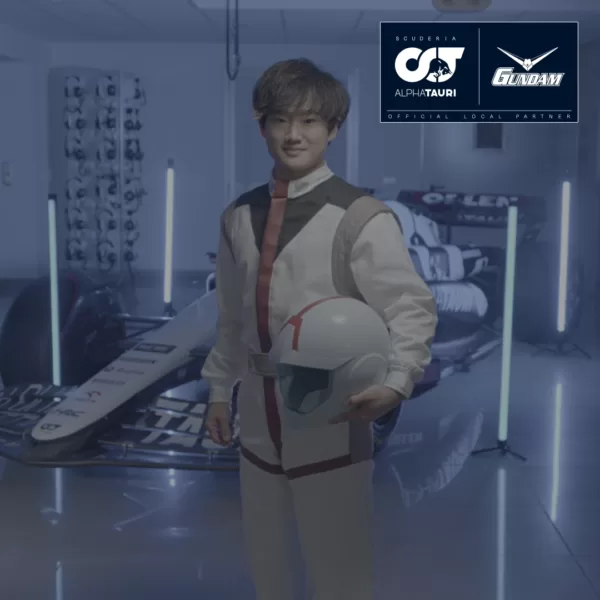 GUNDAM Deploys to the Las Vegas Grand Prix, Partnering With Scuderia AlphaTauri
By Staff Reports
Bandai Namco Entertainment America Inc. is bringing the GUNDAM franchise to the Formula 1® grid by partnering with Scuderia AlphaTauri S.p.A. for the upcoming Las Vegas Grand Prix, which takes place Nov. 16-18. The sponsorship adds GUNDAM decals of the RX-78-2 GUNDAM and XVX-016 GUNDAM Aerial next to the drivers' helmets on the headrests of the Scuderia AlphaTauri AT04s as they battle for points around the Las Vegas Strip Circuit™.
The partnership between Bandai Namco's GUNDAM brand and the Scuderia AlphaTauri racing team goes beyond traditional Formula 1® sponsorships and includes activations at the Las Vegas Grand Prix that are sure to be memorable for fans. These include nearly seven-foot tall GUNDAM statues, livery decals added to the AT04s, and a promotional video by driver Yuki Tsunoda in an iconic GUNDAM-inspired racing suit. Also commemorating the partnership is a unique custom-designed Perfect-Grade Unleashed model of the Mobile Suit RX-78-2 GUNDAM with exclusive Scuderia AlphaTauri decals and colors (for display only). All new GUNDAM features, including RX-78-2 and Yuki Tsunoda artwork inspired by Scuderia AlphaTauri, have been created for the event as well. For the race weekend, two GUNDAM BASE POP-UP Stores will be available around the Las Vegas Strip Circuit area.
"One of the longest running Sci-Fi franchises in the world, GUNDAM has always been able to connect with fans all around the globe with its featured themes of heroism, standing up to adversity, and overcoming tremendous odds, mirroring in fiction the real-life challenges Formula 1 drivers face each and every race," said Karim Farghaly, senior vice president of corporate development at Bandai Namco Entertainment America Inc. "We partnered with Scuderia AlphaTauri because of their vision and cooperation to help bring GUNDAM to the inaugural Las Vegas Grand Prix in a way that will be memorable and meaningful to both Formula 1 fans and GUNDAM fans alike."
Since its debut in 1979, the GUNDAM franchise has centered around gifted pilots commanding technologically advanced machines – mirroring the same technological vision the Bandai Namco GUNDAM team sees in Formula 1® racing. The GUNDAM franchise first started as an anime and now spans a collection of toys and collectibles, animated series, feature-length films, and a wide variety of video games. To learn more about GUNDAM, please visit https://en.gundam.info/spc.
"GUNDAM is a globally recognized and beloved media franchise with passionate fans in every corner of the world. We immediately embraced the GUNDAM spirit and are delighted to welcome them as a partner of Scuderia AlphaTauri for the 2023 Las Vegas Grand Prix," said Fabian Wrabetz, Director of Marketing and Communication at Scuderia AlphaTauri. "This will be a collaboration to remember with multiple on and off-track activations that will push the limits of fan engagement in a fun and exciting way."
Learn more about GUNDAM by visiting the official website, watch the Yuki Tsunoda promotional video, and watch full episodes for free of the recent MOBILE SUIT GUNDAM: THE WITCH FROM MERCURY series. https://en.gundam.info/spc. Follow all the GUNDAM news on Facebook: https://www.facebook.com/ GUNDAMInfoNA and Twitter: https://twitter.com/ GUNDAMInfoNA
For press only, static assets are available at the Bandai Namco Entertainment America Inc. press room at www.bneapressroom.com; a library of video trailers ready for embedding are available on our YouTube channel at www.youtube.com/c/BandaiNamcoEntertainmentAmerica.
For information on this title and other products from Bandai Namco Entertainment America Inc., please visit www.bandainamcoent.com. Join the conversation on Twitter at https://www.twitter.com/BandaiNamcoUS, check us out live on Twitch at https://twitch.tv/bandainamcous, or follow us on Facebook at https://www.facebook.com/BandaiNamcoUS.