Action Figures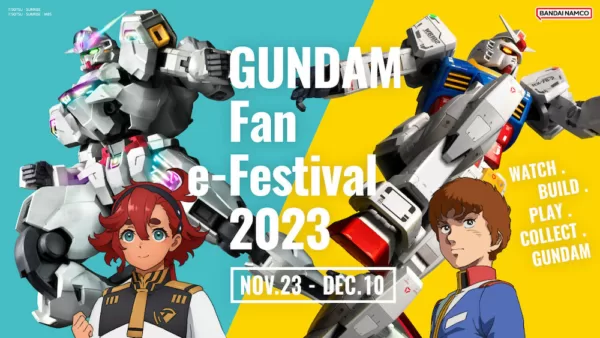 GUNDAM Fan e-Festival 2023, Where GUNDAM Fans Will Take Center Stage from November 23 to December 10, Invites Fans to Take Control of the Moving RX-78F00 GUNDAM in Japan!
By Staff Reports
In just days, Bandai Namco Toys & Collectibles America ("BNTCA") will hold its event, GUNDAM Fan e-Festival 2023 ("GFeF2023"), online for 18 days from November 23rd to December 10th, 2023. The theme of this year's event is "Made for the fans" and there will be a variety of content that all types of fans and all generations can participate in and enjoy. As a part of GFeF2023, an official promotional video featuring fan Gunpla submissions "Our Daydream" has been revealed today. Visit the official website here: https://en.gundam.info/content/fan-e-fest/
December 3rd of the festival will be Fan Day with various content available. The main event of the day will be HACK THE "MOVING GUNDAM", a livestream hacking challenge where fans can participate and there will also be prize giveaways in which 78 participants will be selected by a drawing to win the special GUNDAM assorted gifts.
During the festival, various free anime viewing experiences will be available such as the fan-voted GUNDAM THEATER, past anime works for a limited time, and simultaneous viewing of the latest anime works. In addition, the latest GUNDAM videos, services, and product news will be shared, and the results of the GUNPLA BUILDERS WORLD CUP USA 2023(GBWC USA 2023) will be announced. GUNDAM-related products, including exclusive items, will also be on sale.
Event Highlights:
HACK THE "MOVING GUNDAM" in Japan
A live game event will be held on December 3rd, 12:00PM PST/3:00PM EST, where fans will be able to move the life-size "MOVING RX-78F00 GUNDAM" remotely from the USA.
*Entry to the giveaway is limited to those who have pre-registered with a Bandai Namco ID. Please pre-register on the website in order to participate.
A FANMADE GUNPLA MOVIE:"OUR DAYDREAM"
The official GFeF2023 promotional video is produced by accepting Gunpla submissions from fans. During the festival, a making-of video will be shared on the site.
GUNDAM THEATER
ased on the results of the fan voting held in advance, all 50 episodes of the TV series "TURN A GUNDAM" and all 5 parts of the film compilation series "GUNDAM Reconguista in G" will be available to stream for a limited time. For the latest work "GUNDAM BUILD METAVERSE", there will be a watch party of all 3 episodes. All previously released episodes of the GUNDAM BUILD Series will also be streamed online.Mobile Suit GUNDAM the WITCH from MERCURY will be available to stream for a limited time. In addition to the currently available subtitled version, a dubbed version will be available from November 23rd.
In addition to Mobile Suit GUNDAM SEED, which is already available for free on Gundam.info, various other titles will be available for free on the event website from November 23rd to December 10th.
GUNDAM NEWS STREAM
During the festival, video producers from Bandai Namco Filmworks INC. will make a stream appearance and give updates on GUNDAM anime, and important information will be revealed for the first time. Additionally, the results of GBWC USA 2023 will be announced. The winner of this contest will advance to the GBWC World Championship Finals to be held in Japan in December. In addition, news regarding various Gundam-related products and the latest information will be released.
Product Highlights:
Over 200 GUNDAM-related products will go on sale starting November 23rd, including valuable products that will be released for the first time in the US during GFeF2023.
RG 1/144 THE GUNDAM BASE LIMITED UNICORN GUNDAM PERFECTIBILITY
MG 1/100 GUNDAM BARBATOS [RECIRCULATION COLOR/NEON BLUE]
HG 1/144 GUNDAM AERIAL [CLEAR COLOR]
MG 1/100 THE GUNDAM BASE LIMITED WING GUNDAM ZERO EW Ver.Ka [CLEAR COLOR]
MG 1/100 THE GUNDAM BASE LIMITED RX-78-2 GUNDAM Ver.3.0 [THE GUNDAM BASE COLOR]
For more information and the latest updates regarding the GUNDAM FAN e-FESTIVAL 2023 please visit https://en.gundam.info/content/fan-e-fest/
Follow the official Bandai Namco Toys & Collectibles America account @BandaiCollect on social media on Facebook, X and Instagram for the latest news and information.
About Mobile Suit GUNDAM
Learn more about GUNDAM by visiting the official website, watch full episodes for free of the recent MOBILE SUIT GUNDAM THE WITCH FROM MERCURY series. https://en.gundam.info/spc
Follow all the GUNDAM news on Facebook: https://www.facebook.com/GUNDAMInfoNA and X: https://twitter.com/GUNDAMInfoNA
About Bandai Namco Toys & Collectibles America Inc (BNTCA)
Bandai Namco Toys & Collectibles America Inc. is a leader in developing engaging, quality toys that capture children's and collector's imaginative spirit and provide endless "Fun For All into the Future." Bandai Namco Toys & Collectibles America is the manufacturer and master toy licensee of some of the most popular brands in collectibles, children's toys and entertainment today, including Gundam, Tamagotchi®, Dragon Ball®, Vital Hero, Anime Heroes®, Tamashii Nations®, Bandai Hobby and MegaHouse. BNTCA is proud to be the official distributor in the US for Mr. Hobby, nanoblock® and official Studio Ghibli merchandise. For more information, visit bandai.com.