Comics
Happy TPB Review: Not Your Average Imaginary Blue Horse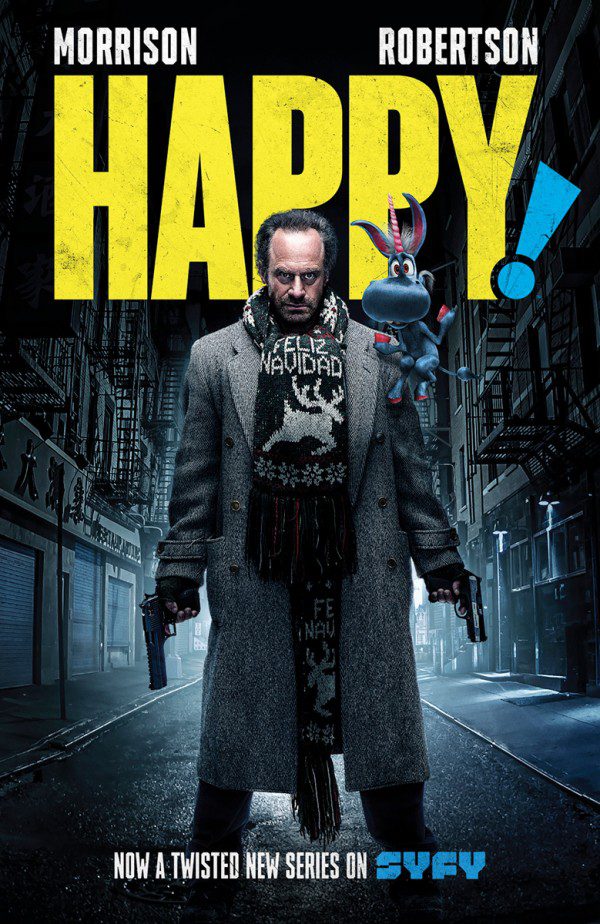 By Nolan P. Smith
Back in 2012, Image Comics released a series from the twisted minds of Grant Morrison (We3, JLA) and Darick Robertson (The Boys) called Happy. A sick, violent, rated R book with a Christmas slant to it, I loved the series when it initially hit. Fast forward to 2017, and SyFy is now airing a series based off the comic starring Law and Order SVU alum Christopher Meloni. What a perfect time to check out the trade paperback edition of Happy, which now featured a live action cover.
Our "hero" is no hero by any definition: Nick Sax is a corrupt ex-cop who is now a hired gun. He knows how to kill and does so well, and for his own personal gain. But when a hit goes awry, and an injured Sax is running from the law and the mob, it's the perfect time for a tiny blue horse named Happy to make his grand entrance. Seems that there is a creepy Santa in town, kidnapping kids and making a name for himself. One of those kids has Happy as her imaginary friend, and he sought out Sax to help. Wait, how does that happen? I won't spoil that.
Though the story doesn't take the twist and turns Morrison is known for, it is an extremely enjoyable read. Not for the faint of heart, this is a mature readers book, which translates so well into the new SyFy show. If you haven't read Happy yet, and aren't afraid of a little (ok, a lot of) blood, strong language and adult themes, then I recommend to pick it up and tune into SyFy.
Rating: 8.5 out of 10.