Comics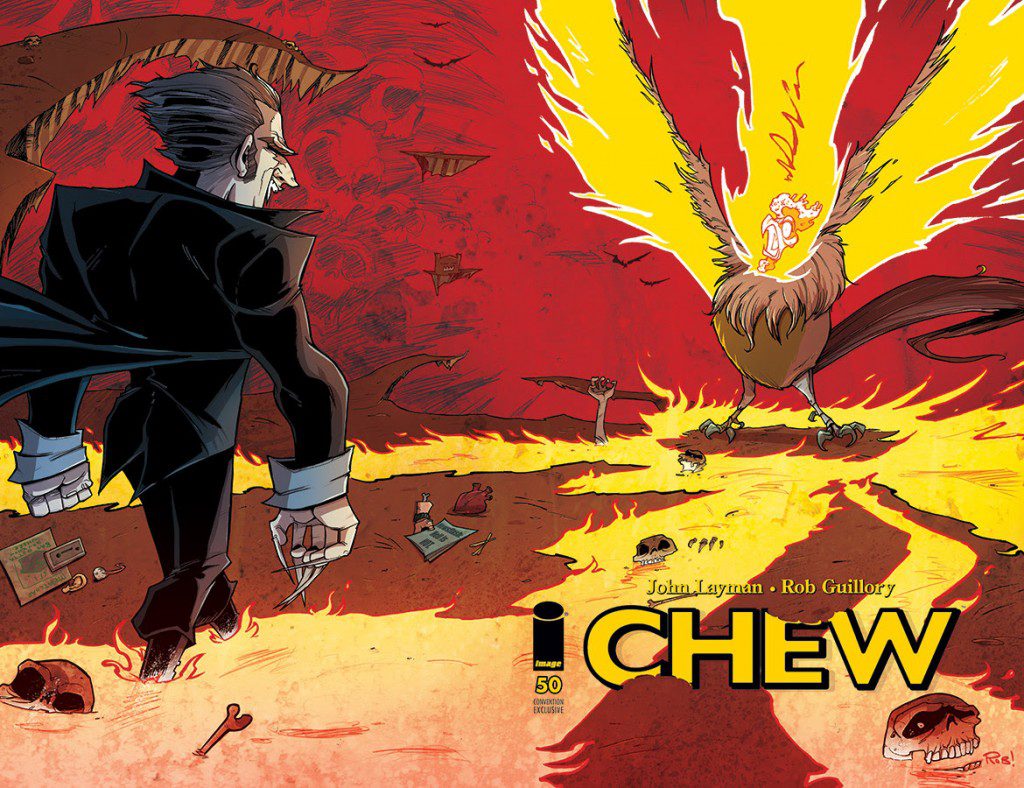 Image Comics at SDCC, Exclusives Announced
By Staff Reports
Image Comics (booth #2729) is pleased to be at San Diego Comic-Con this year from Wednesday, July 8 through Sunday, July 12.
VARIANTS SOLD AT THE IMAGE BOOTH (booth #2729):
CHEW #50 by John Layman & Rob Guillory, $10
INJECTION #3 by Warren Ellis & Declan Shalvey, $10
MYTHIC #2 by Phil Hester & John McCrea, cover art by Sean Gordon Murphy, $10
SHUTTER #13 by Joe Keatinge & Leila del Duca, cover art by Jonathan Hickman, $10
STARVE #2 by Brian Wood & Danijel Zezelj, $10
WYTCHES by Scott Snyder & Jock, $35
THEY'RE NOT LIKE US, VOL. 1 by Eric Stephenson & Simon Gane, $20
NOWHERE MEN, VOL. 1 by Eric Stephenson & Nate Bellegarde, $9.99
NOWHERE MEN, VOL.1 TP (RED) by Eric Stephenson & Nate Bellegarde, $9.99
NOWHERE MEN SHIRT TEAL, W/M XS-XXL, $20
NOWHERE MEN SHIRT RED, W/M XS-XXL, $20
IMAGE COMICS TEAL SHIRT, W/M XS-XXL, $20
PANELS HOSTED BY IMAGE COMICS:
Thursday, 7/9/15, 2:00p.m. – 3:00p.m., Room: 23ABC
Image Comics: Where Creators Own The Mainstream
The mainstream is whatever we want it to be. Killer robots, ghosts, absurdist comedy, and space adventures aren't niche, but in comics, we sometimes treat them like they are. In reality? They're as mainstream as anything else, thanks to their wide-ranging appeal and the astonishing execution from Kody Chamberlain (Punks), Keenan Marshall Keller (The Humans), Chip Zdarsky (Kaptara), Marjorie Liu (Monstress), Alex Grecian (Rasputin), and Michael Moreci (Roche Limit). Come find your new favorite comic.
Friday, 7/10/15, 11:00a.m. – 12:00p.m., Room: 23ABC
Image Comics: Where Creators Own Process
The trick to making comics isn't finding a specific pen or sitting at the keyboard for hours. You have to do all that, but more importantly, you must figure out the story you want to tell and the best way to tell it. Nick Dragotta & Jonathan Hickman (East of West) go face-to-face with Corinna Bechko & Gabriel Hardman (Invisible Republic) in this wide-ranging discussion on how to make comics from some of the best in the business.
Saturday, 7/11/15, 1:00p.m. – 2:00p.m., Room: 7AB
Image Comics: Where Creators Own Reality
Our entertainment is a reflection of our reality, and the best of our entertainment says something about our world. Ed Brisson (Sheltered), Kelly Sue DeConnick (Bitch Planet), Sina Grace (Self-Obsessed), David Lapham (Stray Bullets), and Brandon Montclare (Rocket Girl) all incorporate the real world into their work in a wide variety of ways. Listen to them talk about the stories we tell ourselves about ourselves.
Saturday, 7/11/15, 4:15p.m. – 5:15p.m., Room: 6DE
Image Comics: Where Creators Own Aesthetics
Your favorite comic shouldn't look like your other favorite comic, which shouldn't look like your other other favorite comic. Rob Guillory (Chew), Jamie McKelvie (The Wicked + The Divine), Stuart Moore (EGOs), Lee Loughridge (Deadly Class), Scott Snyder (Wytches), and Joshua Williamson (Nailbiter) know all about creating comics that aren't like anything else on the shelves. Whether you're a writer, artist, colorist, or fan, come and learn something new!
Sunday, 7/12/15, 2:00p.m. – 3:00p.m., Room: 7AB
Image Comics: Where Creators Own Imagination
Japanese yokai, boy robots on the run, spaced-out Greek gods, alien deserts, and a world unmoored are but the tip of the iceberg when it comes to work from Ivan Brandon (Drifter), Kieron Gillen (The Wicked + The Divine), Tula Lotay (Supreme: Blue Rose), Dustin Nguyen (Descender), Kurtis Wiebe (Rat Queens), and Jim Zub (Wayward). These creators are incredible at channeling imagination into entertainment. What's their secret?
Spotlight: Jimmie Robinson
Saturday, 7/11/15, 3:00p.m. – 4:00p.m.
From Cyberzone in 1994 to The Empty in 2015, cartoonist Jimmie Robinson (The Empty) has carved out a special place for himself in comics. In this Spotlight presentation moderated by Image Comics' David Brothers, Jimmie shares the stage with Rob Guillory (Chew), Amanda Meadows (The Devastator), and Jamie Broadnax (BlackGirlNerds.com) for a wide-ranging and fun conversation about living in and around comic books.
Spotlight: Eric Stephenson
Sunday, 7/12/15, 12:00p.m. – 1:00p.m., Room 4
Writer, marketer, publisher—after entering the comics industry in 1992, Eric Stephenson has shown that he knows his way around comic books. As the publisher of Image Comics, Stephenson has overseen an incredible surge in quality and potential for the comics industry. In this special Spotlight panel, Stephenson is going to share his knowledge, anecdotes, and jokes.
Nurturing Talent: What it takes to be a decision Maker
Thursday, 7/9/15, 11:00 a.m.-12:00 p.m., Room 29AB
It takes a special kind of person to find talent in others and draw the best from them. Seeing the potential in comic creators and learning to nurture that talent is not an easy task, but a very important one. Moderator Mark Waid (Thrillbent) discusses with Eric Stephenson (Image Comics), Chip Kidd (Penguin Random House), Denis Kitchen (founder of CBLDF), Reginald Hudlin (producer, director), and Todd McFarlane (Spawn) how they balance the everyday decisions with big picture-planning.
SKYBOUND PANELS:

Robert Kirkman's Skybound Comics: Thursday, 12:00PM-1:00PM, Room 7AB
Explore the ever-changing comic landscape with Skybound creators and artists including Andy Diggle (Thief of Thieves), Chris Dingess (Manifest Destiny), Shawn Martinbrough (Thief of Thieves), and Joshua Williamson (Birthright, Ghosted). The panel will be moderated by Skybound editorial director Sean Mackiewicz.
Robert Kirkman's Skybound Entertainment Celebrates Five Years: Thursday, 3:30PM-4:30PM, Room 6BCF
Join panel host Geoff Keighley for a discussion with Skybound Entertainment as they celebrate the company's fifth anniversary. The panel will explore Skybound's various projects that include properties such as The Walking Dead, Outcast by Kirkman & Azaceta, and the company's first feature film, AIR, starring Norman Reedus and Djimon Hounsou. Expect exclusive news, special guests, and a first look at the full-length feature trailer for AIR.
AMC's 'The Walking Dead': Friday, 12:00PM-1:00PM, Hall H
Andrew Lincoln, Norman Reedus, Steven Yeun, Lauren Cohan, Danai Gurira, Melissa McBride, Chandler Riggs, Sonequa Martin-Green, Michael Cudlitz, and Lennie James join executive producer and showrunner Scott M. Gimple, executive producer Gale Anne Hurd, executive producer Dave Alpert, and special effects makeup supervisor and executive producer Greg Nicotero in a panel moderated by Chris Hardwick (The Nerdist, Talking Dead). The panelists will discuss the shocking finale of Season 5 and what to look forward to in Season 6, debuting this fall on AMC. Join the panelists for a Q&A session and an official sneak preview of Season 6.
AMC's 'Fear The Walking Dead': Friday, 1:00PM-2:00PM, Hall H
Cliff Curtis, Kim Dickens, Frank Dillane, Alycia Debnam-Carey, Elizabeth Rodriquez, Lorenzo James Henrie, Ruben Blades and Mercedes Mason join executive producer and showrunner Dave Erickson, executive producer Gale Anne Hurd, executive producer Dave Alpert, and special effects makeup supervisor and executive producer Greg Nicotero to discuss the anticipated series premiere of Fear the Walking Dead coming this summer. Join the panelists for a Q&A session and an official sneak preview of the new series.
Outcast TV Series: Saturday, 3:00PM-4:00PM, Room 6DE
Be the first to get possessed by Outcast! From Cinemax and FOX comes the exclusive first look at the TV adaptation of Robert Kirkman and Paul Azaceta's hit comic book by the same name. Outcast chronicles Kyle Barnes; a young man who has been plagued by demonic possession all his life. Now, with the help of the Reverend Anderson, a preacher with personal demons of his own, Kyle embarks on a journey to find answers and regain the normal life he lost. But what Kyle discovers could change his fate, and the fate of the world, forever. Executive producer Chris Black (Desperate Housewives), cast members Patrick Fugit (Almost Famous, Gone Girl), Philip Glenister (Life on Mars), and Wrenn Schmidt (Boardwalk Empire), and special surprise guests, in a panel moderated by Kumail Najiani (HBO's Silicon Valley) discuss the highly anticipated series and debut a sneak peek of Season 1; coming worldwide in 2016.
SIGNINGS HOSTED AT IMAGE COMICS BOOTH (#2729):

WEDNESDAY, JULY 8
6:30 – 7:30 PM: Rob Liefeld
THURSDAY, JULY 9
10 – 10:45 AM: Ed Brisson & Johnnie Christmas
10 – 10:45 AM: Alex Grecian
10 – 10:45 AM: Steve Orlando
11 – 11:45 AM: Tim Wiesch & Eric Powell
11 – 11:45 AM: Skottie Young
12 – 1:00 PM: Jonathan Layman & Rob Guillory
12 – 1:00 PM: Chip Zdarsky *limited, wristbands required*
1 – 1: 45 PM: Andy Diggle (Skybound table)
1 – 1: 45 PM: Joe Keatinge
1 – 1: 45 PM: Jason Latour *limited, wristbands required*
2 – 2:45 PM: Rob Liefeld *limited, wristbands required*
3 – 3:45 PM: Tom Neely & Keenan Marshall Keller
3 – 3:45 PM: Lee Loughridge & Andy Belanger
3 – 3:45 PM: Jacob Semahn
3 – 3:45 PM: Joe Keatinge (Skybound table)
4 – 4:45 PM: Joe Casey
4 – 4:45 PM: Jim Zub & Edwin Huang
5 – 5:45 PM: Dustin Nguyen
5 – 5:45 PM: Caitlin Kittredge, Cat Staggs, Nicola Scott
6 – 6:45 PM: Nick Dragotta
6 – 6: 45 PM: Tula Lotay
FRIDAY, JULY 10
10 – 10:45 AM: Joe Harris
10 – 10:45 AM: Brandon Montclare
10 – 10:45 AM: Michael Moreci
11 – 11:45 AM: Kurtis Wiebe *limited, wristbands required*
11 – 11:45 AM: Ivan Brandon
11 – 11:45 AM: Landry Walker & Eric Jones
11 – 12:00 PM: Todd McFarlane & Jonboy *limited, wristbands required* (Todd McFarlane Productions table)
12 – 12:45 PM: David Lapham
12 – 12:45 PM: Shawn Martinbrough & Andy Diggle
12 – 12:45 PM: Tim Seeley (Skybound table)
1 – 1:45 PM: Jonathan Hickman, Nick Dragotta, & Nick Pitarra *limited, wristbands required*
1 – 1:45 PM: Gabriel Hardman & Corinna Bechko
2 – 2:45 PM: Paul Azaceta
2 – 2:45 PM: Jason Latour *limited, wristbands required* (Skybound table)
2 – 2:45 PM: Joshua Williamson
3 – 4:45 PM: Scott Snyder & Jock *limited, wristbands required*
5 – 5:45 PM: John Layman & Rob Guillory *limited, wristbands required*
6 – 6:45 PM: Greg Hinkle
6 – 6:45 PM: Stuart Moore
6 – 6:45 PM: Gail Simone
SATURDAY, JULY 11
10 – 10:45 AM: Steven T. Seagle
10 – 10:45 AM: Kody Chamberlain
10 – 10:45 AM: Alec Siegel
11 – 11:45 AM: John Layman & Rob Guillory *limited, wristbands required*
11 – 11:45 AM: Chip Zdarsky *limited, wristbands required*
12 – 12:45 PM: Sina Grace, Daniel Freedman, & Michael Stock
12 – 12:45 PM: Marjorie Liu
12 – 12:45 PM: Joshua Williamson (Skybound table)
1 – 1:45 PM: Dustin Nguyen & Jeff Lemire *limited, wristbands required*
1 – 1:45 PM: Chris Dingess
2 – 3:45 PM: Todd McFarlane *limited, wristbands required* (Todd McFarlane Productions table)
2 – 2:45 PM: Tom Neely & Keenan Marshall Keller (Skybound table)
3 – 3:45 PM: Ivan Brandon (Skybound table)
4:30 – 5:30 PM: Kelly Sue DeConnick *limited, wristbands required*
4:30 – 5:30 PM: Gabriel Ba & Fabio Moon
5:45 – 6:45 PM: Scott Snyder *limited, wristbands required*
SUNDAY, JULY 12
10 – 10:45 AM: Otis Frampton & Tracy Bailey
10 – 10:45 AM: Ken Kristensen
10 – 10:45 AM: Nick Dragotta
11 – 11:45 AM: Sina Grace & Shaun Struble
11 – 11:45 AM: Joshua Williamson
12 – 12:45 PM: Frank Barbiere
12 – 12:45 PM: Jimmie Robinson
12 – 12:45 PM: Chris Dingess (Skybound table)
1 – 1:45 PM: Tula Lotay
1 – 1:45 PM: Kieron Gillen, Jamie McKelvie, & Matt Wilson *limited, wristbands required*
1 – 1:45 PM: Shawn Martinbrough (Skybound table)
2 – 2:45 PM: Tim Seeley
2 – 2:45 PM: Ben Acker & Ben Blacker
2 – 2:45 PM: Paul Azaceta *limited, wristbands required* (Skybound table)
3 – 3:45 PM: Alex de Campi
3 – 3:45 PM: Brian Buccellato
IMAGE CREATORS IN ARTIST ALLEY:
Brian Buccellato, BB-20
Chris Burnham, CC-15
Shane Davis, EE-18
Michelle Delecki, EE-17
Otis Frampton, GG-03
Joe Harris, EE-19
Edwin Huang, DD-14
Jason Latour, EE-21
Janet Lee, EE-05
Rob Liefeld, AA-01
JonBoy Meyers, FF-23
Tom Neely & Keenan Marshall Keller, EE-23
Dustin Nguyen, FF-04
Jimmie Robinson, II-15
Chip Zdarsky, II-13