Comics

Mad Cave Studios at San Diego Comic-Con 2023
By Staff Reports
The height of the summer is officially here, and Mad Cave Studios is packing their bags to head to sunny California for our favorite summer tradition: San Diego Comic-Con at the San Diego Convention Center, Thursday, July 20 – Sunday, July 23!

The Mad Cave crew are looking forward to their biggest year yet at Booth #2806, with a week filled with signings by favorite indie comic creators, brand new convention exclusive variants, meet and greets, partnership announcements, giveaways, and so much more!

For a full preview of the action, check out the lineup below:
Convention Exclusive Variants
This year, Mad Cave Studios is pleased to announce a limited print run of six very special 1/50 convention exclusive variant covers including: Exorcists Never Die #1, You've Been Cancelled #1,Under The Influence #1, Monomyth #1, Hunt. Kill. Repeat. #1, and Don't Spit In The Wind #1!
EXORCISTS NEVER DIE #1
Cover by W. Scott Forbes(W) Steve Orlando (A) Sebastian Piriz (L) Carlos M. Mangual
Syd Miller and Ellen Blair are the world's two premier combat exorcists. The only problem? After a nuclear breakup years ago, they can't stand each other. But when the biggest soul auction in history kicks off beneath Los Angeles, Syd and Ellen have no choice but to come together to raid the HELLSCRAPER, an infernal tower going straight down into the Earth. With thousands of souls on the line, Syd and Ellen must fight their way to the bottom or die trying.
YOU'VE BEEN CANCELLED #1
Cover by Dani Strips (W) Curt Pires (A) Kevin Castaniero (C ) Jason Wordie (L) Micah Myers

In the near future, cancel culture means more than just losing your job…it could mean your life. The world's premier entertainment event is CANCELLED – a live-streamed program where elite bounty hunters called cancellers kill individuals who society has voted to "cancel" following heinous actions or offenses. Our story follows Roland Endo, the world's #1 ranked Canceller. Because of this status, Roland lives in a constant state of paranoia with a target on his back…
UNDER THE INFLUENCE #1
Cover by by Werther Dell'Edera(W) Eliot Rahal (A) Stefano Simeone (L) Frank Cvetkovic
A teenage sociopath, Paul Kozac, has accidentally created an internet cult called The Hot Dog Party. When a prank turns deadly, the F.B.I. sends in an undercover agent, Cara Cole, to investigate and infiltrate their ranks. Now Cara battles against real stakes, fake news, and memes in a character-driven story about power structures and the communities you build. This is a story about "Click to follow" cultism during the age of social media.
MONOMYTH #1
Cover by Phil Hester (W) David Hazan (A) Cecilia Lo Valvo (C ) Marissa Louise (L) Lucas Gattoni
Magic is all but extinct. When the last ailing wizard casts a final desperate spell to summon the descendants of ancient bloodlines to a school for magic now in disrepair…those chosen ones find a horror of the likes they've never experienced. They will have to confront the deepest parts of themselves, their tragic pasts, and defeat each other to survive the ordeal. Monomyth is an all-new mini-series from the mind of David Hazan (Nottingham).
HUNT. KILL. REPEAT. #1
1/50 Convention Exclusive by Dani Strips(W) Mark London (P) Francesco Archidiacono (I) Marc Deering (C) Lee Loughridge (L) Rus Wooton
The former goddess, Artemis, daughter of Zeus, is caught in a war between gods and mortals. With nothing left to lose, and with help from some old friends, Artemis sets off on a dangerous journey of revenge to kill the gods that wronged her years ago. It's Kill Bill meets Clash of the titans in this all-new, on-going series from Mark London (Battlecats, Wolvenheart), your new favorite artist, Francesco Archidiacono, and esteemed colorist, Lee Loughridge (Deadly Class, The Good Asian).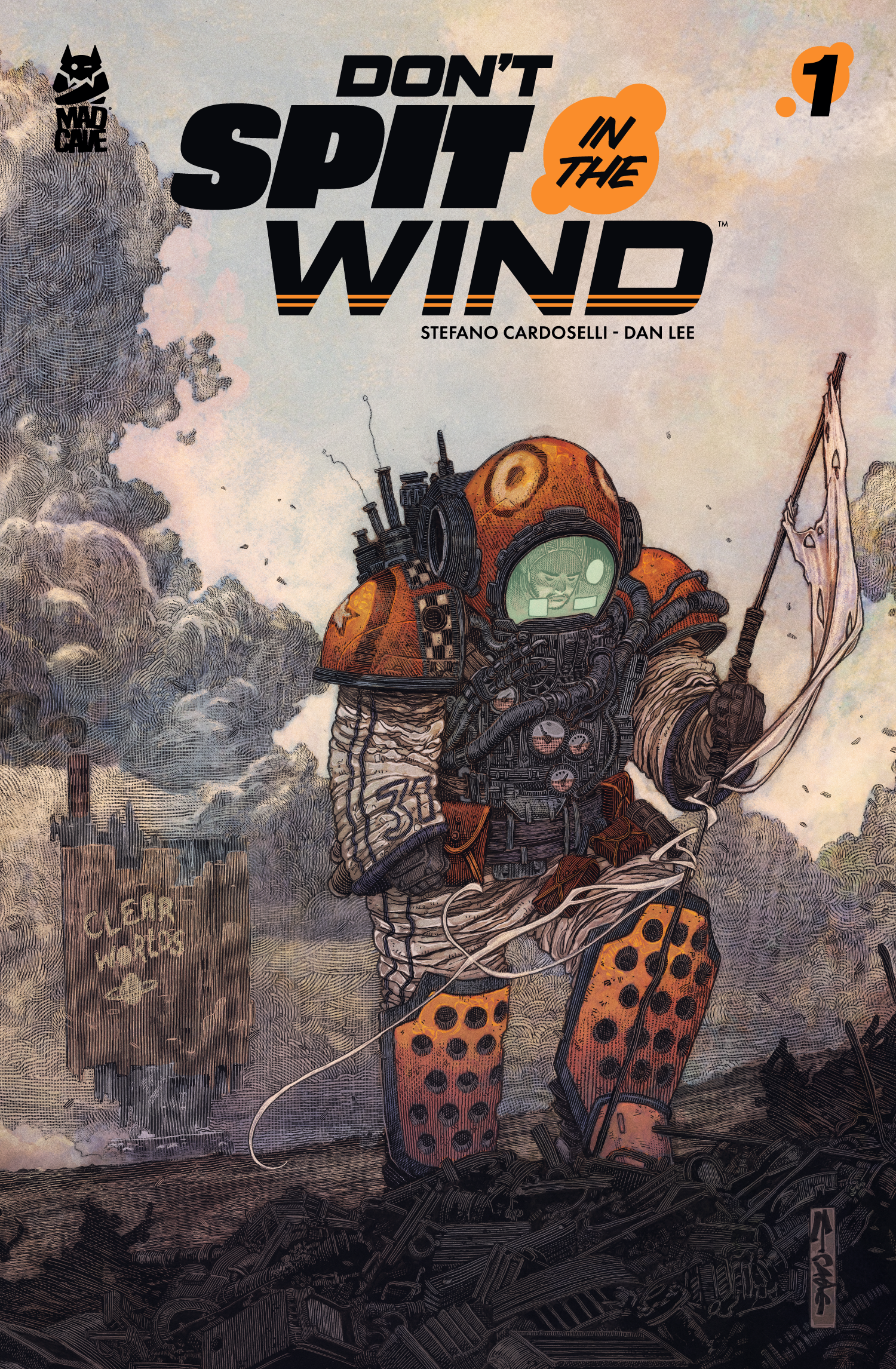 DON'T SPIT IN THE WIND #1
Cover by Evan Cagle(W/A) Stefano Cardoselli (C/L) Dan Lee
Since the earth became inhospitable, a crew of garbage men have been tasked with cleaning up mountains of toxic waste. After descending deep inside a nuclear facility to search for a missing crew member, Rodriguez and Boy find evidence that the crew has been killed by an unknown predator. Meanwhile, Travis is trying to survive his own encounter with a swarm of locusts!
San Diego Comic-Con Schedule
From daily giveaways to creator meet and greets, Mad Cave Studios' got a weekend full of action planned for San Diego Comic-Con 2023! Grab your calendar and check out our full schedule of events below!
Joining in on the action from home? Don't forget to stay tuned to the Mad Cave Studios official social media accounts here for live updates on the action!
Don't miss Mad Cave Studios hosting a very special edition Whatnot stream, Sunday, July 23rd, 2023 at 6:00 p.m. EST/3:00 p.m. PST! Be sure to join for your chance at some super-limited edition goodness!