Lifestyle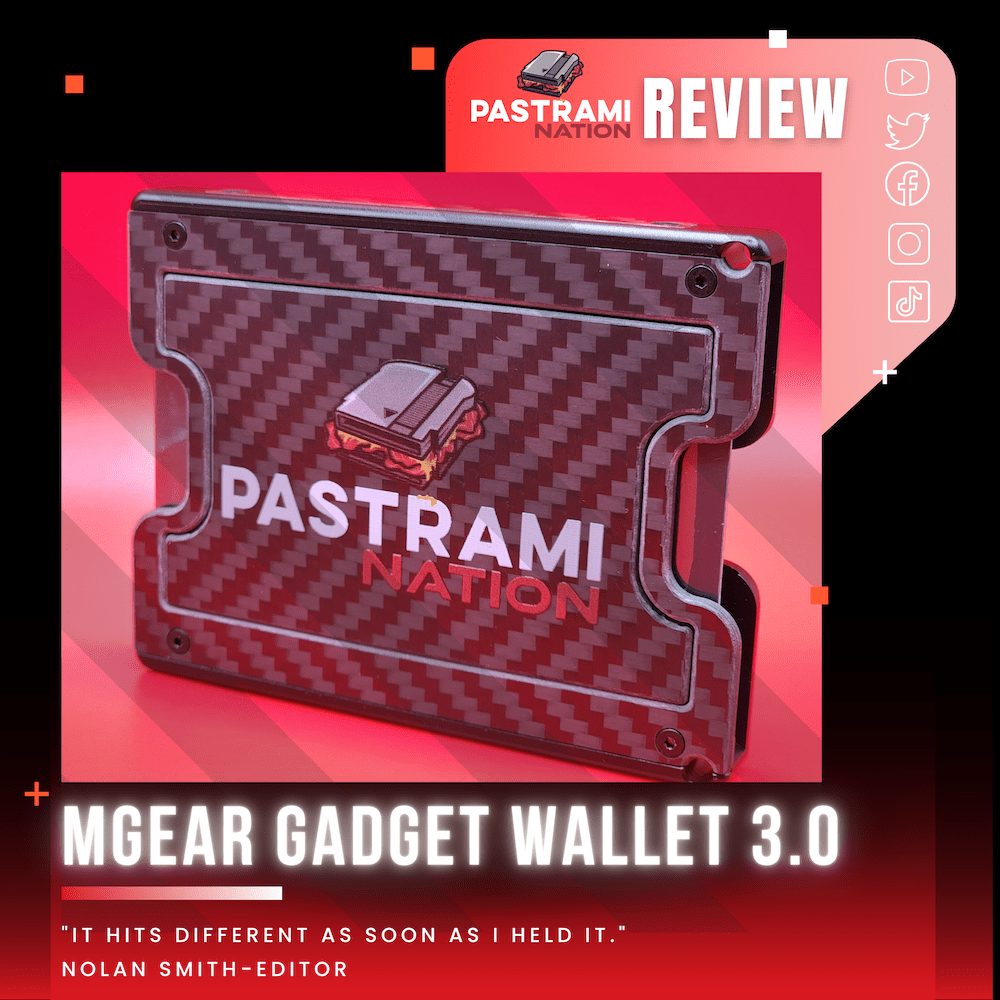 MGear Gadget Wallet 3.0 Review- Personalized for Pop Culture
By Nolan P. Smith
Editor
When you think of pop culture, wallets don't usually come to mind right away. MGear aims to change that with their latest and customizable wallet, the Gadget Wallet 3.0.
When I learned about this wallet, I knew I had to try it out. I am usually a bulky wallet guy, but the slim wallets have piqued my interest. I had to customize one with the Pastrami Nation logo and let me say; I am blown away. The wallet comes in a nifty tin; it hits different as soon as I held it. I customized the front plate with our logo, and it came out perfectly. Printed wonderfully and extremely sharp, I am very impressed. It comes with an extra front plate to swap out, which is so easy to do- no tools needed! I was able to add the words "Pastrami Nation" to the spine, which looks exceptionally slick.
The wallet itself has such a weight to it- nothing drastic but enough to show the sheer quality of the design work and materials that go into this wallet. Made from carbon fiber, solid aluminum, stainless steel, and brass, this is a high-quality wallet built to stand the test of time. The customization doesn't stop with the front plate or spine- you can add accessories to it, including an LED flashlight, mini pen, flat multi-tool, USB card, etc.
I am very impressed with this wallet- it highlights the logo and brand I chose and does so on one of the best wallets I have personally used. Head over to https://www.mgear.io/product/mgear-gadget-wallet-advanced/ to check it out for yourself! Also, get 10% off your purchase using code PN10 on the checkout page; you're welcome!
Rating: FIVE Pastrami Nations out of FIVE.

Nolan P. Smith is the Editor in Chief and Co-Founder of Pastrami Nation. He has worked for various media outlets for the past ten years, from newsprint to the ever-evolving internet platform. Residing in Pinon Hills, CA, writing has always been a significant aspect of his life. A reporter, teacher, public relations specialist, and more, Smith takes the most pride in being a husband and a father. You can follow him on Twitter and Instagram at @pastramination.