Comics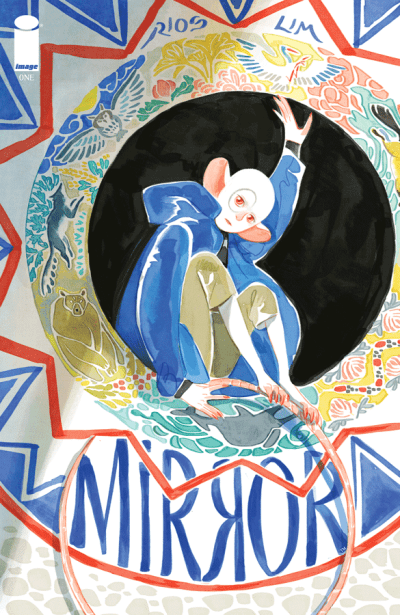 Mirror #1 Review: An Artistic Reflection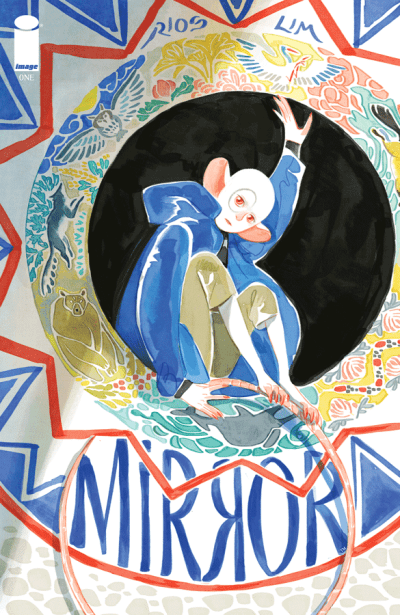 Review by Nolan P. Smith
(Victor Valley)—I pre-ordered Mirror #1 simply by the cover art: it was so crazy looking, so out there. Now, after picking up the latest venture from Image Comics, I have to say- I made the right choice.
From Emma Rios (Pretty Deadly) and Hwei Lim (Hero), we get a book very different from anything on the shelf today. Set in a land with wizardry and talking animals, the book opens as we see the young mage Ivan and his canine friend/humanoid Sena. Under the watchful eye of the wizard Kazbek, Ivan is the most promising of the young mages, being responsible for turning Sena into more than a simple dog. Fast forward to the future, and Ivan, now a grown man, is still under the watch of Kazbek, and due to Ivan's powers, has created more amazing animal like creatures: like a talking bear, a sphinx, and a walking, talking mouse named Zun. The world is changing, and Ivan is right at the center of that change.
I really like the aptly titled Mirror: one look at the decorative panel frames in this book show why this title works so well. Making far more out of the panels in each page, Lim's artwork and layouts are outstanding, and absolutely a breath of fresh air. The watercolor creations work incredibly well, and give the story a unique look and feel, very fitting for such a special series. Rios and Lim have created a fantasy story that feels original, feels like the reader has to read more. I am intrigued by this debut issue: from the plot, to the artwork, to the clever back story where the writer and artist switch roles, Mirror #1 is an excellent start to the latest fantasy offering from Image Comics. If you are looking for something different, something that looks and feels different from your run of the mill comic on the stands, then Mirror is the answer you seek.
Rating: 9.0 out of 10
This review was created in conjunction with QBC Toys and More, a local comic book and collectible shop located in Victorville, CA. Featuring new comic books every week, collectibles, action figures, original artwork, and more, QBC has something for the pop culture lover in us all. You can find them on Facebook at https://www.facebook.com/QBCToysandMore/.