Art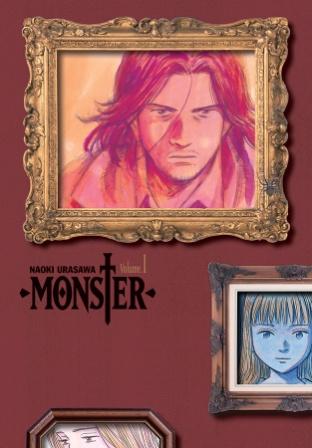 Monster: The Perfect Edition Volume 1- A Whole Different Kind of Manga
Review by Nolan P. Smith
Writer and Artist: Naoki Urasawa
Publisher: Viz Signature
Rating: T+ for Older Teens
(Victor Valley)—Monsters adorn the pages of comic books and manga titles across the globe; horrifying, death defying monsters that battle the forces of good right out in the open. But in real life, the monsters out there don't wear masks and make their intentions public: they are cold, calculating, heartless killers with no remorse. That is the kind of monster we see in Viz's Monster- Perfect Edition Volume 1.
The story takes place in the late eighties, early 90's, as brilliant surgeon Dr. Tenma finds out the importance one simple choice can make while working in Düsseldorf. By opting to save a child over an elected official, his entire life becomes thrown in disarray, and not in any way you could imagine. The book is a thriller of a manga, as we see the politics involved in the medical industry, and we see what happens when people associated with Tenma start showing up murdered, and how the young doctor is connected to it all.
Most people think of comic books and manga titles and think of the colorful worlds of heroics, or space faring sci-fi adventures, but Monster is neither. It's a dark thriller grounded in reality, with a villain that blends into the crowd, looking as normal as you and me. Naoki Urasawa created a special kind of book when he made Monster back in 1994, and now we are lucky to be able to experience this story as a Perfect Edition. What that means is that each Perfect Edition volume contains two of the previous Monster volumes, but presented in a larger, more premium format for a relatively inexpensive price, thanks to Viz Media.
Monster is not your average manga, and that's a great thing. Monster makes you think, makes you sit at the edge of your seat as you see who is behind the murders, and takes the reader down a psychological journey, full of choices and consequences. It caught me completely off guard, as it was extremely entertaining, beautifully illustrated, and about a villain we could see in real life at any moment and not know it. I give Monster Perfect Edition Volume 1 a 9 out of 10. This is a shining example of how a comic book or manga can tell any type of story within its medium, and do it expertly.