Food
New G FUEL x "Dragon Ball Z" Frieza Saga Collection and Gohan Blackberry Tea Available Now
By Nolan P. Smith
Editor
Are you a die-hard Dragon Ball Z fan? Do you need an energy boost to power up your day? Well, you're in luck because G FUEL has just dropped a bombshell for all the DBZ enthusiasts out there. We're excited to reveal that G FUEL's brand-new "Dragon Ball Z" inspired Frieza Saga Energy Formula Collection is now available for purchase at GFUEL.com. Plus, there's an exciting addition to their lineup with the Gohan Blackberry Tea 15-Serving Mini Tub!
Evil Emperor Collector's Box: Fuel Your Power-Up
First up, let's talk about the Evil Emperor Collector's Box. This epic package includes a 40-serving Tub of energy formula packed with the flavors of Cranberry, Raspberry, Cherry, and Strawberry. It's like a power-up potion straight from the DBZ universe! But that's not all – you'll also receive an exclusive 16 oz "DBZ" Shaker Cup that's bound to make you feel like a true Saiyan warrior. The Evil Emperor Collector's Box is the ultimate treat for any Dragon Ball Z enthusiast.
If you're more interested in stocking up on your favorite flavors individually, fear not! The Evil Emperor energy formula is available in a standalone Tub. But wait, there's more – G FUEL has also introduced two "DBZ" Remasters of fan-favorite flavors: Pineapple Ginyu Force and Super Saiyan Lemonade. These revamped flavors are sure to take your taste buds on an intergalactic adventure.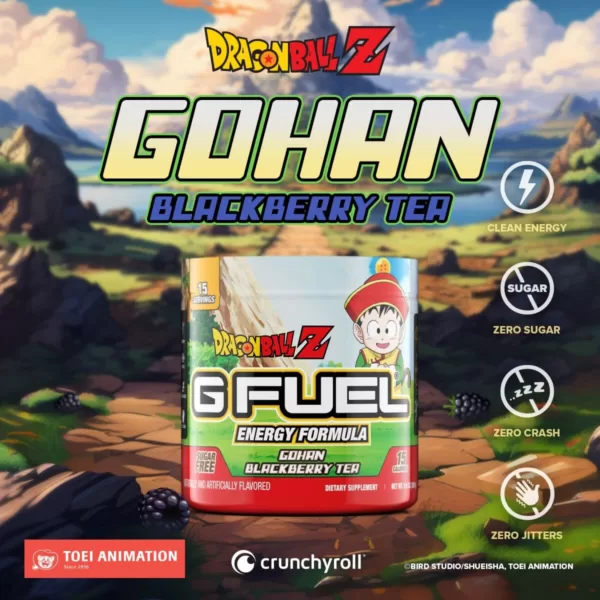 Gohan Blackberry Tea: Unleash Your Inner Hero
For those who resonate with the heroic spirit of Son Gohan, G FUEL has created a special treat just for you. Introducing the Gohan Blackberry Tea flavor, now available in G FUEL's all-new range of 15-Serving Mini Tubs. It's the perfect way to channel your inner hero and power up your day.
Pricing Information
Now, let's talk numbers. The Evil Emperor Collector's Box, complete with the 40-serving Tub and the exclusive Shaker Cup, can be yours for just $39.99. If you prefer to mix and match, the 40-serving Evil Emperor, Super Saiyan Lemonade, and Pineapple Ginyu Force Tubs are each available at $35.99. And for those looking to keep it compact, the Gohan Blackberry Tea Mini Tub is priced at an affordable $19.99.
Fueling Your Adventure with G FUEL
But what makes G FUEL stand out? Not only does it taste great, but it's also a zero-sugar energy formula packed with antioxidants from 18 different fruit extracts. With just 15 calories per serving, you get a kick of energy from 140 mg of caffeine and proprietary energy and focus-enhancing complexes. It's the perfect way to level up your day, whether you're training like a Saiyan or just need that extra boost to conquer your daily challenges.
So, whether you're a fan of the Evil Emperor Frieza or the noble Son Gohan, G FUEL's Dragon Ball Z-inspired energy formula collection has something for every DBZ lover. Don't miss out on this epic release and power up your life with these exciting flavors!
Ready to take your energy to the next level? Head over to GFUEL.com to learn more and grab your Dragon Ball Z-inspired G FUEL today!