Comics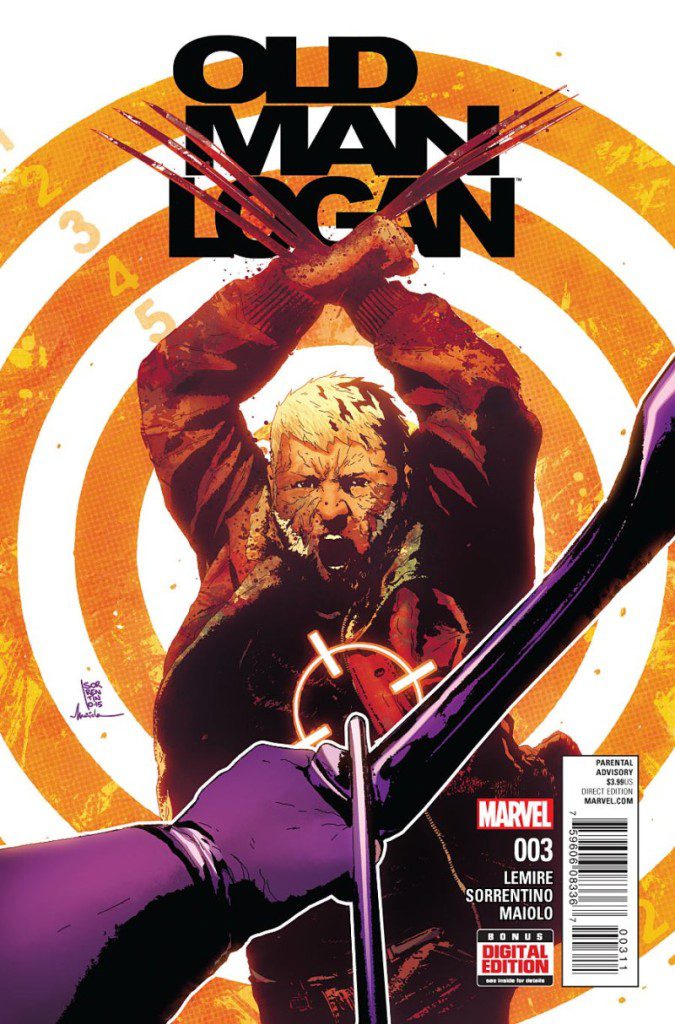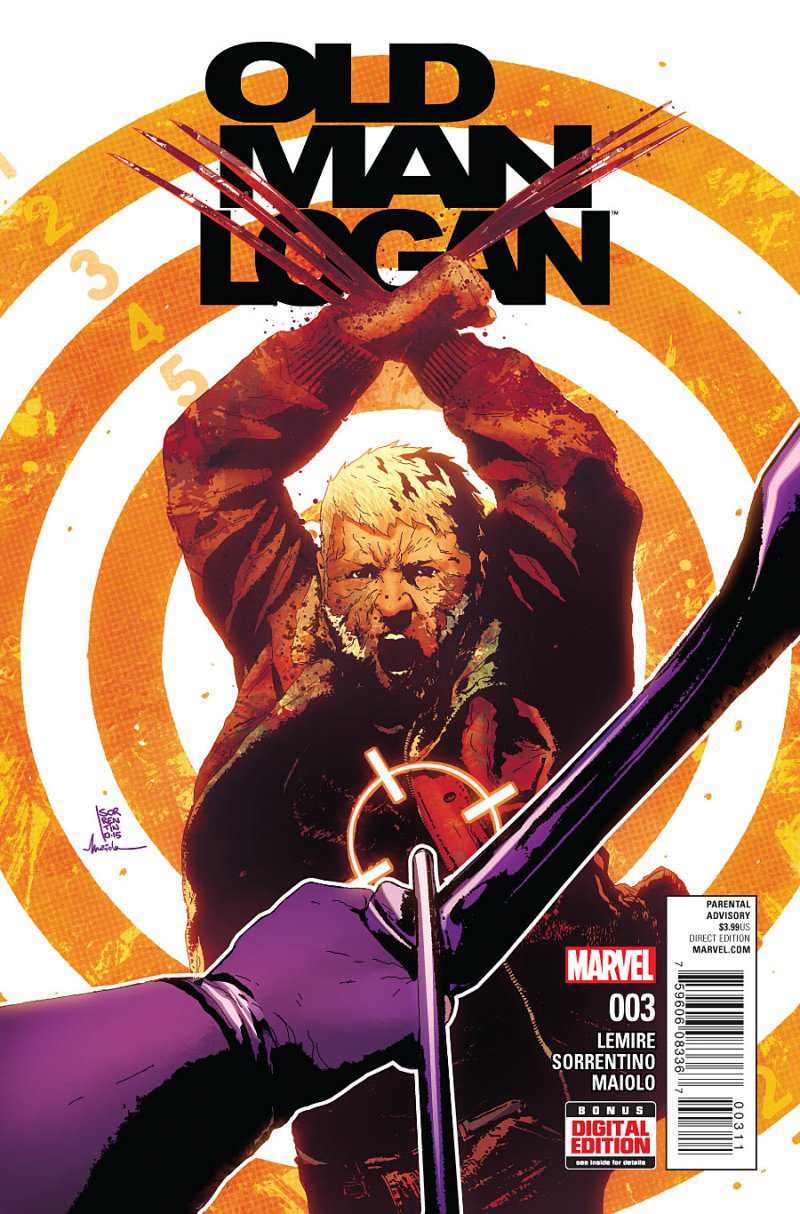 Old Man Logan #3 Review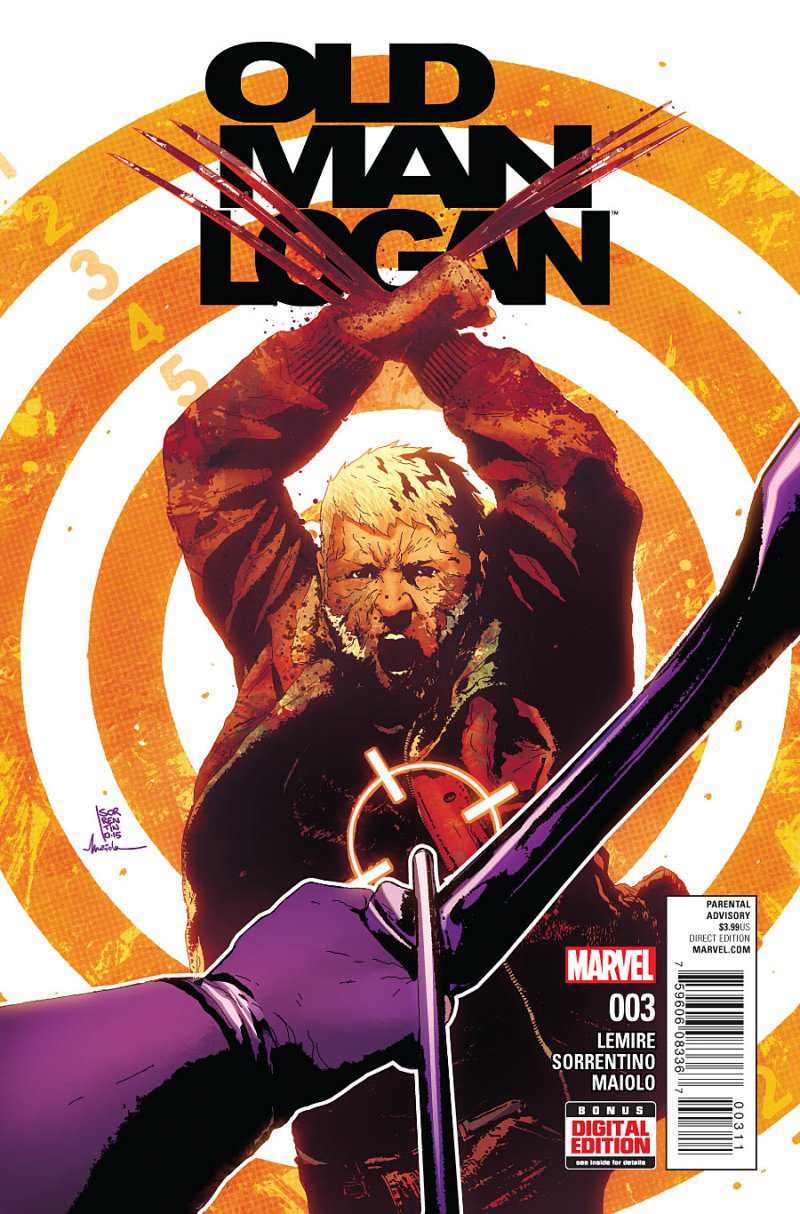 Review by Nolan P. Smith
Editor
(Victor Valley)— Three issues in to Old Man Logan- how time has flown; our groggy hero has made a list, checked it twice, and already eliminated the villain who wrecked havoc on his family in a distant, alternate future. He even went toe to toe with a not so Banner Hulk. Beaten to a pulp, he goes to the home of his old friend Hawkeye- only he finds the younger, female Hawkeye instead.
Writer Jeff Lemire and artist Andrea Sorrentino continue the dark and gritty adventures of the Canadian geriatric, and in grand fashion. We see Logan interact with a hero and actually come clean on who he is and what his plan is: which, to me, is a pretty significant stepping stone for Logan. We see the young Hawkeye and Logan go on a rooftop trot to track down the fish bowl headed master of illusions, Mysterio- who fans of the original Old Man Logan story know, is the crux that sent Wolverine over the edge.
We also get another grim flashback to Logan's time as we see the fate of Pyro, Quicksilver and more- and no, it isn't pretty. Lemire continues to build this dark tale of a man on a mission, and poises the question: what if the mission no longer exists in this modern era? Sorrentino ability to move the reader from panel to panel in an almost cinematic way is amazing- from the cuts to the flashback mode, to the artistic display of Hawkeye's quickness, all done in one panel- the artwork here fits the brooding old Logan perfectly. To top it all off, we see that next issue, the two oldest heroes in the current Marvel Universe have just collided, as Old Man Logan meets Old Man Captain America.
Continuously my favorite book that Marvel is publishing right now (Extraordinary X-Men a close second), Old Man Logan #3 hits the mark, literally.
Rating: 9 out of 10.
This review was created in conjunction with QBC Toys and More, a local comic book and collectible shop located in Victorville, CA. Featuring new comic books every week, collectibles, action figures, original artwork, and more, QBC has something for the pop culture lover in us all. You can find them on Facebook at https://www.facebook.com/QBCToysandMore/.