Movies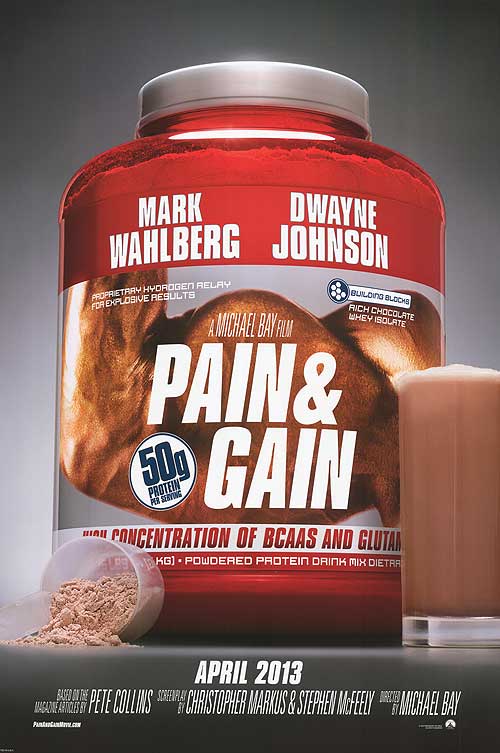 Pastrami Film Review: Pain & Gain
By Nolan P. Smith-Pastrami Nation
This year alone, one actor has blown up on the big screen more than any other: Dwayne Johnson, also known as The Rock. With Snitch and G.I. Joe Retaliation already released in 2013, Johnson now shares the screen with another action/comedy star, Mark Wahlberg. In what is being billed as a "dark comedy buddy flick" based on actual events, Pain & Gain is not what many expected it to be.
Directed by Michael Bay, the man behind Bad Boys as well as the Transformers trilogy, Pain & Gain is based on the real life events of the Sun Gym Gang. When fitness buff Daniel Lugo (Mark Wahlberg) decides that his life needs a change, he decides the best way to get that change is to kidnap and extort one of his wealthy, unsavory clients (Tony Shalhoub). In on this scheme are his good friend Adrian (Anthony Mackie) and Paul (Dwayne Johnson), who is new to the area, fresh out of prison and looking to make right with the lord. This is the story we see in the trailers and commercials, but there is much more to this film than that.
When people say this film is dark, don't think that saying that is an overstatement. This film is extremely dark, with violence, drugs and more swirling around like a hurricane. I was not too familiar with this story, as I hadn't heard about it until I saw the movie, but if the true story went like this, then the film had no choice but to go the same route. Lots of twists and turns are abound, and by about the halfway point, you will see that this movie falls more in line with a tragedy than a buddy flick.
In regards to the actors, I feel that they all did a superb job. Wahlberg flexes his acting chops and shows why his name can help carry a film. Of course, Johnson's character is the one most gravitate to, with his good nature and follow the leader like mentality. The jokes are spot on: there are lines that will seriously have you laughing out loud. But like I said, this is more like a tragedy, perhaps a hybrid comedy/tragedy: a tromedy maybe.
If you are looking for a lighthearted laugh-fest, then this is not it. Not to say this isn't a good film. It was enjoyable, with plenty of laughs and with enough surprises to keep me guessing. However, the film earns its R rating with sexual content, drugs, and over the top violence. Not for everyone, Pain & Gain was like a funhouse, circus fun bus to hell.