Action Figures
Premium DNA Toys Announces Black Friday and Cyber Monday Deals, Including Banjo Kazooie, Mars Attacks and Care Bears
By Nolan P. Smith
Editor
Are you a pop culture enthusiast with a love for collectibles? If so, you're in for a treat this Black Friday and Cyber Monday, courtesy of Premium DNA Toys. This fantastic company is renowned for curating an incredible selection of pop culture awesomeness, featuring beloved franchises like Mad Balls, Battletoads, and much more. Today, we're excited to share the news about their upcoming Black Friday and Cyber Monday deals, featuring an impressive lineup and free shipping for U.S. residents.
Flocked Banjo Kazooie: A Limited Edition Gem
One of the standout deals you won't want to miss this Black Friday is the limited edition Flocked Banjo Kazooie collectible. Priced at a mere $65, this exclusive item is set to go on sale, and with only 1,000 pieces available, it's a doorbuster deal that collectors have been waiting for. Whether you're a fan of the classic Banjo-Kazooie video game or simply appreciate the craftsmanship of collectibles, this is your chance to own a unique piece of pop culture history. Act quickly, as these limited-edition gems are sure to sell out fast.
Pre-Order Savings on Mars Attacks and Care Bears Lines
Premium DNA Toys doesn't stop at just offering exclusive Black Friday deals. They also have exciting pre-order offers for two of their newest collectible lines, Mars Attacks and Care Bears. If these iconic franchises hold a special place in your heart, you're in luck. By pre-ordering, you can save an impressive 20% on these upcoming releases.
The Mars Attacks line promises to capture the thrilling sci-fi invasion vibes of the classic trading card series and the Tim Burton film. With meticulously crafted figures and accessories, this collection is a must-have for fans of intergalactic mayhem.
On the other hand, the Care Bears line is sure to warm your heart with its nostalgic charm. These adorable bears, each representing a unique emotion, will make for delightful additions to your collection or heartwarming gifts for loved ones.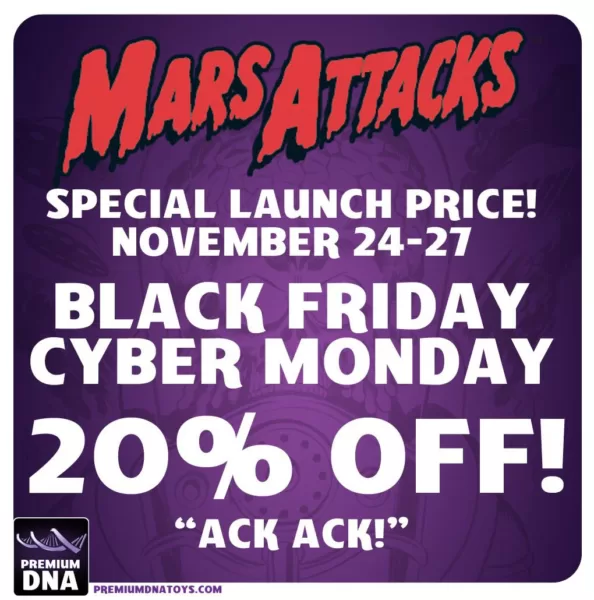 Don't Miss Out – Visit Premium DNA Toys on Black Friday!
Remember, these deals are for a limited time, so be sure to visit Premium DNA Toys on the big day to secure your favorite collectibles before they're gone. Plus, with free shipping for U.S. residents, you'll be able to enjoy your new treasures without any additional costs.
This Black Friday and Cyber Monday, make your collection even more awesome with Premium DNA Toys. Happy collecting!