Comics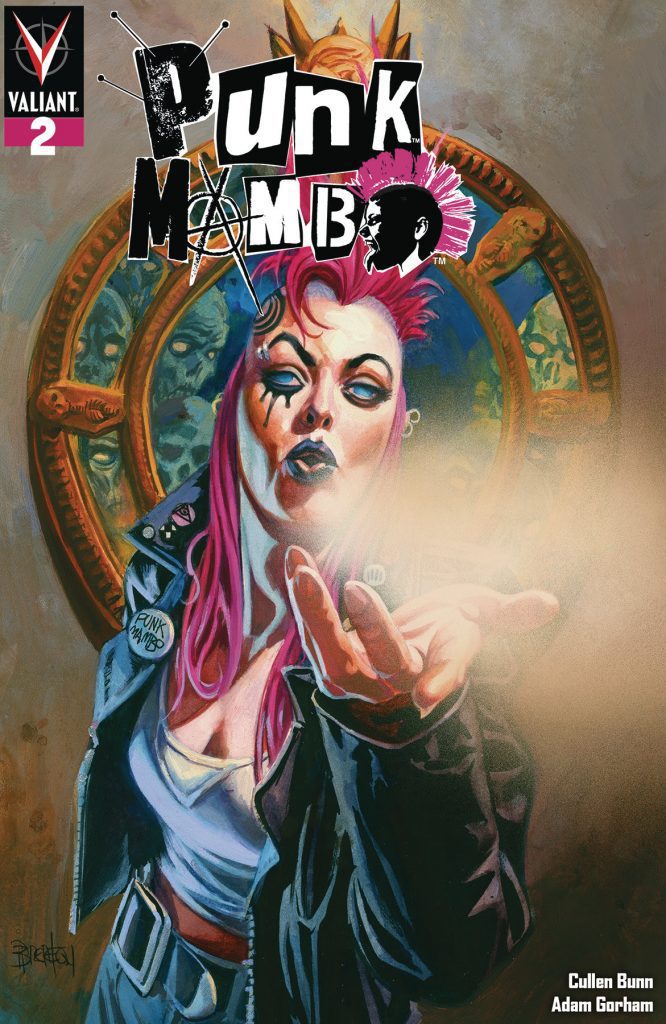 Punk Mambo #2 Review
By Kevin Hoskinson
Punk Mambo has bitten off more than she can chew, and the story continues in Valiant Comic's "Punk Mambo" issue #2.
Last issue saw Punk Mambo, a Voodoo Priestess from the London punk scene, fighting her way through the bayou and losing her Loa, Aye. The Loa are spiritual creatures from Voodoo lore that are intermediates between the Supreme Creator and humanity. They don't generally work for humans, but Mambos was different until it suddenly disappeared. On her journey to find Aye, she is joined by Voodoo Queen Marie Laveu, and the two make way to Haiti to find out why, and how, Aye was taken.
Punk Mambo and Marie Laveu are now in Haiti searching for a mysterious spirit named Uncle Grannysack. This powerful spirit is abducting Loa, and nobody knows how, or even why. After a meeting with a council of Loa ("A bunch of all-mighty voodoo goods."), she is given a mission to find Grannysack and stop him. A new ally is sent to help Punk on her mission; a Voodoo Priest named Josef. Together they must travel the mysterious Voodoo underbelly of Haiti, while also fighting hordes of Uncle Grannysack's followers, to get her Loa back and to restore the balance of magic in the world.
Written by Cullen Bunn, the story of Punk Mambo keeps moving at a steady pace in the newest issue. The world keeps on getting bigger and more complicated, but not in a bad way. As is the case with the first issue, there is a lot to build into the story, and Cullen does it in a way where it never feels overwhelming. Piece by piece, we are learning what this world is about, what the rules are, and who the players are. Explaining the world of Voodoo and its mythology is a complicated task, but here it is incredibly well done, and I love that.
The characters are all well written as well. I especially like Punk, with her punk rock attitude and disregard for authority, it feels so grounded and real. I absolutely love the way she interacts with the characters around her. She comes off as brash and uncaring, but I have a feeling that will change a bit as the series progresses. The chemistry between her and Laveu is tense, but there is also a real sense of respect between the two. All of that builds in issue #2, and we get to see a bit more of their relationship. Add to the mix Josef, who, unlike Punk, takes Voodoo and it's practices very seriously. It's going to be interesting how all of it plays out.
The art by Adam Gorham and Jose Villarrubia is outstanding. Looking at the character designs I'm reminded of the work by artist Jamie Hewlett, and that's an excellent thing. The world of Haiti and Voodoo is brought to vivid life by these two. The streets of Haiti have a simple yet accented style to them when shown in the background. It all works so well together.
Punk Mambo is a series I am getting deeply invested in. Issue #2 keeps the ball rolling in an excellent way. With new characters and new revelations, it's definitely worth a read. I highly recommend it.
Rating: 8.0 out of 10