Art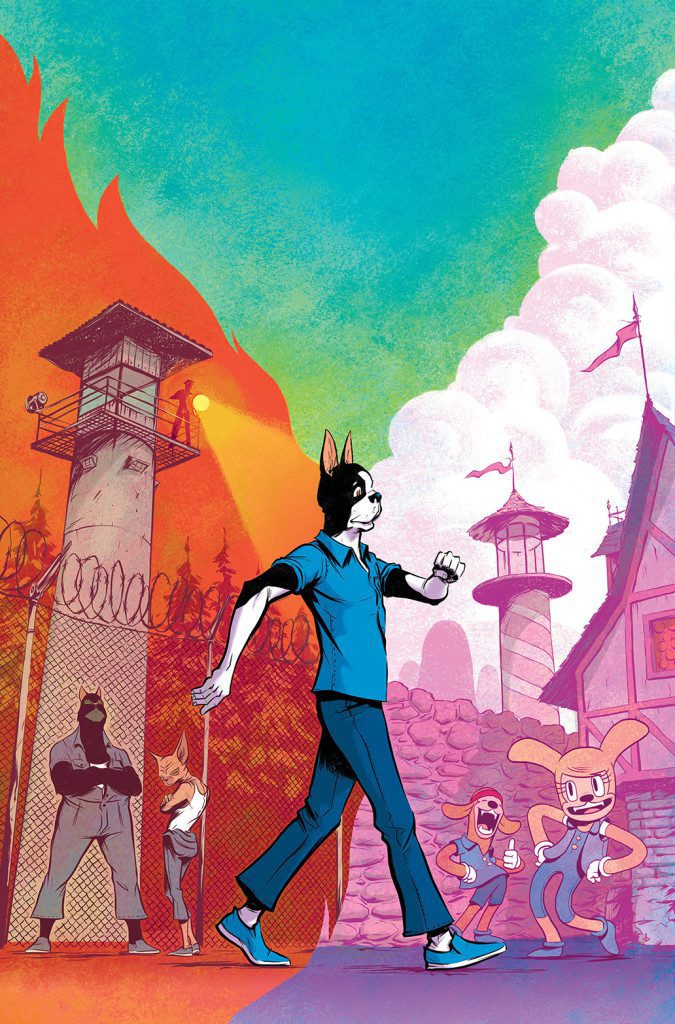 Read the Entire First Issue of Kennel Block Blues for Free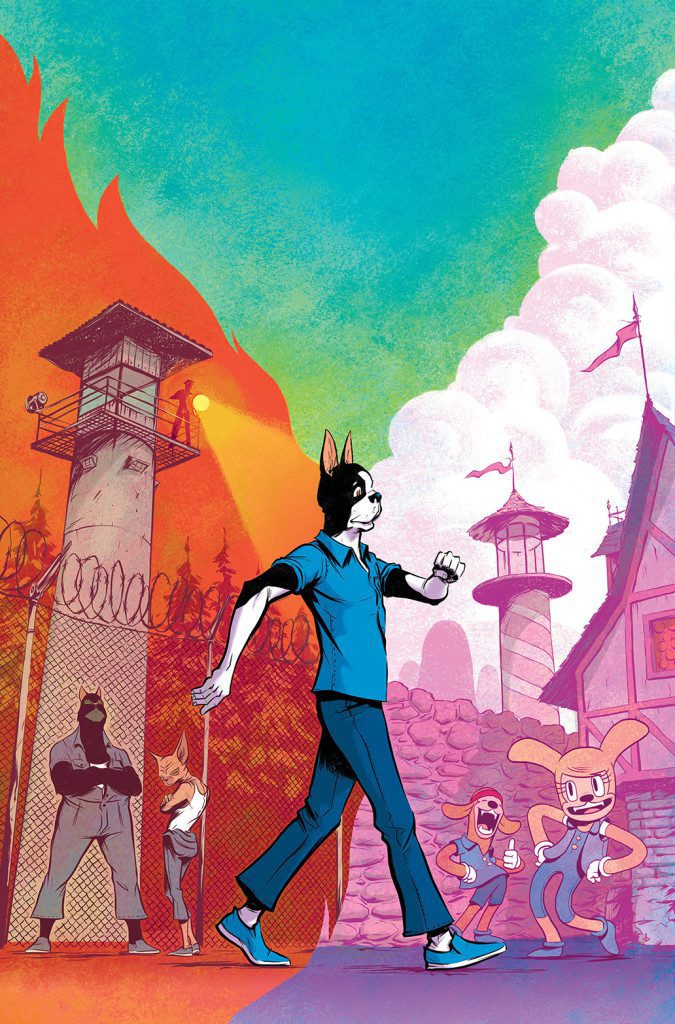 By Staff Reports
Award-winning publisher BOOM! Studios has always taken pride in delivering innovative comics, and this February, the publisher is pleased to announce the debut of a new limited series that pushes the limit of the medium in Kennel Block Blues. Writer Ryan Ferrier (Sons of Anarchy, Curb Stomp) and artist Daniel Bayliss (Jim Henson's The Storyteller: Dragons, Translucid) have crafted an original story that combines the tense prison drama of Oz, the madcap twists of Looney Tunes, and the tradition of great anthropomorphic stories like Blacksad.
Kennel Block Blues defies genre and summarized in a simple explanation, so, in an unprecedented move, the publisher has partnered with Tumblr to allow fans to read the entire first issue for free starting Saturday, January 9th, BEFORE final orders for the print version are due. This marks the first time a major comics publisher has posted a full, completely colored and lettered issue on the social media site before final orders were due.
Readers can check out preview Kennel Block Blues #1 in its entirety on Tumblr here: http://bit.ly/1ZisxBZ
"Kennel Block Blues is a series we passionately believe in, and we want you to see why," said BOOM! Studios President of Publishing and Marketing Filip Sablik. "This is a story that can only be told in comics, and description alone doesn't do it justice. So we figured, why not let people read it and see for themselves? Once you see what Ryan and Daniel have cooked up, support these innovative creators by reaching out to your local comic shop and pre-ordering it. See why we're so excited about this."
Oliver is a good dog. A family dog. But without warning, he's sentenced to Jackson Kennel, where he's instantly placed on Death Row with the rest of his fellow inmates, awaiting a lethal appointment on The Table if salvation doesn't come. He'll need help escaping the Kennel, but when the stress of prison life builds, he starts escaping reality instead, imagining a fantasy world of cartoon friends. It's time to break out…into a musical number?
Kennel Block Blues arrives in comic shops on February 3rd with a main cover by series artist Daniel Bayliss for the price of $3.99 under Diamond order code DEC151097. Also available in a limited quality is a retailer incentive cover by Nick Pitarra (The Manhattan Projects).
The Final Order Cutoff deadline for retailers is January 11th. Not sure where to find your nearest comic retailer? Use findacomicshop.com to find one!
ABOUT BOOM! STUDIOS
Founded by Ross Richie in 2005, Diamond Gem Award-winning "Best Publisher" BOOM! Studios (boom-studios.com) generates New York Times best-selling Eisner and Harvey Award-winning comic books and graphic novels. BOOM! Studios is comprised of four distinct imprints: the "Studios" imprint is home to The Woods, Grant Morrison's Klaus, and Big Trouble in Little China; imprint "BOOM! Box" publishes Lumberjanes, Steve Jackson Games' Munchkin, and Giant Days; All-Ages imprint "KaBOOM!" publishes Charles Schulz' Peanuts; Jim Davis' Garfield; and Cartoon Network's Adventure Time. And the "Archaia" imprint is home to Mouse Guard, Cow Boy, and numerous Jim Henson Company properties. Since 2013, BOOM! Studios has had a unique first-look feature film relationship with 20th Century Fox and since August 2014 BOOM! has had a similar first-look relationship with Fox' television studio to develop properties for the small screen.