Comics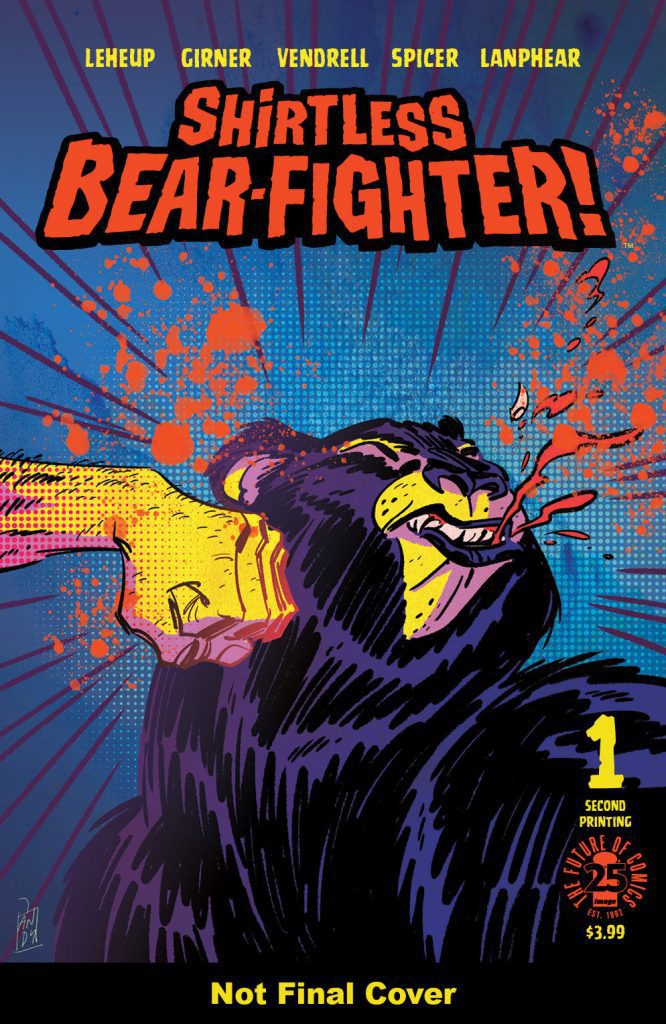 Shirtless Bear-Fighter Comes Out Swinging
Shirtless Bear-Fighter readies for round 2 with second printing
By Staff Reports
Writers Jody LeHeup (former editor of Uncanny X-Force, Deadpool, Quantum and Woody) and Sebastian Girner (editor of SOUTHERN BASTARDS, DEADLY CLASS, BLACK SCIENCE), newcomer artist Nil Vendrell, colorist Mike Spicer (HEAD LOPPER, MYTHIC), and letterer Dave Lanphear launched the #WarOnBearror to overwhelming critical acclaim, and Image Comics is pleased to announce that SHIRTLESS BEAR-FIGHTER #1 will be fast-tracked to a second printing. The second printing cover will feature a re-colored version of the Andy Suriano artwork.
After being betrayed by the bears that raised him, the legendary Shirtless Bear-Fighter wanders the forest he's sworn to protect, fist-fighting bears, eating flapjacks, and being the angriest man the world has ever known! When wild-eyed, super-strong bears attack the citizens of Major City, Shirtless ventures into the human world to do what he does best… PUNCH THOSE BEARS IN THE FACE! But all is not as it seems. Someone is manipulating Shirtless… and only by confronting the demons of his past can Shirtless hope to save his future!
SHIRTLESS BEAR-FIGHTER #1 remains available for purchase across all digital platforms, including the Image Comics website (imagecomics.com), the official Image Comics iOS app, Comixology's website (comixology.com), iOS, Android, and Google Play.
SHIRTLESS BEAR-FIGHTER #1, 2nd printing (Diamond Code MAY178523), SHIRTLESS BEAR-FIGHTER #2 Cover A by Robinson (Diamond Code MAY170715), Cover B by Fox (Diamond Code MAY170716), Cover C by MacLean (Diamond Code MAY170717), and Skottie Young's Baby Beariant (Diamond Code MAY178584).
Select praise for SHIRTLESS BEAR-FIGHTER:
"As wonderfully wild as it is completely literal." —IGN
"Over-the-top, intentionally offensive, raunchy, cheesy, campy, and totally ridiculous. It's also, not surprisingly, really fun." —Pixelated Geek 
"This is one of the funniest comics I have read in a long time." —Monkeys Fighting Robots
"I am pro all Bear vs Man action and very excited." —Kieron Gillen
"Shirtless Bear Fighter is the sort of uninhibited fun we desperately need in comics and you will love it." —Rick Remender
"Listen up people! You HAVE to order this comic NOW. It has everything you can ask for. BEARS! FIGHTING! SHIRTLESSNESS! Did I mention BEARS?" —Declan Shalvey
"Shirtless Bear-Fighter is the most delightfully insane comic book I've ever read. If it clears customs from the Canadian printer—you must own it!" —Gerry Duggan 
"100% no bullshit. Shirtless Bear Fighter is one of the most insane and brilliantly engaging comics I've maybe ever read in my life. GOD DAMN this book is why comics exist. ORDER UP!" —Donny Cates
"This is one of the greatest Bear-Brawl'n, Wrestling, Maple Syrup, Bacon Love'n, Epic-stories never told…TOLD! Don't miss this!!!" —Nathan Fox
"There is no greater feeling than crushing friends' spirits with honesty when I ask for my opinion of their work. Shirtless Bear-Fighter denies me that joy because it's genuinely awesome." —Jhonen Vasquez 
"This book is MARVELOUS." —James Asmus
"These dudes are insane. I mean that as a compliment. Give their book a look." —Jason Latour
"Spend all your fish-money to get Shirtless Bear-Fighter… Hilarious animal abuse at its finest!" —Fred Van Lente
"I loved this book. Its only flaw is we never actually get to see Shirtless Bear Fighter's flap jack. Don't let bears wipe their ass on America, support Shirtless Bear-Fighter!" —Joshua Dysart 
"This is awesome in the crazy bananas way comics should be. You can feel Jody LeHeup & Sebastian Girner having a blast on every page. Pre-order." —Paul Azaceta
"This is gonna be killer! Order today!" —Cliff Chiang
"Look, if even the NAME 'ShirtlessBearFighter' doesn't get your interest, I don't know what even…! Pre-order this thang! —Cully Hamner
"If you care about anything great in the universe, you'd be reading Shirtless Bear Fighter by my buddies Sebastian Girner and Jody LeHeup!! Amazing!" —Jerome Opeña‏
"You really need this book in your life." —Tom Muller
"Shirtless Bear-Fighter is a fun insane ride worth your attention. You won't have this much fun reading a comic! Get it!" —Mike Benson
"Some real depth behind the fun concept and humor." —Paul Tobin
"Do you like crazy shit? Try this." —David Lopez
"Shirtless Bear-Fighter is the only comic that will save you in the event of a global apocalypse! Hysterical work by Jody LeHeup, Sebastian Girner, etc." —David Gallaher