Spider-Man #1 Review: Does Whatever a Spider Can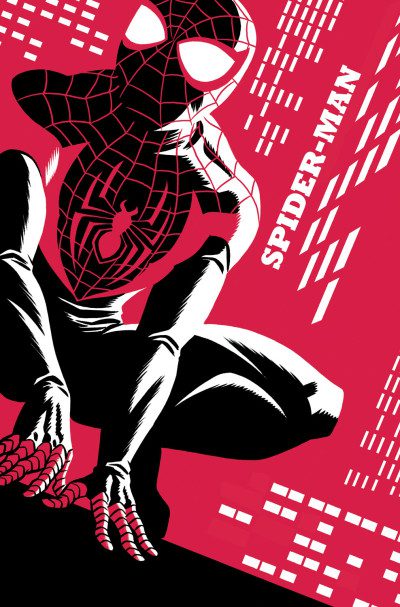 Review by Nolan P. Smith
(Victor Valley)—Wait, Spider-Man #1? Another series featuring the wall crawling Peter Parker? Well, no, not exactly.
Spider-Man #1 kicks off a pretty huge milestone for the old web-head, as Miles Morales, the Spider-Man from the Ultimate universe, is now in the main Marvel U. Does the world need two Spider-Men?
Let's go ahead and just say it now: yes.
Why do we need another Spider-Man? Maybe because the teenage Miles Morales embodies more of the essence of Spider-Man than even Peter Parker does right now. Let me explain: when Spider-Man started out, he was a smart, awkward high school kid dealing with not only being a superhero, but a student who has high school problems: like being bullied, talking to girls, and how to get out of class and save the day. These days, Peter Parker is the head of his own multi million dollar company, globe-trotting on a daily basis and taking down evil on a global scale. The world needs and deserves a Spider-Man that is true to the roots of a high school kid struggling with immeasurable powers, and right now, that is Miles Morales.
Written by the architect of Ultimate Spider-Man, Brian Michael Bendis, with art by Sara Pichelli, also from Ultimate Spider-Man. This issue kicks the series off with a bang, as we see the Avengers have all fallen to one of Marvel's forgotten big bads, Blackheart, son of Mephisto. If the demonic son of the devil defeated the Avengers, what chance does a young Miles Morales stand against him? The issue is full of action, and character development, showing us Miles in different situations, ranging from the classroom to a war zone.
The issue is a great start to this new Spider-Man, and leaves off on a pretty great cliffhanger. I know there has been a lot controversy because Miles is half African-American, half Puerto Rican. To me, his race doesn't matter, and it shouldn't. Miles is a great character that deserves his own book, and now, low and behold, here it is. Take a swing on this new Spider book, you won't be disappointed.
Rating: 9 out of 10.
This review was created in conjunction with QBC Toys and More, a local comic book and collectible shop located in Victorville, CA. Featuring new comic books every week, collectibles, action figures, original artwork, and more, QBC has something for the pop culture lover in us all. You can find them on Facebook at https://www.facebook.com/QBCToysandMore/.