Comics
Strayer #1 Review: Killing It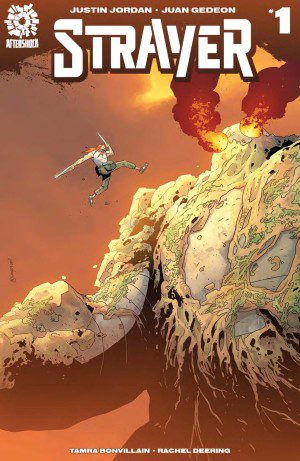 Review by Nolan P. Smith
(Victor Valley)— The fairly new company Aftershock Comics has released some impressive titles thus far, including Dreaming Eagles and American Monster. With Strayer #1, Aftershock brings us a series of action, swords, monsters, and an interesting end of the world as we know it scenario.
Created by Justin Jordan, creator of the action packed Luther Strode trilogy, the story focuses on a world that has went backwards in progress after the old world, our modern world, fell. Technology is gone, monstrous titans roam the lands, and like in any land, there are those that battle these threats-for a price, of course.
Strayer is one of these men- armed with innovative hand blades and the soul of a hero; he is the hero of the story, and we see it firsthand in this issue, as he battles a humongous titan that is attacking a small village. There is one person who thinks they hold the key to getting the world back to normal: the mysterious Mala, who holds some sort of mystic powers and knows more about our hero than even he knows.
Artist Juan Gedeon (Ghost Racers) creates the visuals here, and his simple, somewhat animated style shows a world fallen from grace perfectly. The character designs here are superb, as Strayer looks like something left over from our modern era, and the design of the titan is simply fantastic, which makes for an outstanding battle sequence. One of the coolest aspects I saw here are the weapons Strayer wields, which offers a unique and original look to handheld blades.
Jordan has created something really cool here: this is a fun, action packed series with a lot mysteries that have yet to be touched on, and with Gedeon providing the art, this issue marks a fantastic start to Strayer.
Rating: 9.0 out of 10.
This review was created in conjunction with QBC Toys and More, a local comic book and collectible shop located in Victorville, CA. Featuring new comic books every week, collectibles, action figures, original artwork, and more, QBC has something for the pop culture lover in us all. You can find them on Facebook at https://www.facebook.com/QBCToysandMore/.