Comics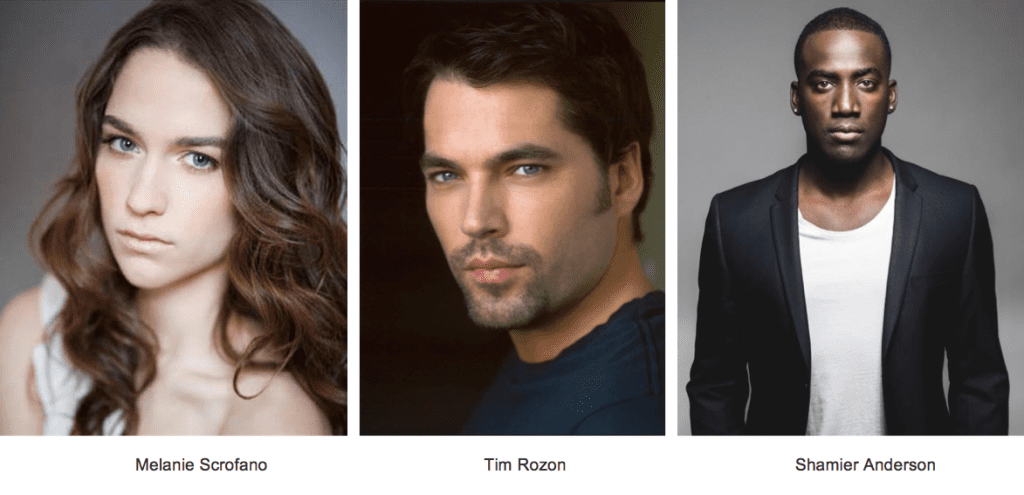 Syfy Acquires WYNONNA EARP from SEVEN24 Films and IDW Entertainment
By Staff Reports
SEVEN24 Films and IDW Entertainment announced today that Syfy has acquired the U.S. rights to Wynonna Earp, a live action television series based on the IDW Publishing comic created by Beau Smith.  Emily Andras (Lost Girl, Killjoys) developed the series for television and will serve as Executive Producer and Showrunner.
With an initial order of 13 one-hour episodes, Wynonna Earp is a fast-paced, contemporary thriller that follows Wyatt Earp's great granddaughter as she battles demons and other supernatural beings. Wynonna is a witty and wild modern day gunslinger, using her unique abilities and a dysfunctional posse of allies to bring the paranormal to justice.  The series is scheduled to premiere in April 2016.
"Wynonna Earp is a unique contemporary western that will bring high octane, full-throttle, supernatural action to Syfy," said Chris Regina, SVP, Programming, Syfy. "It is wildly imaginative and we are excited to work with Seven24 Films, IDW Entertainment and Emily on this truly original concept that will showcase fun, stylized visuals and pure escapism."
Melanie Scrofano (Damien, Gangland Undercover) will star as Wynonna Earp. Tim Rozon (Being Human, Instant Star) will play legendary con artist Doc Holliday, and Shamier Anderson (Defiance, Constantine) plays the mysterious Agent Dolls.
"Together with SEVEN24 Films, IDW Entertainment, and a virtual dream cast, I'm confident we have something special on our hands: a female-led supernatural series with grand themes of redemption, honor, and the struggle to define good vs. evil.  Not to mention, a kickass biker babe fighting demon outlaws," said Emily Andras.
Wynonna Earp will be produced in Calgary by SEVEN24 Films, and distributed by IDW Entertainment.  Production is slated to begin in August.  SEVEN24's Jordy Randall and Tom Cox will serve as Executive Producers.
IDW CEO & Publisher Ted Adams, David Ozer, Peleton Entertainment's Todd Berger, and Circle of Confusion's Rick Jacobs packaged and facilitated financing for the series.
"Developing the series has been a passion for our entire creative team and we're excited to share this new series with Syfy's equally passionate audience," said Jordy Randall of SEVEN24 Films.
"Wynonna is an incredible character that will appeal to a global audience.  IDW Entertainment is thrilled that Syfy will be the U.S. home for this fabulous series and we look forward to bringing Wynonna to the global market," said David Ozer of IDW Entertainment.
Emily Andras is represented by Jeff Alpern of The Alpern Group.  Melanie Scrofano is represented by David Ritchie of Ambition Talent and Matthew Lesher of Insight Entertainment. Shamier Anderson is represented by Douglas Patterson of Patterson Talent Management and Tim Rozon is represented by Paul Hemrend at Edna Talent Management.
About SEVEN24 Films
SEVEN24 Films is an independent film and television production company whose work has spanned over two decades. Executive Producers Tom Cox and Jordy Randall have produced dramatic series, mini-series, television movies and feature films garnering over one hundred industry awards and nominations.
Current projects include the hit family series Heartland, the longest running one-hour series in Canadian history, now in its ninth season on CBC and UPtv, as well as Young Drunk Punk, a new half hour comedy starring Kids in the Hall alumni, Bruce McCulloch. Other award winning projects include the Canadian Screen Award winner, Borealis as well as the Gemini Award winning movie Mayerthorpe and Gemini Award winning Mini-Series Burn Up (with Bradley Whitford and Neve Campbell).
Tom Cox and Jordy Randall were also co-producers on numerous high-profile feature films including the Academy Award nominated Brokeback Mountain, The Assassination of Jesse James by the Coward Robert Ford and Resurrecting the Champ.
SEVEN24's development slate focuses on unique stories with universal appeal, and includes dramatic series, comedy series, youth and family programming and feature films.
About IDW Entertainment
IDW Entertainment launched in November 2013 to distribute productions globally as well as to develop film and television properties based on IDW's extensive catalog. The division is currently in development on a slate of properties including the chilling and realistic vampire thriller, V Wars, by New York Times best-seller Jonathan Maberry with writer/executive producer Tim Schlattmann (Dexter, Smallville); political conspiracy series, Cobb, with writer/executive producer Thania St. John (Chicago Fire, Covert Affairs); quirky supernatural mystery, Douglas Adam's Dirk Gently's Holistic Detective Agency, with writer/executive producer Max Landis (Chronicle);  supernatural action series, Pantheon, with co-creator Michael Chiklis (The Shield); and Brooklyn Animal Control, created and written by J.T. Petty, with David Goyer (DaVinci's Demons, Dark Knight Rises) as an executive producer as well as Circle of Confusion (Walking Dead). 
IDW also has several active theatrical projects in development. . Currently Dwayne "The Rock" Johnson and Warner Brothers are producing a film based on Ashley Wood's Lore; Michael Bay's Platinum Dunes and Sony are bringing Zombies vs. Robots to film and Alex Kurtzman are producing a movie based on Locke & Key at Universal.
About Syfy
Syfy is a media destination for imagination-based entertainment. With year round acclaimed original series, events, blockbuster movies, classic science fiction and fantasy programming, a dynamic Web site (www.Syfy.com), and a portfolio of adjacent business (Syfy Ventures), Syfy is a passport to limitless possibilities. Originally launched in 1992 as SCI FI Channel, and currently in 96 million homes, Syfy is a network of NBCUniversal, one of the world's leading media and entertainment companies. NBCUniversal is a subsidiary of Comcast Corporation. (Syfy. Imagine Greater.)