Comics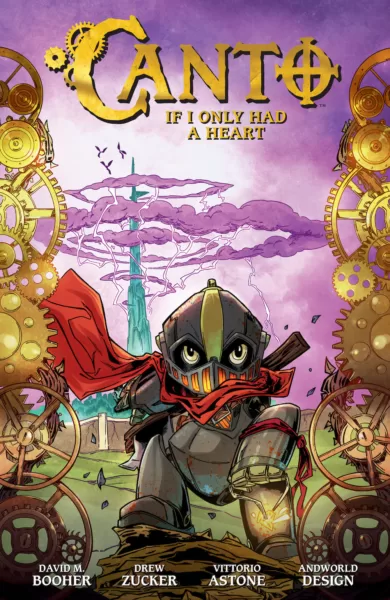 THE MODERN FAIRYTALE "CANTO" EMBARKS ON AN A QUEST FOR LOVE WITH DARK HORSE COMICS
By Staff Reports
Dark Horse Comics is joining forces with Eisner- and GLAAD Media Award-nominated writer David M. Booher, along with artist Drew Zucker, to present the world of Canto to a new audience. The creative team includes colorist Vittorio Astone and letterer Andworld Design, who together present a fantastical modern fairytale. Available for pre-order now, Canto Volume 1: If I Only Had a Heart and Canto Volume 2: The Hollow Men invite readers to experience the series from the beginning, now in beautiful hardcover collections including extensive cover galleries, sketchbook and process sections. The new volumes will also feature brand new cover art by Zucker with future volumes to come. And there's more–Dark Horse Comics and the Canto creators are preparing to announce expansions of the Canto story throughout this partnership in addition to collecting previously published materials, including the conclusion of the "Shrouded Man Saga": A Place Like Home.
About the modern fantasy series, Canto:
Beloved tiny clockwork hero Canto is on a quest for a heart for the one he loves. Enslaved for generations, Canto's people once had hearts. Now they have clocks. They are forbidden to love, yet Canto loves a little tin girl. When slavers damage her clock beyond repair, Canto embarks on an incredible journey through his strange and fantastic world to bring back her heart. Conquering fearsome creatures with unlikely allies, he must confront the mysterious figure who has taken their hearts to save the one he loves.
"I fell in love with Canto the moment I saw Drew's character design," says Booher. "To see his story come to life in Dark Horse's beautifully designed hardcover editions truly is a dream come true. We've said all along that Canto's quest is meant for all ages, so with these editions coming to schools, libraries, and bookstores, now everyone can join his thrilling adventure. And I'm happy to say his story isn't done yet!"
"I've lived with this character for over a decade, before I even knew what his name was." says Zucker. "For Canto to excel to the heights he has, is completely surreal. In partnering with Dark Horse, we're entering one of the most exciting times for the character. I can't wait for even more readers to join Canto on his adventures and fall in love with him the way David and I have."
Hailed as a "truly entertaining and striking modern fairy tale," (Newsarama) and a "beautiful and heartfelt story about love and heroism," (The Brazen Bull), Canto is an adventure for past, present and future generations alike. Beyond these new editions collecting the story's beginnings, expect even more from Booher, Zucker, and Dark Horse as Canto arrives in stores next year and beyond.
Canto Volume 1: If I Only Had a Heart, spanning 184 pages and measuring 6.625″ x 10.1875″, arrives in a high-quality hardcover edition in bookstores on June 4, 2024 and comic shops June 5, 2024. Pre-order at your local comic shop, bookstore, Amazon or Barnes and Noble for $29.99.
Canto Volume 2: The Hollow Men hardcover edition (160 pages, 6.625″ x 10.1875″) arrives in bookstores on July 2, 2024 and comic shops July 3, 2024. Pre-order the second volume from your local comic shop, bookstore or on Amazon or Barnes and Noble for $29.99.