Video Games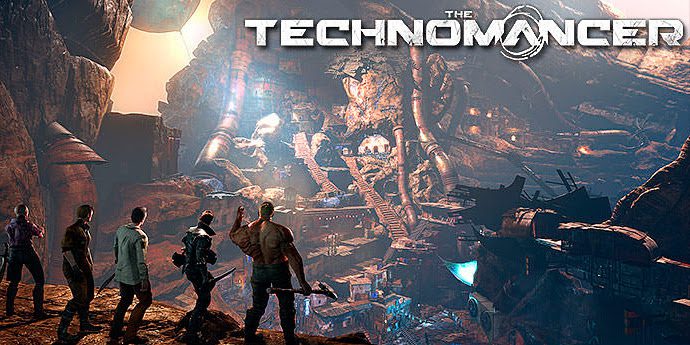 The Technomancer Takes You Across Mars
Experience the distinctive, sci-fi world of Spiders' epic RPG, The Technomancer
The game takes place on a dystopian Mars, hundreds of years after the first human colonies set foot on its red plains. Today's trailer showcases a few of The Technomancer's unique environments and dangers. Pursued by a corrupt police force, you must journey across these deadly environments and beyond, chasing a secret that could alter Mars and its inhabitants forever.
The Technomancer takes place after a cataclysmic event that decimated the population and isolated the red planet from Earth. The pioneering optimism of the early colonies has long since vanished. In its place lies no man's lands, sprawling shanty towns, and broken cities governed by shadowy officials. The fractured settlements offer protection from the lethal radiations of the Sun, but they're far from safe havens: desperate criminals and terrifying, mutated creatures lie in wait for the unprepared.
Your adventure on Mars begins summer 2016, available on PlayStation 4, Xbox One and PC!
ABOUT THE TECHNOMANCER
Spiders studio is back with The Technomancer, a sci-fi RPG for PlayStation 4, Xbox One and PC set on Mars during the War of Water, where an aspiring Technomancer faces a myriad of questions as his future grows threatened by the secrets of his past.
Technomancers are "mage-warriors", who harness, thanks to an innate talent, destructive electrical-based powers, amplified by their cybernetic implants. Both respected and feared by all, they are fearsome warriors trained from a young age to fight. You are one of them, about to finally pass your initiation rite to become a fully-fledged Technomancer.
An RPG, The Technomancer will offer players action-oriented combat gameplay along four different skill trees, focusing on 3 different fighting styles and the destructive electric-focused powers of the Technomancers. But all situations aren't necessarily to be dealt with brute strength, with dynamic conversation dialogue playing a deep role in quests, changing the story depending on the decisions you make. Craft equipment, weapons and armor for yourself and for the companions you'll recruit along your adventure, nurturing relationships with them.
On the run from the Secret Police and confronted by the harsh realities of the Red Planet, you must undertake a quest that takes you through forgotten paradises, cities lost under the ice, and dystopian shanties sprawled across Mars' dusty embrace.
Faced with the cruelty of Mars' iron-fi st enforcers and alien wild-life, can you survive long enough to uncover the truth behind The Technomancer?
KEY FEATURES
An adventure set on the sands and terraformed tropics of a post-apocalyptic Red Planet
3 combat styles and character customization
Unleash powerful Technomancy magic on your foes
In-depth crafting which changes the appearance of weapons and armour
A world that reacts to your decisions
Relationships with companions that open new pathways and quests.
About Spiders
Spiders is an independent video game development studio based in Paris, France. Founded in 2008 by several industry veterans who worked most notably on the Silverfall game and its add-on, the studio is mainly specialized in the creation of action/RPG games on PC and next gen consoles, but also has the capacity to realize or participate in the realization of PC ports on consoles. To date, Spiders developed and released Faery: Legends of Avalon, an enchanting RPG on PC, Xbox Live Arcade and Playstation Network, as well as the console ports of the Sherlock Holmes vs. Jack the Ripper (Xbox 360) and The Testament of Sherlock Holmes (PS3, Xbox 360) adventure games. Spiders has also developed Of Orcs and Men, an RPG for PC, PS3 and Xbox 360 designed and produced by Cyanide, Mars War Logs (PC, XBLA, PSN) and Bound by Flame (PC, PS3, PS4, Xbox 360). Spiders is currently developing The Technomancer for PC, PS4 and Xbox One.
If you want to learn more about Spiders, you can learn all kinds of stuff about us on our official website: http://www.spiders-games.com/
About Focus Home Interactive
Focus Home Interactive is a French publisher based in Paris, France. Known for the quality, diversity and originality of its catalogue, Focus has published and distributed original titles that have become benchmark titles worldwide, available both in store and for download across the world. Focus publishes games on all major platforms, consoles and PC. 2015 has been exciting with the release of games such as Blood Bowl 2, Divinity: Original Sin on consoles, Act of Aggression, and Farming Simulator, among others. The publisher's catalogue will get even richer the coming months and years with eagerly awaited games such as Vampyr, The Surge, Mordheim, Space Hulk: Deathwing, Battlefleet Gothic: Armada, The Technomancer, Shiness, and many more.
More information about the company at: http://www.focus-home.com