Movies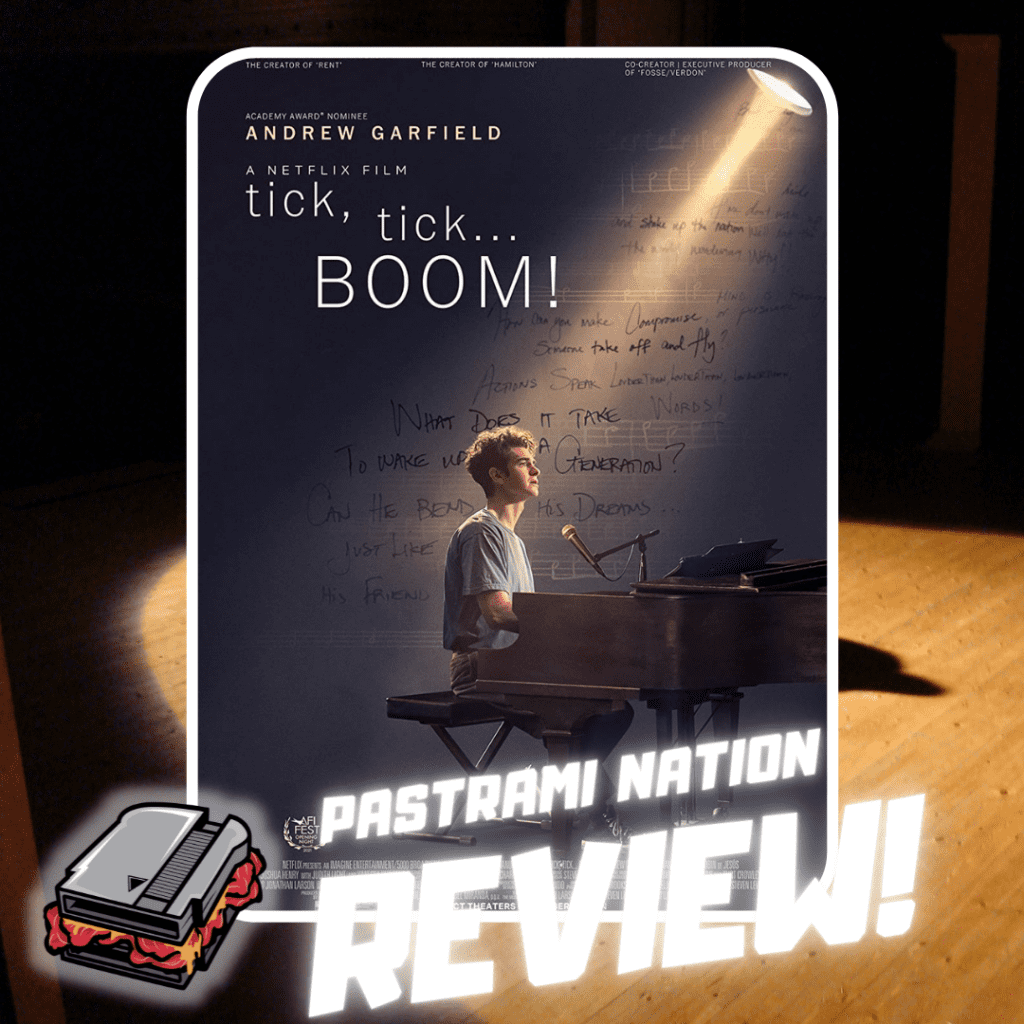 Tick, Tick… Boom! Review
By Kevin Hoskinson
Entertainment Editor
Andrew Garfield is in top form in Lin-Manuel Miranda's directorial debut, Tick, Tick…Boom!. In the film, Garfield plays Broadway pioneer Johnathan Larson as he attempts to get his musical SUPERBIA off the ground and in front of an audience. Along the way, he struggles to maintain his confidence, friendships, and relationship with his girlfriend Susan (Alexandra Shipp). It's a portrait of a struggling artist full of moving songs, excellent performances, and one of the strongest debut films in a long time.
For a lot of theater nerds, the name Jonathan Larson is synonymous with a musical that changed Broadway as we know it. That show was called RENT, and it became a global phenomenon, even spawning a (decent) movie adaptation directed by Chris Columbus. Attempting to write the next great musical since the late '80s, Larson became jaded and convinced that SUPERBIA would never see the light of day. Some producers and Broadway veterans (including the late Stephen Sondheim) believed he had talent, but that maybe a sci-fi look at the technological downfall of humans wasn't the way to go. It was far too expensive, and nobody would travel to New York to see it. This led to the creation of Tick, Tick…Boom!, a semi-autobiographical tale about his struggles as a writer and performer.
It's crazy when dreams come true, and things come full circle. When Lin-Manuel Miranda was a teen, he was lucky enough to see RENT on Broadway. That show inspired him to write musicals himself, and after years of pushing through, he made it with a number of successful musicals. It wouldn't be long after "In The Heights" premiered that "Hamilton" took the world by storm. Now he is directing a film version of a semi-fictional account of Larson's life, the very person who inspired him to become a writer himself.
Miranda approaches the material as a live performance combined with a cinematic narrative. As somebody who lived and breathed in the world of the theater, he had an incredible grasp on what it's like to be in the room where it happened (yes, I know, clever!). While you are watching it, the energy of the "live" segments jumps off the screen, and you are there. Within seconds of seeing Garfield on screen, you are transported to the 90's witnessing Larson perform the show. It then seamlessly transitions to an everyday life; no stage lights, no piano in sight, just Larson and the world he lives in. Neither of them are particularly glamorous, but it's easy to get the sense that the stage is where he comes alive.
It's the heart of the story that would form the blueprint that became RENT. After Jon gets rejected and it's recommended that he write a more personal show, he realizes so many of his friends were becoming victims of the AIDS epidemic. He was also getting tired of his friends "selling out" and moving on to bigger and better things. While writing Tick, Tick…Boom! he was also writing what would become his opus. The tragedy is that he would never see any of the show's success; he passed away from a brain aneurysm the night before RENT premiered on Broadway to a massive crowd.
The movie doesn't dwell on any of that, though, focusing on the man and his life as a person. He was a dreamer, someone who wasn't going to let life get in the way. In the show and in this movie, his life is told through song. He was both a fan of Broadway and rock music, and both of those influences shine through. The song 30/90 most exemplifies this mashing of genres with its beautiful piano that crescendos into loud boombastic guitars. The lyrics also move the story forward to give us a better glimpse into his mindset and how he sees the world.
If it weren't for Garfield giving 110% percent in this movie, it would have fallen flat. It's a performance that is so energetic and full of life it's ridiculous. He switches his emotions on a dime, one second being gleefully happy and the next having tears running down his face. He and Alexandra Shipp share fantastic chemistry, with her trying her best to succeed in her own life while juggling his as well. You know they are in love but can feel the flame dying as the movie continues. Robin De Jesus plays his best friend Michael, and he is magnificent. He's gay and later finds out that he is HIV positive, which becomes a brutal and powerful moment when he tells Jonathan the news. They are all living in this world in a real way; it's powerful stuff. There are also some fantastic cameos that you won't want to miss.
Tick, Tick…Boom! is a love letter to live theater and Jonathan Larson. It's captivating, beautiful, gut-wrenching, and life-affirming at the same time. It's full of great songs and amazing performances. Lin-Manuel knocked it out of the park with his first feature film, and I wouldn't be surprised if it snags some big awards this season; it's that good. It's streaming on Netflix now, and you should definitely check it out!
Rating: 4.5 Pastrami Nations out of 5.

Kevin Hoskinson is the Entertainment Editor at Pastrami Nation. A writer with a deep-seeded love for movies, comic books, television, and the paranormal, he is also the host of Pastrami Nation: Popcorn on YouTube, Spotify, Apple Podcasts, SoundCloud, and more. From humble beginnings working the box office at his local movie theater, he's worked his way to becoming a humble family man and professional bug exterminator. Growing up, he wanted to become an astronaut, a Ghostbuster, a dinosaur, and a Disney animator before he found his passion for writing as a teen. He studied film at Los Angeles Valley College with an emphasis on screenwriting and film criticism. He currently lives in Portland, Oregon, with his wife and two kids. You can follow him on Facebook, Twitter @Kevin_Hoskinson, and Instagram @kevinhoskinson.