Comics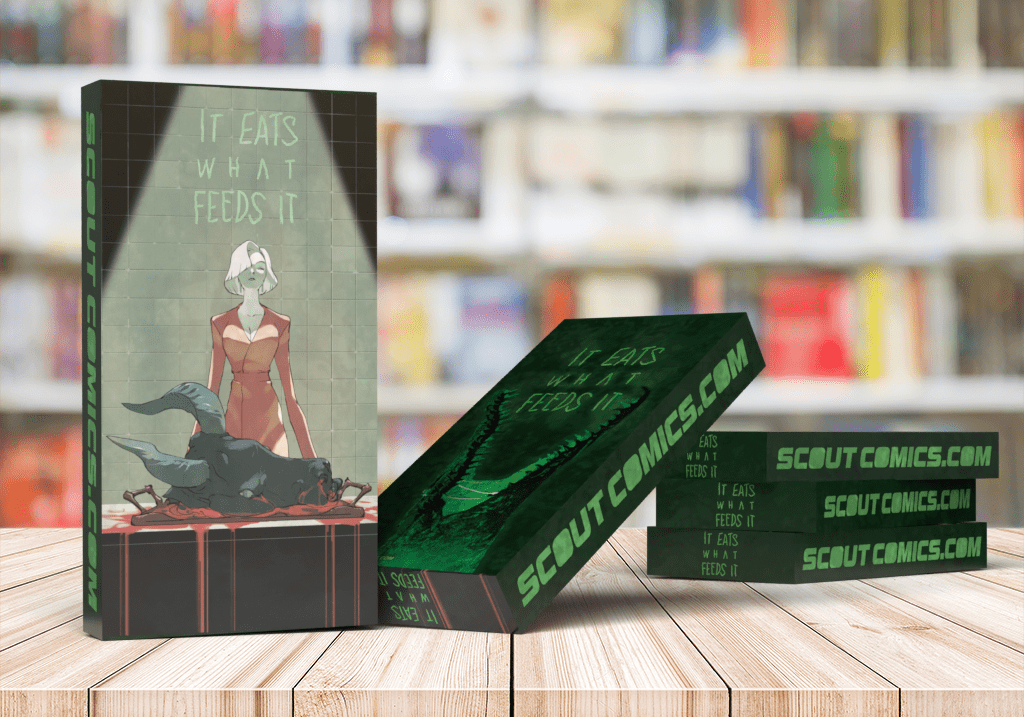 TITLE BOX TUESDAY Is Here! This Week's Title Is… IT EATS WHAT FEEDS IT!
By Staff Reports
Scout Comics & Entertainment Holdings, Inc. is proud to announce a new weekly imitative called TITLE BOX TUESDAYS! Every Tuesday for the foreseeable future, Scout will release a limited edition box set of one of the many amazing titles in their catalog. 
This Tuesday's title box is…IT EATS WHAT FEEDS IT
In this grimy horror romp, Francois, a stunning middle-aged woman, has developed a worsening affliction and seeks a young caretaker to upkeep her lavish creole mansion deep in the mystic bayou of Louisiana. Kenny, a teenage halfwit looking for a summer job, stumbles right to her doorstep. Free rent, free meals, high pay, easy work, and a provocative boss… what's there for Kenny to refuse? Well, there's the blood-covered kitchen spilling over with raw meat and the bolt-locked steel-plated attic door he's restricted access to.
 
WRITERS: Max Hoven, Aaron Crow
ARTIST: Gabriel Iumazark
Each deluxe title box will contain a complete set of comics! There's a mystery element in each box offering that includes rare variants and out off print covers. Some of boxes may also contain extremely rare HOLOFOIL editions that can only be found within! 
Along with the set of single issues you will also get a digital download/collectible card of each series in Scout's new COMIC TAG format! These limited edition collectibles look just like a mini comic book with a collectible card attached!
CONTENTS
IT EATS WHAT FEEDS IT Issues #1- #3 and the Comic Tag containing the entire digital graphic novel. LIMITED TO 200 BOXES!


$24.99 EACH