Art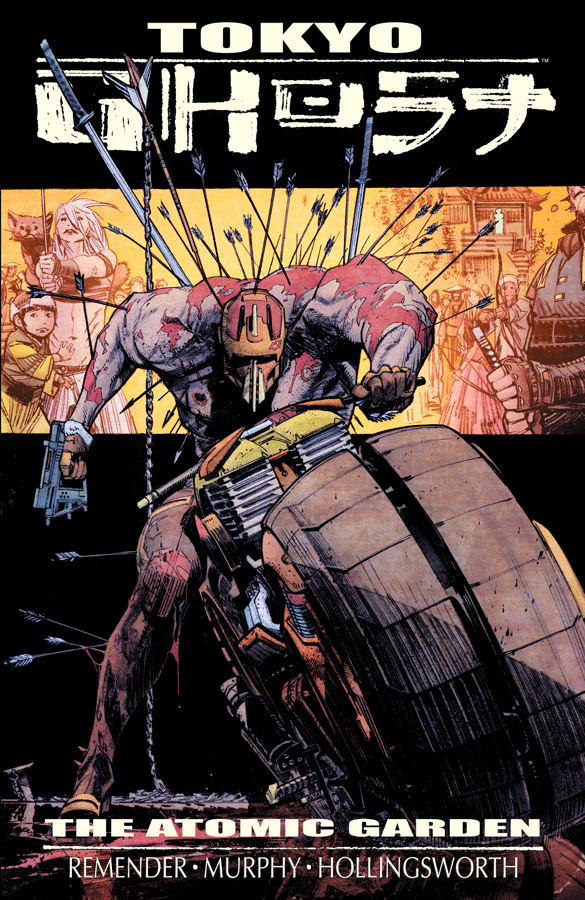 Tokyo Ghost Volume 1 Review
Tokyo Ghost mesmerizes while showing that technology is like a drug
By Nolan P. Smith
(Victor Valley)—Post apocalyptic tales are something writer Rick Remender knows a lot about. The man has written some of the absolute best books when it comes to bleak outlooks, like two of his current series, Devolution and Tokyo Ghost, which is now collected as a trade paperback from Image Comics.
Written by Remender with art by Sean Murphy (Chrononauts) and colors by Matt Hollingsworth (Wytches), Tokyo Ghost takes a good, hard look at a problem society has right now. Heck, many of us have this issue- the distraction and addiction to technology. It's the year 2089, and humanity's love for media has become an epidemic, literally. People plug in, and forget their real lives- which allows for unsavory characters to capitalize on humanity's addictions.
The only law enforcement figures left are Constables- but even they have technology embedded into their everyday lives. Like Constable Led Dent, a muscle bound brute who can't stand to be away from his "shows" on multiple screens, which are in front of him at all times. His partner, Debbie Decay, is one of the only people alive with no technology implanted in her body, she is also the girlfriend of the man Led used to be. While doing "one last job", the duo gets sent to Tokyo to dismantle an EMP shield, which has been blocking all technology.
The characters the story focuses on are a complex set of people- Debbie being someone holding onto the past, especially the man she loved, which she hopes is still inside Led. With Led, we get to see different phases of him: from his current, tech addicted, nano-bot enhanced self, to how he is removed from all tech, and even glimpses of the young man he was before, and what pushed him into becoming the constable he is now. The setting here is very diverse- in Los Angeles, it's all very cyberpunk- very grungy, very dark. Then, in contrast to Tokyo, we get a very tranquil, neo-Bushido, calm atmosphere, which is removed from the chains of technology. The man villains here vary, but it all boils down to technology being the main culprit, and the main thorn in the side of Led and his scantily clad other half.
Remender creates a very unique story, with characters we want to see find a happy ending. Despite Led being the hulking masked man of justice, it's Debbie who is actually the strong one here- helping Led through his addiction issues, and then becoming important in the fight against technology in Tokyo. The action is violent and in your face, and looks fantastic. Murphy's art paired with Hollingsworth's colors make for a colorscape of excitement. The character designs are terrific, as is the technology we see: like the floating screens, and the joystick on the arm of the villainous Davey Trauma- who sees life as a game, literally.
This trade paperback collects the first five issues of the series, as the story continues on despite the major cliffhanger found here. Tokyo Ghost is a mature readers dream come true that hits close to home- a beautiful, strong female lead, a man torn apart by his past, and technology going down the inevitable road we all see- as it engulfs our entire lives. Tokyo Ghost Vol. 1 an excellent collection, and for 9.99, it's a no brainer. Yet, remember that this is for mature readers, due to adult themes and violence- if you are ok with that, then you are in for a hell of a read.
Rating: 9.0 out of 10.
This review was created in conjunction with QBC Toys and More, a local comic book and collectible shop located in Victorville, CA. Featuring new comic books every week, collectibles, action figures, original artwork, and more, QBC has something for the pop culture lover in us all. You can find them on Facebook at https://www.facebook.com/QBCToysandMore/.