Movies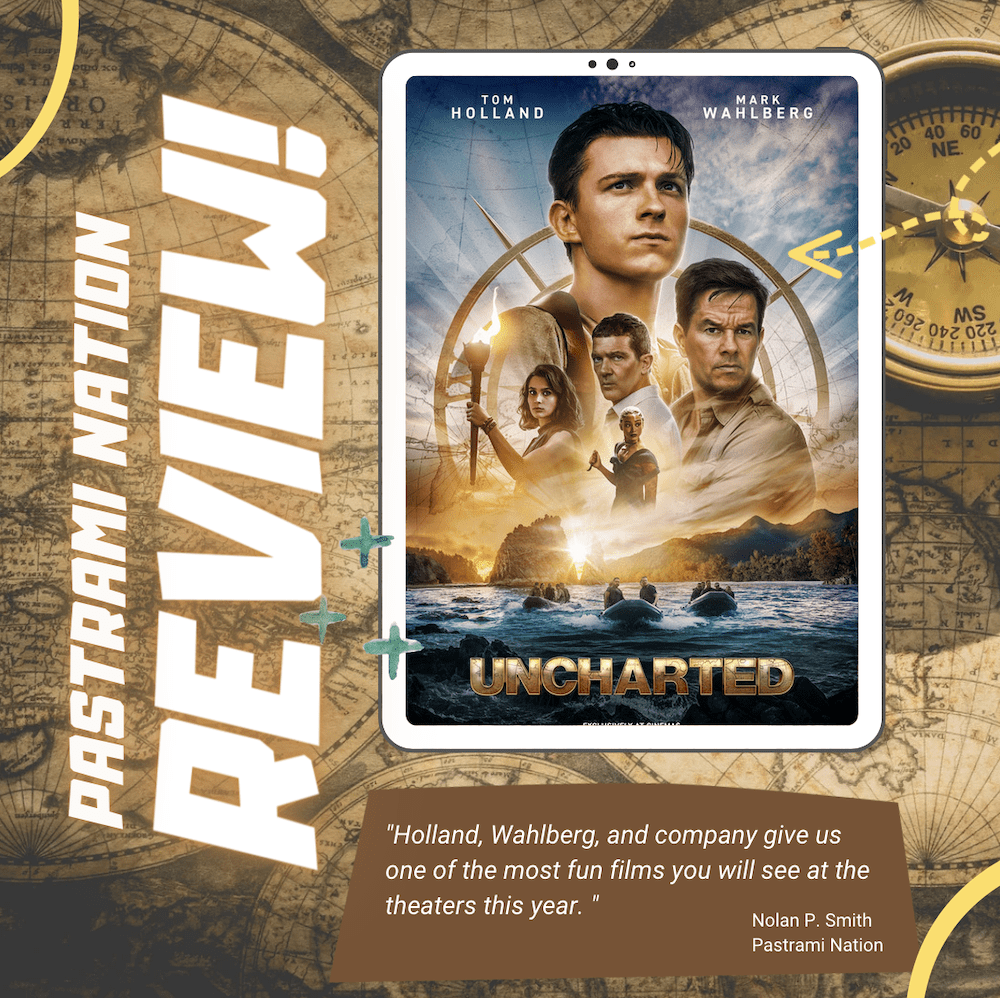 Uncharted Review
By Nolan P. Smith
Editor
If you haven't played one of the Uncharted games, you owe it to yourself. The game series by Naughty Dog for PlayStation are some of the best games I have played. The series has spawned a feature film starring Tom Holland and Mark Wahlberg. Does Uncharted steal the audience's attention, or is it a farce of an action flick?
Directed by Ruben Fleischer, the film focuses on the young Nathan Drake (Tom Holland), an orphan who grew up looking up to his brother Sam. Fast forward to the present day, Nathan has become quite the thief. A chance encounter with Victor "Sully" Sullivan (Mark Wahlberg) puts the young thief on a path to untold riches that will change his life forever. We get an adventure that spans the globe, that opens Nathan's eyes to those around him and how his brother is tied to it all, all with exhilarating, edge of your seat action and tons of spot-on humor.
Some great Easter Eggs pay homage to the video games series, like the Naughty Dog sticker and a very familiar sounding cameo on the beach. I was a bit worried about Holland taking on the role of Nathan Drake- honestly, he doesn't look like or sound like the Nathan Drake I know from the games. But Holland gives his own rendition of Drake- a streetwise, intelligent young man that still holds on to the hope that humanity can be halfway decent. Wahlberg is Wahlberg, and I think that's why it works so well. He is an excellent balance to Holland, who continues to break out of the Spider-Man typecast. Sophia Ali, Tati Gabrielle, and Antonio Banderas round out the cast, and all do a terrific job bringing this story to life.
The storyline doesn't follow one storyline from the games- instead, it takes bits and pieces and combines it with its own original fiction with outstanding results. Being a fan of the franchise, I was worried for a bit- but once I saw it, I was blown away. Uncharted is part Indiana Jones, part National Treasure, but made for modern times. I would love for a franchise to spin out of this film, it's worth it, and it deserves it. Holland, Wahlberg, and company give us one of the most fun films you will see at the theaters this year.
Rating: FIVE Pastrami Nations out of FIVE.

Nolan P. Smith is the Editor in Chief and Co-Founder of Pastrami Nation. He has worked for various media outlets for the past ten years, from newsprint to the ever-evolving internet platform. Residing in Victorville, CA, writing has always been a significant aspect of his life. A reporter, teacher, public relations specialist, and more, he takes the most joy out of covering the world of pop culture. You can follow him on Twitter and Instagram at @pastramination.