Animation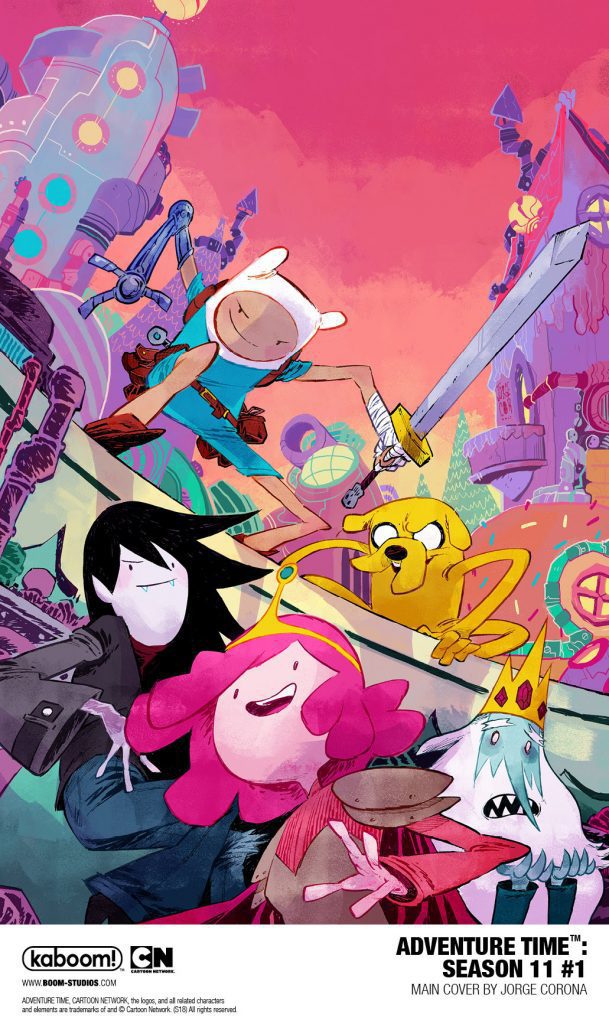 Your First Look at Adventure Time Season 11 #1 from BOOM! Studios
By Staff Reports
BOOM! Studios today unveiled a first ADVENTURE TIME SEASON 11 #1, the official comic book continuation of the Emmy® Award-winning Cartoon Network animated series.
The story of the Land of Ooo continues on exclusively in comic book form this October from the writing duo of Eisner Award-winner Sonny Liew (The Art of Charlie Hock Chye) and Ted Anderson (My Little Pony), along with artist Marina Julia (Lumberjanes: Faire and Square). In the aftermath of The Great Gum War, it's up to Finn, Jake and the entire land of Ooo begin to pick up the pieces with some new and unexpected friends. BOOM! Studios has been publishing the New York Times bestselling Adventure Time comic books and graphic novels through their KaBOOM! imprint for middle grade readers since 2012 and been honored with Eisner, Harvey, and Diamond Gem Awards for the series.
A modern day fable, the Emmy® Award–winning animated series Adventure Time has become a global success since its premiere in 2010, attracting adult and kid viewers in their millions over the course of 10 seasons. It follows unlikely heroes Finn and Jake, buddies who traverse the mystical Land of Ooo and encounter its colorful inhabitants. The best of friends, our heroes always find themselves in the middle of heart-pounding escapades. Finn, a silly kid with an awesome hat and Jake, a brassy dog with a big kind heart, depend on each other through thick and thin. Adventure Time is created by Pendleton Ward and produced at Cartoon Network Studios.
"We are thrilled to continue the Adventure Time story with a new season exclusively in comic book form," said Whitney Leopard, Editor, BOOM! Studios. "Finn, Jake and the whole gang have an exciting new journey in front of them, full of all the thrills, surprises and excitement you've come to love in the Land of Ooo."
ADVENTURE TIME SEASON 11 is the latest release from BOOM! Studios' award-winning KaBOOM! imprint, home to comics for middle grade and younger readers including licensed series such as Over The Garden Wall, Regular Show, Steven Universe, Peanuts, and Garfield, along with original series like Mega Princess by Kelly Thompson and  Brianne Drouhard, Bodie Troll by Jay Fosgitt, Ruinworld by Derek Laufman, and The Deep by Tom Taylor and James Brouwer.
For continuing news on ADVENTURE TIME SEASON 11 and more from BOOM! Studios,  stay tuned to www.boom-studios.com and follow @boomstudios on Twitter.
ABOUT CARTOON NETWORK
Cartoon Network Enterprises (CNE) is responsible for building consumer products and merchandising programs for a wide range of brands by securing and supporting long-term licensing partnerships across all categories. As the global branding and merchandising arm of Cartoon Network and Adult Swim, the division manages the consumer product programs for the networks' award-winning original programming, brands and characters including Ben 10, Adventure Time, The Powerpuff Girls, Steven Universe, The Amazing World of Gumball, Mighty Magiswords, and We Bare Bears, as well as Rick and Morty on Adult Swim.
Cartoon Network is Turner's global entertainment brand and the # 1 animation network in the U.S., offering the best in original content for kids and families with such hits as, Adventure Time, The Powerpuff Girls, Steven Universe, We Bare Bears and The Amazing World of Gumball. Seen in 192 countries and over 400 million homes, Cartoon Network inspires the next generation of creators and innovators by engaging its audience at the intersection of creativity and technology. Its award-winning pro-social initiative, Stop Bullying: Speak Up, is an acknowledged and often-used resource for kids and adults looking for tools that can assist in dealing with the ongoing issue of bullying.
Turner, a WarnerMedia company, is a global entertainment, sports and news company that creates premium content and delivers exceptional experiences to fans whenever and wherever they consume content. These efforts are fueled by data-driven insights and industry-leading technology. Turner owns and operates some of the most valuable brands in the world, including Adult Swim, Bleacher Report, Boomerang, Cartoon Network, CNN, ELEAGUE, FilmStruck, Great Big Story, HLN, iStreamPlanet, Super Deluxe, TBS, Turner Classic Movies (TCM), TNT, truTV and Turner Sports.
​About BOOM! Studios
BOOM! Studios was founded by Ross Richie in 2005 with the singular focus of creating world-class comic book and graphic novel storytelling for all audiences. Through the development of four distinct imprints—BOOM! Studios, BOOM! Box, KaBOOM!, and Archaia—BOOM! has produced award-winning original work, including Lumberjanes, The Woods, Giant Days, Klaus, and Mouse Guard, while also breaking new ground with established licenses such as WWE, Mighty Morphin Power Rangers, Cartoon Network, and The Jim Henson Company properties. BOOM! will also bring their original series to life through unique first-look relationships with 20th Century Fox for film and with 20th Television for the small screen. Please visit www.boom-studios.com for more information.