Comics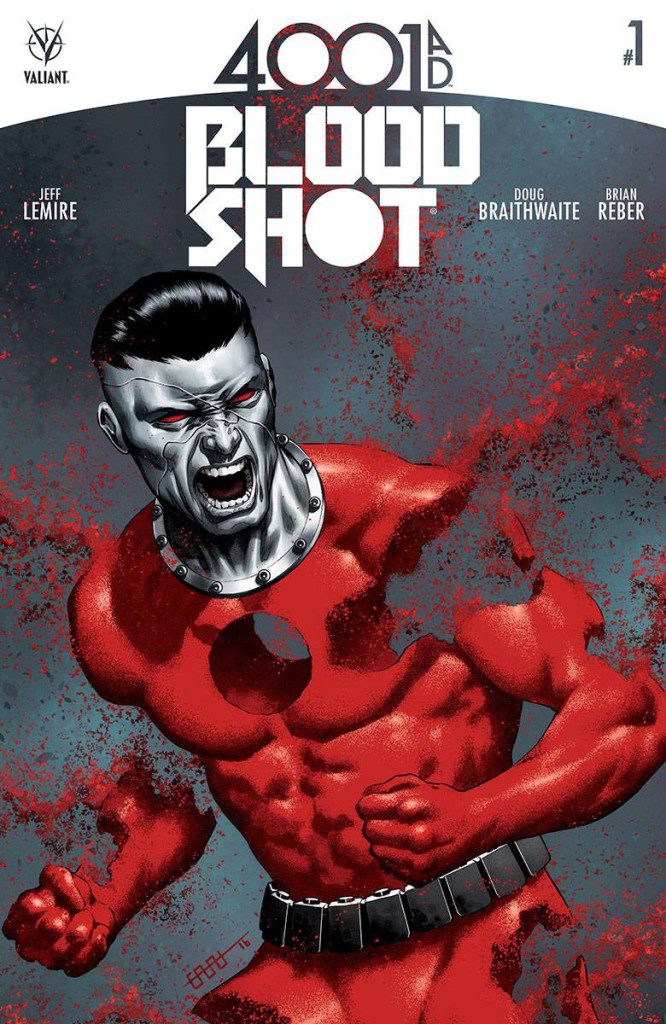 4001 A.D. Bloodshot #1 Review: Can't Keep a Soldier Down
4001 A.D. Bloodshot Brings the Anti-Hero to the Future
By Nolan P. Smith
Valiant Entertainment's 4001 A.D. has been an outstanding series so far. The one shots, like this one centering around Bloodshot, give us more of a history and background to the legacies the characters we know from the Valiant Universe will leave behind, especially when fast forwarding to the year 4001. How is Bloodshot, a nanites infused, mind controlled weapon of destruction, still around this far in the future?
From writer Jeff Lemire and artist Doug Braithwaite, we see how Bloodshot is still kicking, and what form he is in now. Gone is the body of Ray Garrison, but the nanites still remain, and are free when the events of 4001 A.D. wake the machines from their imprisonment. After 3D printing some flesh to make an almost complete body, we see the nanite controlled Bloodshot, who still has Ray's memories, start its final mission.
Lemire continues to be one of my favorite writers today, and this futuristic tale of one of Valiant's most iconic heroes is no exception. Braithwaite has worked on a plethora of Valiant titles so far, and has always impressed with his attention to detail and kinetic energy he brings to his action scenes. For me, the main takeaway from this story is that we saw that, at one point and time, Ray got to live in a place that accepted him, with a woman he loved, and that says a lot for the tragic character. By the end of the book, we see that this new Bloodshot could end up playing a part in 4001 A.D. further down the line, which would be fantastic.
This is another action packed, solid part to the 4001 A.D. storyline, and honestly, it shouldn't be missed.
Rating: 9.0 out of 10.
This review was created in conjunction with QBC Toys and More, a local comic book and collectible shop located in Victorville, CA. Featuring new comic books every week, collectibles, action figures, original artwork, and more, QBC has something for the pop culture lover in us all. You can find them on Facebook at https://www.facebook.com/QBCToysandMore/.