Art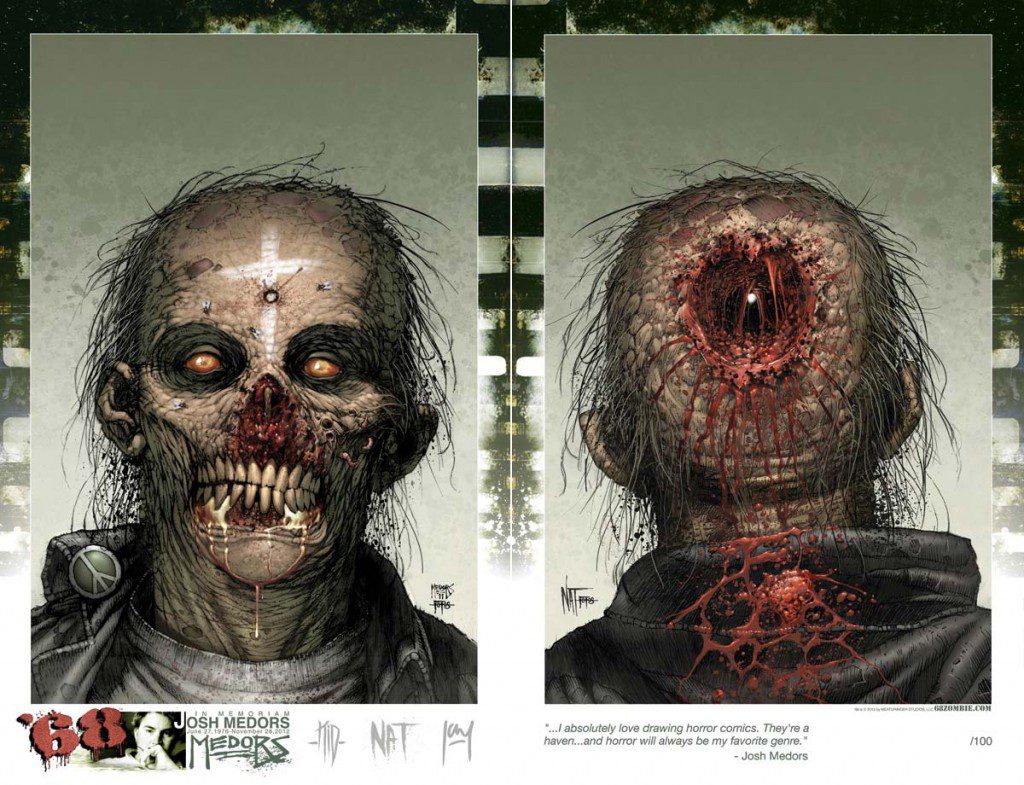 '68: HALLOWED GROUND PRINT ON SALE IN MEMORY OF JOSH MEDORS
By Staff Reports
The creators of the Image Comics series '68 are proud to present a limited collector's edition print in memory of the late comics artist Josh Medors. A courageous survivor of a rare form of spinal cancer, Josh outlived his original prognosis by years before finally passing in 2012. The print is an 11″x17″ double-sided glossy reproduction of the '68: HALLOWED GROUND one-shot cover image by Medors, with a matching back cover illustration by Nat Jones and Jay Fotos. Printed at full production size, this print is limited to only 100 copies, and comes hand-numbered and signed in pencil by '68 series founders Mark Kidwell, Nat Jones, and Jay Fotos. It ships in a protective rigid Mylar sleeve and will be available worldwide. To honor their friend and colleague, the '68 creators are donating all proceeds from the sale of the print to Medors' wife Charlotte and son Garth.
The '68: HALLOWED GROUND benefit print is available for purchase at http://68zombie.acmeprints.com/josh-medors-benefit-print/ and costs $40.00.
'68: HALLOWED GROUND goes on-sale 11/6, and features the story of two soldiers freshly back from Vietnam and forced into a showdown against hordes of zombies while holed up in a church. '68: HALLOWED GROUND was one of the last projects Medors worked on before passing away. He provided a cover, layouts, and thumbnails for the book, which were used to create the final one-shot. The issue ships with a cover by Medors (Diamond Code SEP130505) as well as a special cover by Bernie Wrightson (Diamond Code SEP130506).
ABOUT IMAGE COMICS
Image Comics is a comic book and graphic novel publisher founded in 1992 by a collective of best-selling artists. Image has since gone on to become one of the largest comics publishers in the United States. Image currently has five partners: Robert Kirkman, Erik Larsen, Todd McFarlane, Marc Silvestri and Jim Valentino. It consists of five major houses: Todd McFarlane Productions, Top Cow Productions, Shadowline, Skybound and Image Central. Image publishes comics and graphic novels in nearly every genre, sub-genre, and style imaginable. It offers science fiction, fantasy, romance, horror, crime fiction, historical fiction, humor and more by the finest artists and writers working in the medium today. For more information, visit www.imagecomics.com.