Comics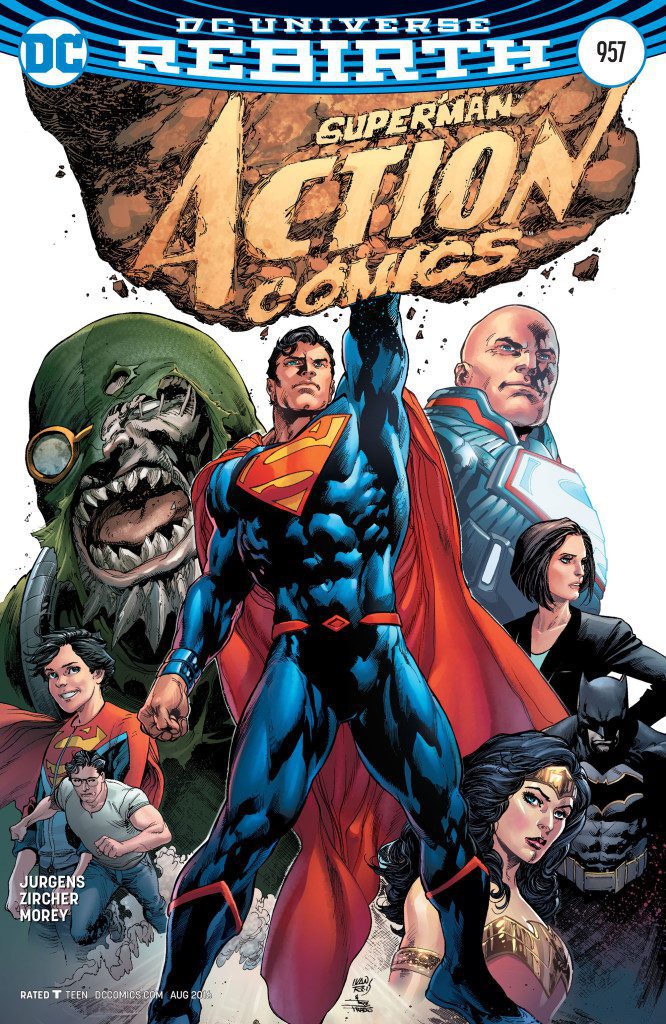 Action Comics #957 Review: The REAL Superman Rebirth
Action Comics #957 Kicks off the Superman Rebirth the Right Way
By Nolan P. Smith
With the Superman: Rebirth special being a bit underwhelming for me, as it served as more of a recap/set up to the new status quo for the Man of Steel, Action Comics #957 reads like a new beginning.
Written by comic vet Dan Jurgens with art by Patrick Zircher, this issue is the first of the Superman family of books to hit after the Rebirth special hit. With this issue, we get tons of set up, but by means of action, tension, conformation and surprise. The New 52 Superman is dead, so to the world, they see a world without a Man of Steel. Enter Lex Luthor, super genius and longtime nemesis of Superman, who dons a new Power Suit complete with the "S" shield and tries to fill the void left by Superman's death. Little does he know, or anyone know, there is another Superman: an older, wiser Superman from before the whole New 52/Flashpoint changes. This is the Superman many of us grew up reading, the one that fought Doomsday, died, and came back. Well, he isn't too thrilled about seeing old chrome dome wearing his family crest.
Confrontation ensues, as the true Superman reveals himself to the world, confronting Lex and struggling to come to terms that this world isn't the same as the one he knew. We get a few more surprises, including the re-emergence of a familiar face at the Daily Planet, as well as a look at one of Superman's deadliest foes. Jurgens creates an outstanding springboard for the Superman books, and Zircher's artwork brings it all home. I have been a fan of Zircher for a while, as his run on Valiant's Shadowman was fantastic, just as his art is here with DC's flagship hero.
This is what Superman: Rebirth should have been: a fun, entertaining issue that lays the groundwork for storylines to come and places Superman back in the spotlight.
Rating: 9.25 out of 10.
This review was created in conjunction with QBC Toys and More, a local comic book and collectible shop located in Victorville, CA. Featuring new comic books every week, collectibles, action figures, original artwork, and more, QBC has something for the pop culture lover in us all. You can find them on Facebook at https://www.facebook.com/QBCToysandMore/.