Art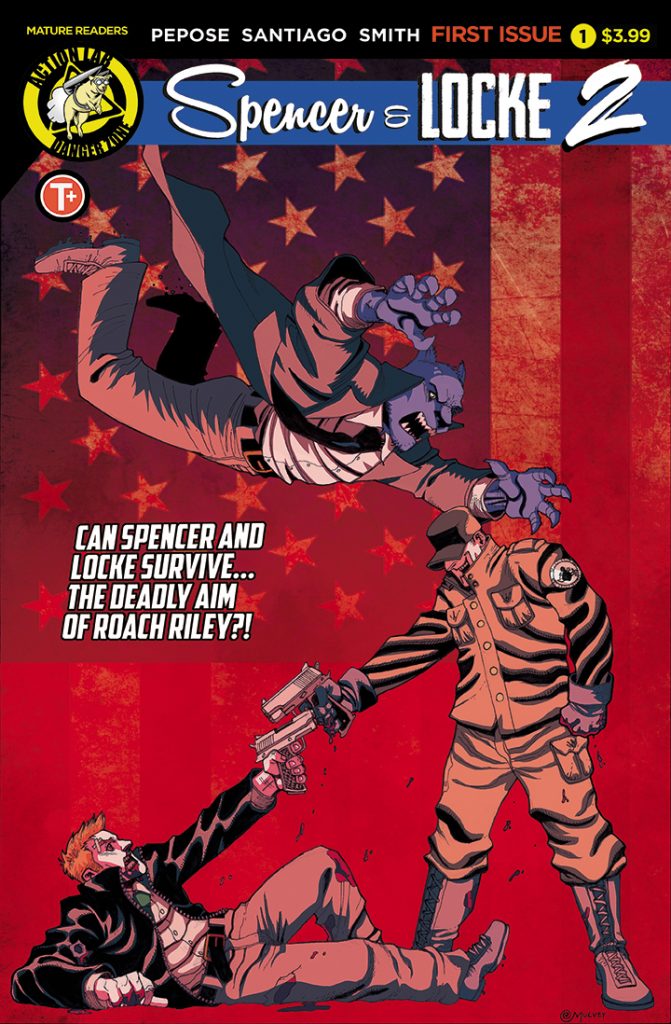 Action Lab's Spencer & Locke 2 Declares War on Your Favorite Funny Pages With New Villain Roach Riley
By Staff Reports
The critically acclaimed, five-time Ringo Award nominee returns in SPENCER & LOCKE 2, from writer David Pepose and artist Jorge Santiago, Jr.! Suspended by Internal Affairs, Detective Locke continues to grapple with the demons of his past alongside his trusty partner, his imaginary talking panther Spencer. But when Spencer and Locke face the murderous Roach Riley, a scarred soldier set on a mission of violence and terror, will their partnership become the latest casualty on Roach's hit list? Fans of Calvin and Hobbes, Sin City, and Criminal will love SPENCER & LOCKE 2 from Action Lab: Danger Zone, hitting comic shops and digital devices April 2019!
Writer: David Pepose
Artist: Jorge Santiago, Jr.
Colorist: Jasen Smith
Letterer: Colin Bell
Cover Artists: Main Cover A by Jorge Santiago, Jr. (FEB191309; $3.99); Variant Cover B by Maan House (FEB191310; $3.99); Variant Cover C by Joe Mulvey (FEB191311; $3.99)
What fans are saying already about SPENCER & LOCKE 2:
"SPENCER & LOCKE 2 is a fever dream of nostalgia and noir, an original voice from one of comics' most unique writers." – Bryan Edward Hill (Batman and the Outsiders)
"A genuinely compelling story… the SPENCER & LOCKE formula retains its appeal thanks to an even more ambitious sequel." – IGN
"One of the most original and thoughtful series out today, tackling childhood trauma and PTSD, and balancing these heavy topics with smart humor, intrigue, and thrills." – Monkeys Fighting Robots
"The potential for this series is limitless." – DoomRocket
For other information, retailers can reach Nicole D'Andria at ndandria@actionlabcomics.com.
Follow SPENCER & LOCKE on Facebook, Twitter and Instagram for the latest news, and join in on the conversation using the hashtag #spencerandlocke.
About the Creators:
A former crime and politics reporter, David Pepose is the Ringo Award-nominated writer of SPENCER & LOCKE. He has also worked for numerous entertainment companies around the country, including CBS, Netflix, Universal Studios and DC Comics. A St. Louis native and a former New York City transplant, Pepose now resides in sunny Los Angeles, where he is developing several properties for TV, film, and comics. Follow him on Twitter at @
Peposed
.
Born on the desolate planet of El Paso, Texas, Ringo Award-nominated SPENCER & LOCKE artist Jorge Santiago, Jr. began training in the Comic Arts at 17. After self-publishing for years, he left for the planet Georgia, where he earned his MFA in Sequential Art from the Savannah College of Art and Design and has been practicing making the perfect comics. Now living south of Atlanta, Santiago graphic designs by day and makes comics by night, and is best known for his popular webcomic, CURSE OF THE EEL. Follow him on Twitter at @
JorgeSantiagoJr
.
Born in Elk City, Oklahoma in 1982, Jasen Smith has been drawing his entire life. After serving as a newspaper writer, cartoonist, and voice jockey, Smith later moved to Arizona and became a freelance graphic designer, leading him to a career as a full-time colorist in 2013, earning a Ringo Award nomination in 2018 for his work on SPENCER & LOCKE. He has since worked with the biggest comic book publishers in America, including Top Cow, Aspen Comics, DC Comics, Image Comics, and more. Follow him on Twitter at @
Jasen_Smith
.
Along with his Ringo Award-nominated lettering work for SPENCER & LOCKE as well as publishers such as Image Comics, Dark Horse and BOOM! Studios, Colin Bell is known for being the SICBA Award-winning writer behind the popular all-ages title DUNGEON FUN (Comic Book Resources' 61st Best Comic of 2013) and back-up strips for Titan Comics' DOCTOR WHO: THE TWELFTH DOCTOR. Follow him on Twitter at @
ColinBell
.
About Action Lab Entertainment:
Formed in 2010 with the purpose of pooling their collective talents into a single, powerful entity, the members of Action Lab Entertainment have countless years in multimedia publishing, design, and business. Their first release, Fracture, was successfully funded through Kickstarter and since then they have continued their mission to produce high quality, genre-spanning entertainment.  Since its formation, the accolades for A.L.E continue to build on a daily basis.  Among its more popular titles are all ages material like the Eisner, Glyph, Shel Dorf Award nominated series PRINCELESS, MIRACULOUS (based on the Nickelodeon Television series), Jamal Igle's MOLLY DANGER, Artist/Writer Katie Cook's GRONK and Gayle Middleton's (My Little Pony, The Littlest Pet Shop) monstrously adorable VAMPLETS. Action Lab's Mature Readers imprint ACTION LAB DANGER ZONE continues to push the envelope of comics entertainment with titles as varied as Charles Band's PUPPET MASTER and Dan Mendoza's over the top horror-comedy ZOMBIE TRAMP, VAMPBLADE and ITTY BITTY BUNNIES IN RAINBOW PIXIE CANDY LAND, and socially relevant titles including SOUTHERN DOG, KINGDOM BUM and M Goodwin's TOMBOY.