Comics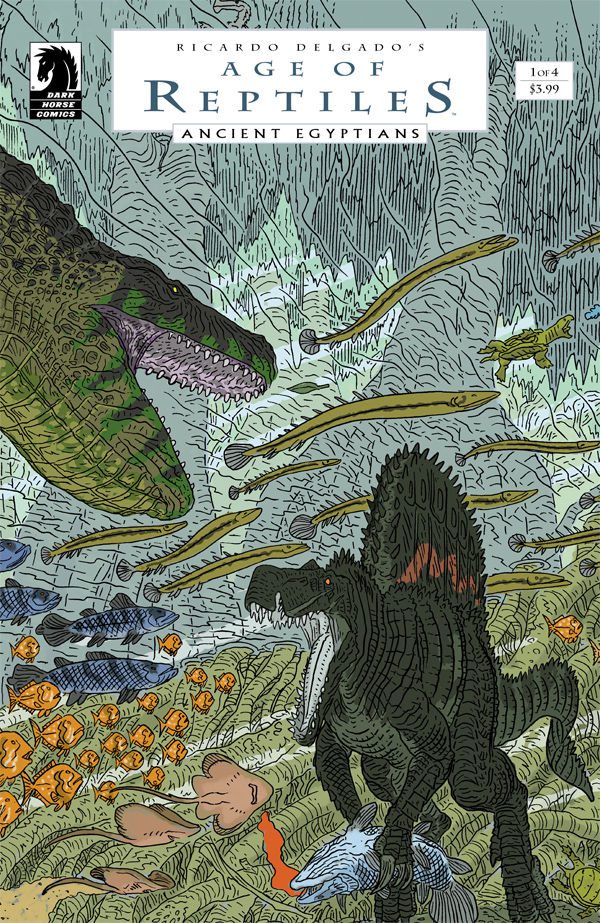 Age of Reptiles: Ancient Egyptians #1 Review- Dinosaurs + Silent Comic Book= Greatness
By Jason T. Smith
This summer definitely belongs to the dinosaurs. First you have a mega blockbuster in Jurassic World, which is just smashing all the box office records at the theaters. Then you have something truly special hitting comic stores in Age of Reptiles: Ancient Egyptians by Ricardo Delgado.
Dark Horse Comics has once again graced us with the next chapter in the Age of Reptiles series written and drawn by the best dinosaur artist out there, Mr. Ricardo Delgado himself. Delgado has an eye for detail like no other, and it shows greatly in his beautifully rendered landscapes, just crawling with prehistoric creatures. This story continues that tradition indeed.
Ancient Egyptians takes place in ancient Africa, which is fitting since real life fossils of our main character, Spinosaurus, have been found there. That's right Spinosaurus! Remember that really big dinosaur with the sail on its back that was terrorizing folks on the big screen in Jurassic Park 3? Yep, it really existed and in this story, Delgado takes us through Spino's journey in a struggle of survival like only he can. With no words whatsoever!
Its amazing how Delgado has a way to deliver us a epic tale without using one word. He is unmatched as a storyteller when it comes to sequential art, and his art speaks for itself. His characters, detail, color patterns, you name it, are some of the best artistry I've seen.
Age of Reptiles: Ancient Egyptians #1 is a must read for all comic fans, and if your a big dinosaur buff like myself, then you really need to get this if you haven't already done so. It's one of those tales that is destined to be a classic. FIVE out of FIVE, easy.