Movies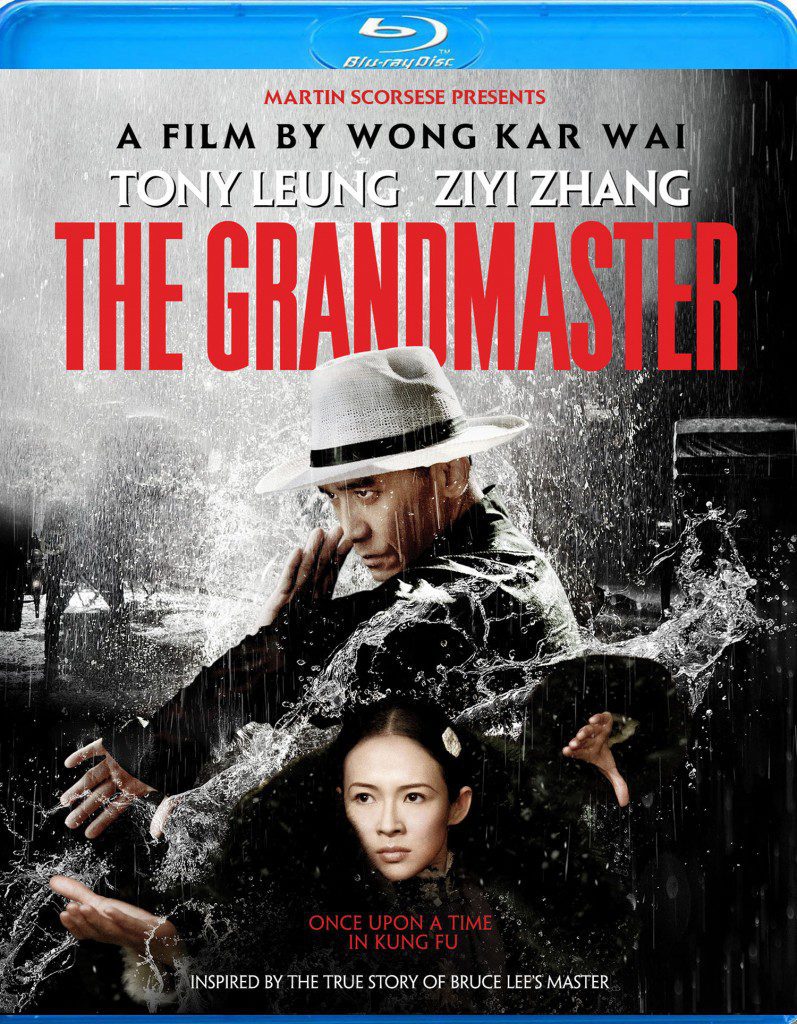 Anchor Bay Entertainment and The Weinstein Company Present The Grandmaster on Blu-Ray and DVD
By Staff Reports
(BEVERLY HILLS, CA) – Anchor Bay Entertainment and The Weinstein Company announced today the Blu-ray™ and DVD release of THE GRANDMASTER from writer and director Wong Kar Wai (HAPPY TOGETHER, IN THE MOOD FOR LOVE AND MY BLUEBERRY NIGHTS). Presented by Martin Scorsese, THE GRANDMASTER, recently made the Oscar Best Foreign-Language Film Shortlist as Hong Kong's submission. The film is currently available on all major digital retailers, Video On-Demand and on Pay-Per-View services.
From acclaimed director/writer Wong Kar Wai comes an epic tale inspired by the life of the warrior hero who taught Bruce Lee. Asian superstar Tony Leung (IN THE MOOD FOR LOVE) portrays legendary Kung Fu master Ip Man, who survived the turmoil of 1930s China to change the world of martial arts forever. Ziyi Zhang (CROUCHING TIGER, HIDDEN DRAGON) and Chang Chen (RED CLIFF) co-star in this visually stunning saga of love, honor and vengeance, featuring breathtaking action choreography by Yuen Wo Ping (THE MATRIX, KILL BILL).
THE GRANDMASTER Blu-ray™ and DVD special features include THE GRANDMASTER: From Ip Man to Bruce Lee, A Conversation with Shannon Lee (Daughter of Bruce Lee), THE GRANDMASTER: According to RZA and Behind the Scenes footage.
THE GRANDMASTER BLU-RAY™
Street date:                  March 4, 2014
Catalog #:                    BD61155
UPC:                            013132611556
Run time:                     108 Minutes
Rating:                         PG-13
SRP:                             $29.99
Format:                        Widescreen
Audio:                         5.1 DTSHD-MA
Languages:                Mandarin Chinese with English Subtitles, English, English Subtitles For The Deaf & Hearing Impaired & Spanish Subtitles
THE GRANDMASTER DVD
Street date:                 March 4, 2014
Catalog #:                   WC61154
UPC:                           013132611549
Run time:                    108 Minutes
Rating:                        PG-13
SRP:                            $24.98
Format:                       Anamorphic Widescreen
Audio:                         Dolby Digital 5.1
Languages:                Mandarin Chinese with English Subtitles, English, English Subtitles For The Deaf & Hearing Impaired & Spanish Subtitles
Learn more about THE GRANDMASTER at: www.thegrandmasterfilm.com
[youtube=http://www.youtube.com/watch?v=i8LwjdJjp8o&w=640&h=360]
ABOUT THE WEINSTEIN COMPANY
The Weinstein Company (TWC) is a multimedia production and distribution company launched in October 2005 by Bob and Harvey Weinstein, the brothers who founded Miramax Films in 1979. TWC also encompasses Dimension Films, the genre label founded in 1993 by Bob Weinstein, which has released such popular franchises as SCREAM, SPY KIDS and SCARY MOVIE. Together TWC and Dimension Films have released a broad range of mainstream, genre and specialty films that have been commercial and critical successes.  TWC releases took home eight 2012 Academy Awards®, the most wins in the studio's history. The tally included Best Picture for Michel Hazanavicius's THE ARTIST and Best Documentary Feature for TJ Martin and Dan Lindsay's UNDEFEATED. THE ARTIST brought TWC its second consecutive Best Picture statuette following the 2011 win for Tom Hooper's THE KING'S SPEECH.
Since 2005, TWC and Dimension Films have released such films as GRINDHOUSE; 1408; I'M NOT THERE; THE GREAT DEBATERS; VICKY CRISTINA BARCELONA; THE READER; THE ROAD; HALLOWEEN; THE PAT TILLMAN STORY; PIRANHA 3D; INGLOURIOUS BASTERDS; A SINGLE MAN; BLUE VALENTINE; THE COMPANY MEN; MIRAL; SCRE4M; SUBMARINE; DIRTY GIRL; APOLLO 18; OUR IDIOT BROTHER; I DON'T KNOW HOW SHE DOES IT; SARAH'S KEY; SPY KIDS: ALL THE TIME IN THE WORLD IN 4D; MY WEEK WITH MARILYN; THE IRON LADY; W.E.; CORIOLANUS; UNDEFEATED; THE ARTIST; BULLY; THE INTOUCHABLES; LAWLESS; KILLING THEM SOFTLY; THE MASTER; SILVER LININGS PLAYBOOK; DJANGO UNCHAINED; QUARTET; ESCAPE FROM PLANET EARTH; DARK SKIES; THE SAPPHIRES; SCARY MOVIE 5; KON-TIKI; and UNFINISHED SONG. Currently in release are FRUITVALE STATION, LEE DANIELS' THE BUTLER, THE GRANDMASTER, SALINGER, 12-12-12, PHILOMENA, MANDELA: LONG WALK TO FREEDOM and AUGUST: OSAGE COUNTY. Upcoming releases include ONE CHANCE and VAMPIRE ACADEMY.
TWC is active in television production, led by former Miramax Films President of Production Meryl Poster. TWC is the studio behind such hit television series as the Emmy® nominated and Peabody Award winning reality series PROJECT RUNWAY and its spin-off series PROJECT RUNWAY ALL STARS and PROJECT ACCESSORY; the VH1 reality series MOB WIVES and its spin-off series MOB WIVES CHICAGO and BIG ANG; and the critically acclaimed scripted HBO comedy/crime series THE NO. 1 LADIES' DETECTIVE AGENCY which also received a Peabody Award. The company is in production on the upcoming TLC series WELCOME TO MYRTLE MANOR, the A&E series RODEO QUEENS, and the Lifetime reality competition show SUPERMARKET SUPERSTAR hosted by Stacy Keibler.  Among TWC's other projects in development for television are the martial-arts epic MARCO POLO for Starz, an untitled private eye procedural for FX, and THE NANNY DIARIES developed by ABC with a pilot by Amy Sherman Palladino.
ABOUT ANCHOR BAY ENTERTAINMENT
Anchor Bay Entertainment is a leading home entertainment company.  Anchor Bay acquires and distributes feature films, original television programming including STARZ Original series, children's entertainment, anime (Manga Entertainment), fitness (Anchor Bay Fitness), sports, and other filmed entertainment on DVD and Blu-ray™ formats.  The company has long term distribution agreements in place for select programming with AMC Networks, RADiUS, and The Weinstein Company. Headquartered in Beverly Hills, CA, Anchor Bay Entertainment has offices in Troy, MI, as well as, Canada, the United Kingdom and Australia. Anchor Bay Entertainment www.anchorbayentertainment.comis a Starz (NASDAQ: STRZA, STRZB) business, www.starz.com.